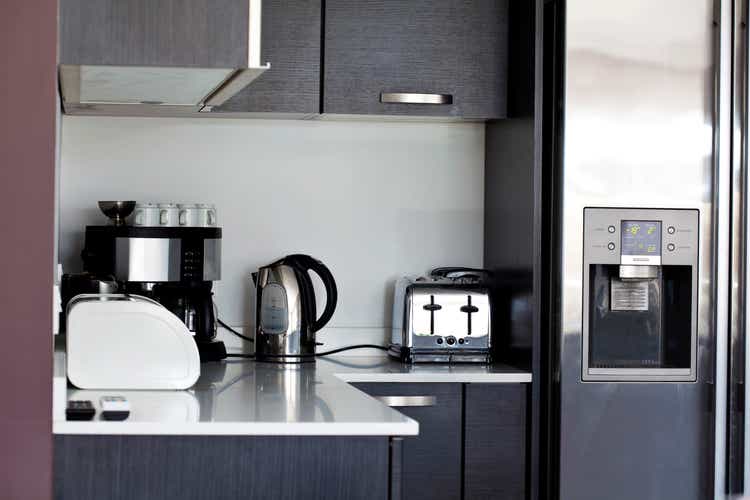 In this market, investors may find it odd that I am drawn toward a company that produces small electric household and specialty housewares and appliances. Often, these are products that our low margin in nature and, given broader economic concerns, the firms that operate here are not likely to perform particularly well moving forward. But if you can find a decent player in the space that's trading at and low enough level, upside could exist even in the event that fundamental performance worsens. One such company where I think this approach applies is Hamilton Beach Brands (NYSE:HBB). Although I do believe that the easy money has certainly been made, I would make the case that shares probably do have a bit more upside from here. Because of that, I decided to keep the company at the soft 'buy' rating that I had it at previously.
Coming under pressure
In the middle of July of 2022, I wrote an article wherein I revisited my investment thesis regarding Hamilton Beach Brands. In that article, I talked about how the company had performed incredibly well leading up to that point, with its shares meaningfully outperforming the broader market. This came even though the firm was experiencing some weakness from a fundamental perspective and was likely driven by how cheap shares were. At the end of the day, this led me to reiterate the 'buy' rating I had on the farm, a rating that reflected my belief that shares should outperform the broader market moving forward. Since then, the company has not exactly lived up to my expectations. While the S&P 500 is up 6.6%, shares of Hamilton Beach Brands have seen upside of only 6.7%. That's not bad, but it's not reflective of my view that shares should outperform. For context though, since I initially rated the company a 'buy' back in April of last year, upside has been 22.6% compared to the 4.3% drop the S&P 500 experienced.
As you will see shortly, shares of the company are still cheap. And that has likely been the main reason why the stock continues to rise. But this is not to say that everything is great. Sadly, the firm has experienced some continued weakness on both its top and bottom lines. Consider, for starters, sales achieved during the third quarter of the company's 2022 fiscal year. Revenue of $150.8 million came in 3.8% lower than the $156.7 million reported one year earlier. Although the company benefited to the tune of nearly $11 million from a rise in prices that it charged customers for its goods, it was hit to the tune of $16.3 million from a decrease in unit volume and a change in product mix. Foreign currency fluctuations also impacted sales by $0.6 million.
On the bottom line, net income for the company improved slightly, climbing from $5.7 million to $5.9 million. Even though sales dropped and selling, general, and administrative expenses rose modestly relative to sales, the firm's gross profit margin improved noticeably. The metric increased from 21.2% to 23.1%. This was driven, according to management, by the impact of pricing initiatives, a favorable product mix, and lower expenses for outside warehousing and labor relative to what the company paid one year earlier. Other profitability metrics, however, were somewhat mixed. Operating cash flow, for instance, went from a negative $12.5 million to a negative $14.7 million. Even if we adjust for changes in working capital, it would have gone from $8.9 million to $7.7 million. The only profitability metric other than net income that increased was EBITDA. According to management, this metric rose from $7.8 million to $10.5 million.
The results experienced during the third quarter are very similar to what the company experienced for the first nine months of 2022 as a whole. Sales are down compared to the same time last year, having dropped from $460.6 million to $444.7 million. Although the company benefited to the tune of $32.5 million from an increase in product pricing, it experienced a $47.3 million hit associated with lower product volume and a change in product mix. Foreign currency fluctuations impacted sales by $1.2 million. On the bottom line, the results were once again mixed. Net income jumped from $8.7 million to $18.2 million. On the other hand, operating cash flow went from negative $4.1 million to negative $40.2 million. Though in this case, if we adjust for changes in working capital, the picture did improve, with the metric climbing from $20.1 million to $28.1 million. Meanwhile, EBITDA for the company increased, climbing from $15.8 million to $21.1 million.
For 2022 in its entirety, management did say that operating profits will have increased significantly year over year. However, a good portion of this improvement came from a $10 million insurance recovery that was already recorded in the first quarter of 2022. That's why bottom line results look as good as they do. If we annualize results experienced so far for 2022, we would expect net income for the company of $44.6 million. Adjusted operating cash flow would be $45.6 million, while EBITDA would come in at $50.1 million. Given these figures, the company would be trading at a price-to-earnings multiple of 3.9, a price to adjusted operating cash flow multiple of 3.8, and an EV to EBITDA multiple of 6.4. Because of the aforementioned insurance recovery, investors would be wise to value the company based more on the 2021 results. This would still make shares affordable, with multiples of 8.2, 5.3, and 8.5, respectively. As part of my analysis, I compared the company to five similar firms. On a price-to-earnings basis, these companies ranged from a low of 9.9 to a high of 63. Using the price to operating cash flow approach, the three firms with positive results ranged from a low of 13.7 to a high of 79.9. And when it comes to the EV to EBITDA approach, the range would be from 14.7 to 152.5. In each of these three cases, even using the 2021 figures for comparison purposes, Hamilton Beach Brands is the cheapest of the group.
| | | | |
| --- | --- | --- | --- |
| Company | Price / Earnings | Price / Operating Cash Flow | EV / EBITDA |
| Hamilton Beach Brands | 8.2 | 5.3 | 8.5 |
| Viomi Technology (VIOT) | 9.9 | N/A | N/A |
| iRobot (IRBT) | 63.0 | N/A | 152.5 |
| Cricut (CRCT) | 35.3 | 79.9 | 16.5 |
| Helen of Troy (HELE) | 18.2 | 13.7 | 14.7 |
| National Presto Industries (NPK) | 23.9 | 30.7 | 14.9 |
Takeaway
At this time, things are not going great for Hamilton Beach Brands, but they aren't going horrible either. Sales are falling but bottom line results have held up fairly well, largely because of a one-time item. Even removing that from the equation, we end up with a scenario where the company is generating positive cash flows and is trading at a low level, both on an absolute basis and relative to similar firms. Because of the weakening fundamentals, I would argue that further upside from here will not be as easy as what we have experienced so far. But I do think it's enough to warrant a soft 'buy' at this time.