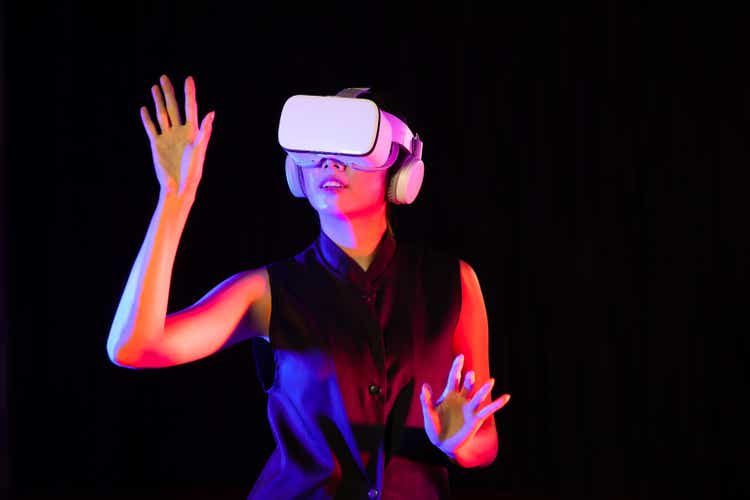 Nongnuch Pitakkorn/iStock via Getty Images
Apple (NASDAQ:AAPL) has become the latest in a long list of tech companies to join the race for the metaverse. Apple is reportedly seeking to build an augmented reality headset that could be unveiled this spring.
In this article, I will review this product's specs and the different ways in which Apple could stand to monetize this great opportunity.
I think AR/VR, in conjunction with the metaverse, will go mainstream, and those who invest now will stand to benefit handsomely.
Mark Zuckerberg has made no effort to hide his desire to invest in the Metaverse, going as far as renaming his company and, more notably, sinking billions of dollars into AR/VR. Microsoft, Inc (MSFT) has partnered with Meta Platforms (META) on various AR/VR applications and has also acquired Activision Blizzard (ATVI), pending regulatory approval.
Now, Apple has also stated its own intentions to enter the potentially lucrative field of AR/VR, by launching its own headset, which could potentially be unveiled this spring. From what we know, Apple is looking to release a high-end headset that will encompass both VR and AR functionalities.
According to Bloomberg, the "Reality Pro" could have a price tag of up to $3000, well above comparable products like the Oculus, which sells for around $1500. Early reports also claim that the Apple headset might come with a battery pack that attaches to the hip and use the Mac's powerful M2 processors. It may even feature motorized lenses that can adjust to each individual's eyes.
It's important to note that Apple has not confirmed nor denied any of this yet. However, given the big opportunity provided by the metaverse, I am not surprised by this move.
The metaverse has brought about undue amounts of skepticism in the last year. Following the hype around the metaverse, VR and crypto in 2021, we are now in a stage where most investors believe this is not a lucrative endeavor. Zuckerberg, for example, has received harsh criticism for pursuing this path.
But while digital real estate and virtual vacations may still be a ways away, the idea is that we are going to start interacting differently with the world around us, and many of our digital experiences will take a new and improved form.
According to Technavio, the AR/VR industry will grow at a CAGR of 46% from here until 2025, achieving a total market size of $165 billion. Also, keep in mind that Meta has sold over $15 million units of the Oculus 2 and that the Oculus app was one of the most downloaded last year.
With the strong brand loyalty that Apple has built over the years, there's no doubt in my mind that if the company can build a product that can rival the Oculus 2, it will be able to sell well over 15 million units.
For Apple, which primarily sells hardware, the production of an AR/VR headset seems like a natural next step. I think of it as an improvement on the iPhone. With that said, the software is also an important part of the AR/VR equation, which is likely why Apple is also developing the reality OS.
With Apple jumping into the ring, interest in the metaverse has resurfaced, and the excitement is palpable. Metaverse-related cryptocurrencies like Decetraland (MANA-USD) and Sandbox (SAND-USD) have rocketed 80% and 40% in days. The metaverse narrative could be a major bullish force for these digital assets if the crypto market can stage another bull run.
At today's prices, Apple has a compelling valuation, even without factoring in the potential of the metaverse.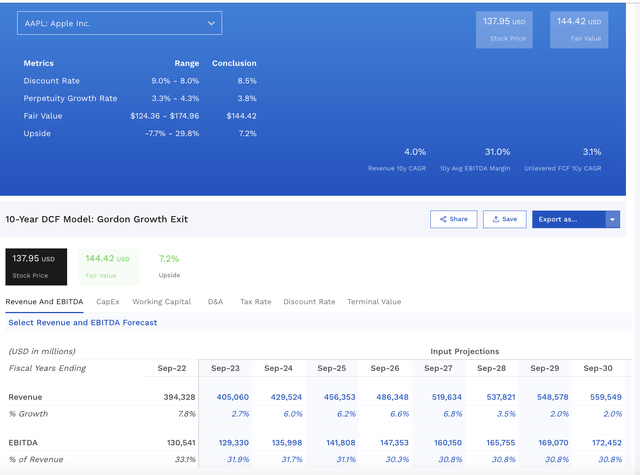 10 year DCF (Finbox)
Using a simple 10-year DCF model and using analyst estimates, we can see that Apple might have some upside. For now, Apple is set to grow at a moderate rate. After all, it has already deeply penetrated the mobile phone market. But how much could Apple add to its growth through the AR/VR market?
Last year, Meta was able to sell 15 million units of its VR headset. If Apple can replicate this in the next couple of years, the company would be adding $30 billion to its top line. This is assuming an average retail price of $2000.
But this is just the tip of the iceberg. This technology could one day be commonplace in other devices such as laptops, and Apple could also stand to make a lot from royalties it receives from AR/VR-related software, much like it does now with the Apple store.
It is very hard to quantify. By 2030, some forecasts predict the VR/AR market could reach a size of $451 billion. Even a small chunk of that would be a significant addition to Apple's revenues.
Of course, there are risks we have to consider when it comes to a new and to an extent, unproven business like AR/VR.
For starters, Apple is late to the game when compared to Meta Platforms, which already has AR/VR headsets for sale and has been investing in the metaverse for years. With that said, given Apple's expertise in the production of hardware and its strong brand loyalty, the company could gain an edge in the long run.
From a macro perspective, we have to contend that perhaps this is not the best time to invest money in a high-end, non-essential product. We are still in a tightening monetary cycle, and the US could likely enter a recession in 2023.
In conclusion, I personally see Apple entering the metaverse as a huge win for the company. AR/VR headsets are a natural extension of what we use today, and I believe they will become a common household item once the technology and price reach a given level. With that said, I am still waiting to buy shares of Apple at a later stage once the macro looks better.
Editor's Note: This article covers one or more microcap stocks. Please be aware of the risks associated with these stocks.
If you like the metaverse and want to get exposure to it through crypto, this might be the service for you.
Join Technically Crypto to stay ahead of the latest news and trends in the crypto space. Learn the ins and outs of blockchain technology and how you can profit from it. Here's what you will get with your subscription:
– Access to our Crypto Portfolio.
– On-chain analysis of Bitcoin and Ethereum.
– Deep dive reports on Altcoins.
– Technical Analysis of major cryptocurrencies.
– News updates.
Crypto is changing the future, don't just watch it, be a part of it!
This article was written by
The Value Trend is now The Digital Trend.  
We believe the greatest opportunities of the next decade will be in innovative technologies and cryptocurrencies, so this is where we focus our analysis.
We felt a brand update would help our readers better understand our work. 
The world is turning digital and so should your portfolio!
Disclosure: I/we have no stock, option or similar derivative position in any of the companies mentioned, and no plans to initiate any such positions within the next 72 hours. I wrote this article myself, and it expresses my own opinions. I am not receiving compensation for it (other than from Seeking Alpha). I have no business relationship with any company whose stock is mentioned in this article.