InvestorPlace – Stock Market News, Stock Advice & Trading Tips
How to invest in ChatGPT is a difficult problem to solve, but if you're looking for ideas on investing in ChatGPT, you've come to the right place.
ChatGPT is AI technology that enables natural conversation between people and machines. ChatGPT uses a deep learning model to understand user intent through text or voice, enabling machines to interpret human-like conversations.
By predicting the next logical response, ChatGPT allows users to interact easily with machines while providing real-time feedback to create an enjoyable experience.
ChatGPT's natural programming language has allowed humans and machines to collaborate in ways that weren't possible until now. ChatGPT is revolutionizing how people and machines interact, making communication more human-like and intuitive.
If you are interested in finding out how to invest in ChatGPT, the only way to go about it is through AI stocks. While the company itself is not listed on the stock exchange, many other options are available to investors.
Investing in AI stocks might not be a direct route to investing in ChatGPT, but it is still a viable option for those looking for a way into this promising technology sector.
AI stocks have become increasingly popular over recent years as investors look for ways to gain exposure to innovative technologies and companies in an ever-expanding global market. In doing so, investors can benefit from advances in artificial intelligence research and take advantage of the latest trends.
NVDA
Nvidia
$176.96
CRM
Salesforce
$148.71
IBM
IBM
$145.08
Nvidia (NVDA)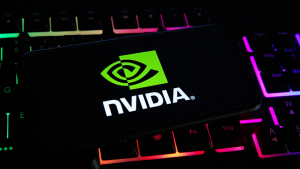 Source: Shutterstock
After seeing the potential of AI several years ago, Nvidia (NASDAQ:NVDA) made a sound decision to position itself in the right place at the right time.
Its graphics chips have become an industry standard. They can handle both the energy-demanding training and the less energy-demanding inference phases of machine learning.
Nvidia's expertise in AI, deep learning, and computer graphics is crucial for developing autonomous vehicles. As complex as these cars are, Nvidia provides the perfect combination of device-side computing and cloud infrastructure for self-driving scenarios. This allows automakers to achieve higher throughput, improved safety levels, and lower latency when operating on the road.
With its advanced sensor technology, Nvidia is a leader in autonomous driving.
Nvidia continues to be a frontrunner in the graphics card industry. It is positioned strongly as an innovator in the area of AI technology. As more companies explore ways to integrate AI into their business operations, more specialized processors designed for AI appear on the market. It's a great starting place for investors who were wondering how to invest in ChatGPT.