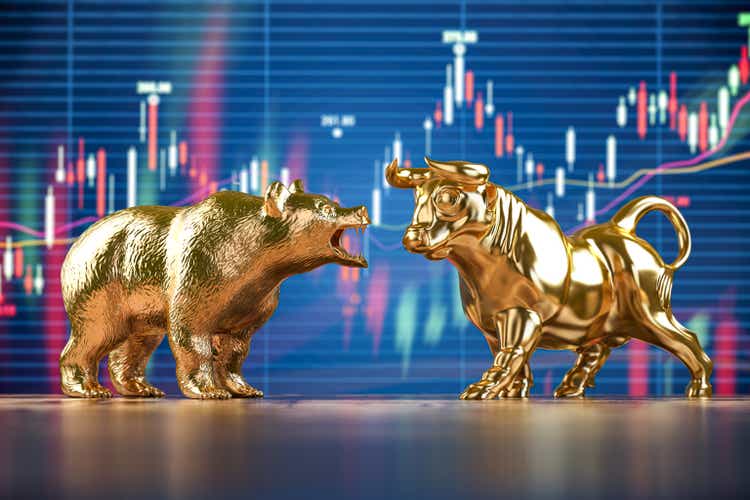 Author's note: This article was released to CEF/ETF Income Laboratory members on January 7th.
I last covered the BlackRock Resources & Commodities Strategy Trust (NYSE:BCX), a diversified commodity equities CEF, over a year ago. In that article, I argued that BCX was a moderately effective inflation hedge, but somewhat inferior to comparable indexes and peers, due to consistent underperformance and negative alpha. BCX seemed likely to perform reasonably well if inflation remained elevated, but seemed destined to underperform its peers regardless. Due to this, I argued against investing in the fund.
Since then, inflation has skyrocketed, with BCX performing reasonably well on an absolute basis, but underperforming comparable indexes and peers. Results were broadly as expected, with some caveats.
BCX's underperformance relative to its indexes was mostly due to a widening 12.3% discount, with the fund performing much better on NAV metrics. A higher discount combined with strong distribution growth has boosted the fund's yield to 6.1%, a reasonably strong amount. BCX's wider discount, stronger NAV performance track-record, and higher distribution yield make the fund a materially stronger investment proposition now than in the past, and have made me more bullish about the fund's prospects.
BCX's moderate effectiveness as an inflation hedge, strong 12.3% discount to NAV, and good 6.1% distribution yield, make the fund a buy. As the fund focuses on commodity equities, it is significantly riskier than the average equity fund, and so might only be appropriate for more aggressive investors.
BCX – Basics
Sponsor: BlackRock
Distribution Yield: 6.08%
Expense Ratio: 1.07%
Total Returns CAGR 10Y: 2.82%
BCX – Overview
BCX is an actively-managed, diversified energy, resources, and commodities CEF. The fund provides investors with exposure to these industries in roughly equal measure, although it is generally slightly underweight agriculture.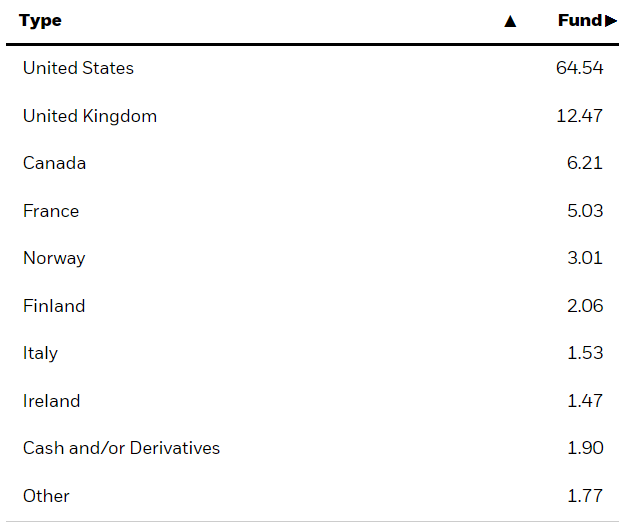 BCX is technically a global equities fund, but invests in fewer than a dozen countries, and is significantly overweight the United States.
International diversification reduces risk and volatility, but the effect is quite muted for BCX, as commodity equity company share prices are all strongly positively correlated. If Shell (SHEL), BCX's largest energy investment, is down, then Exxon (XOM), the fund's second largest energy investment, will almost certainly be down too, regardless of country of origin. This has been the case for decades, although the correlation has weakened these past few months (still positive though).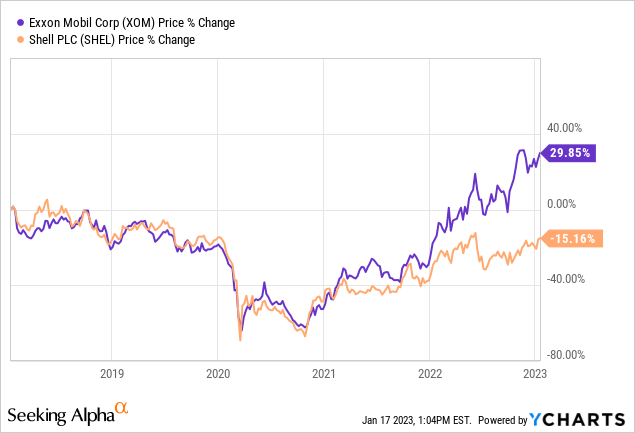 BCX is an incredibly concentrated fund, with investments in just 46 companies, and with its top ten holdings accounting for almost half of its value.
Concentration increases risk, volatility, and the potential for significant losses and underperformance. BCX should see sizable losses if its largest holdings, including Glencore (OTCPK:GLCNF), Shell, and Exxon, see significant losses too. Although this is technically true for most funds, BCX is much more concentrated than its peers, and so the impact is much more pronounced for said fund.
BCX is an actively-managed fund, so security selection and weights are at least partly an active investment decision. BCX's managers chose to focus on Glencore, Shell, and Exxon, instead of, say, Vale (VALE) and Chevron (CVX). Due to BCX's concentration, these decisions could have a significant impact on the fund's performance. As mentioned previously, although this is technically the case for all actively-managed funds, BCX's concentration makes the impact much more pronounced for the fund relative to its peers.
As a final point, BCX sells covered calls on some of its holdings, generally around 1/3rd of the same. Selling covered calls serves to increase a fund's distribution yield while reducing its potential capital gains. For BCX, the impact is somewhat reduced, due to only selling covered calls on 1/3rd of its holdings, and as the fund's various investment decisions can swamp these effects.
BCX – Benefits and Investment Thesis
BCX's investment thesis rests on the fund's moderate effectiveness as an inflation hedge, strong 6.1% distribution yield, and high 12.3% discount to NAV. These combine to create a strong fund and investment opportunity, albeit a risky one as well. Let's have a closer look at each of these three points.
Moderately Effective Inflation Hedge
BCX invests in energy, mining, and agricultural companies, all of which are strongly exposed to commodity prices and inflation. Higher energy prices means higher revenues and earnings for energy companies, which generally leads to higher share prices and outperformance for the same. This was the case for most energy companies in 2022, including BCX's largest energy holdings.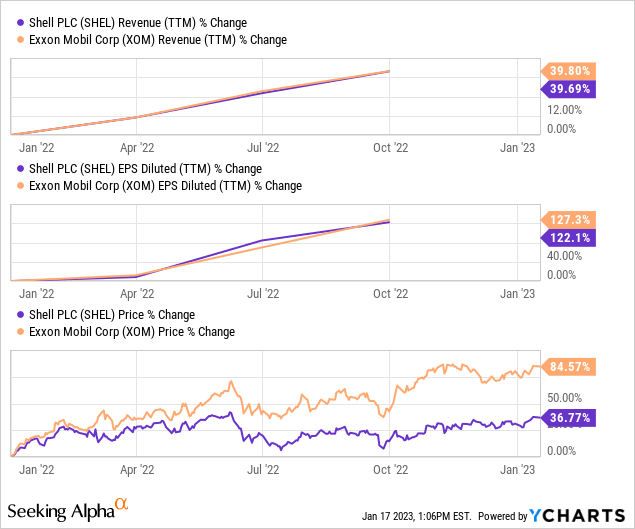 Higher mineral and agricultural prices should have the same impact on miners and agricultural producers.
BCX's diversified energy, resources, and commodities holdings are a moderately effective inflation hedge, a self-evident benefit for investors, and one which seems particularly important during a period of heightened inflation.
On a more negative note, BCX is only moderately effective as an inflation hedge, as the share prices and returns of its underlying holdings are dependent on many factors. Importantly, returns are partly dependent on investor sentiment, which is not always rational. Investors could decide to sell oil companies when oil prices increase, so higher oil prices might not necessarily mean higher oil company share prices. In practice, markets are generally somewhat rational, so sentiment rarely overrides fundamentals, but it still definitely plays a role.
As an example, and as can be seen in the graph above, Shell has seen comparable revenue and earnings growth to Exxon for the past year, but much lower, albeit still positive, total returns. Shell's underperformance is at least partly explained by worsening investor sentiment surrounding European and international stocks. Shell's fundamentals remain strong, but returns were lower than expected due to sentiment. Shell should see higher share prices if oil prices increase in the future, but this is not certain, and markets might always decide to act irrationally.
Strong 6.1% Distribution Yield
BCX invests quite heavily in energy companies, most of which trade with discount valuations, and hence above-average yields. The fund also sells covered calls on a portion of its holdings, which boosts yields further. The result is a 6.1% distribution yield, reasonably good on an absolute basis significantly higher than average for an equity fund, and moderate higher than average for an energy equity fund.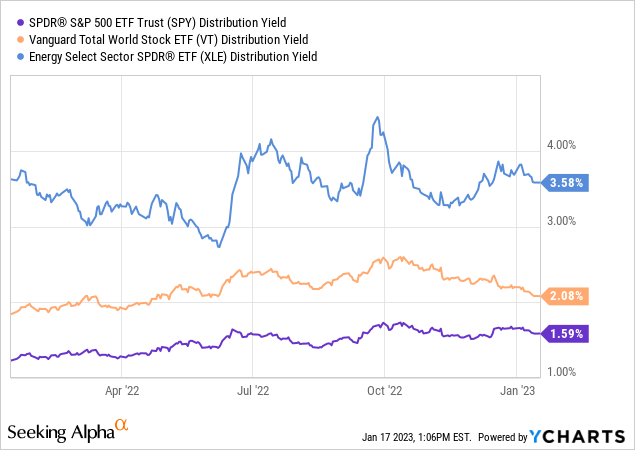 Strong distribution yields are almost always a benefit for a fund and its investors, and that includes BCX.
High 12.3% Discount to NAV
BCX currently sports a 12.3% discount to NAV. It is a relatively high discount on an absolute basis, and moderately higher than the fund's historical average.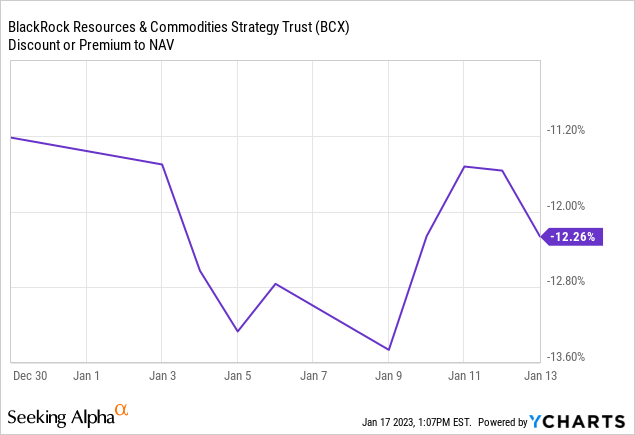 BCX's discount to NAV benefits investors in two key ways.
First, discounts can always narrow, leading to capital gains. BCX generally does not trade with double-digit discounts, so I think a narrowing is likelier than not, although obviously this is ultimately dependent on investor sentiment.
Second, higher discounts to NAV means lower share prices, which means higher distribution yields. By my calculations, if the fund traded at NAV, yields would drop to 5.4%. BCX trades with a discount, and so its yield rises to 6.1%, or 0.7% higher than if it traded at NAV. Said 0.7% difference directly increases shareholder returns, an important benefit for the same. Importantly, this benefit is not dependent on investor sentiment or other factors: investors get the higher distributions regardless.
BCX's high 12.3% discount to NAV increases the fund's distribution yield and could, potentially, lead to capital gains moving forward, two important benefits for the fund and its shareholders.
BCX – Risks and Drawbacks
BCX is a strong fund and investment opportunity, to me at least, but it is also an incredibly risky one.
BCX invests in energy, mining, and agricultural companies, all of which are significantly riskier than average, due to their dependence on volatile commodity prices. Shell, Exxon, and BCX's other energy investments should see significant reductions in their revenues, earnings, and share prices during commodity price slumps, which are relatively regular occurrences. Energy prices tend to plummet during downturns and recessions, so expect significant, above-average losses during these. Same is true for BCX's mining and agricultural holdings, but less so. BCX itself saw significant, above-average losses during 1Q2020, the most recent recession.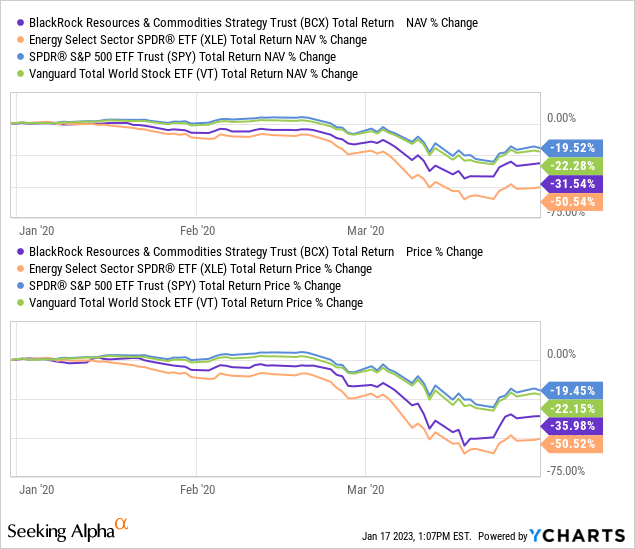 BCX is a CEF, and so tends to trade with discounts or premiums, which increases volatility. Discounts tend to widen during recessions, increasing losses during the same. This was also the case during 1Q2020, as can be seen above.
BCX is actively-managed and holds a concentrated portfolio, which boosts risks further: one wrong investment decision could lead to significant losses and / or underperformance for the fund. As an example, and by my calculations, overweighting TotalEnergies (TTE) last year meant fund returns were 1.0% lower compared to global energy indexes, 2.0% compared to U.S. energy indexes. TTE is only the fund's fourth-largest holding and it has performed quite well; regardless, expect higher losses and / or underperformance from a truly awful investment decision, not simply a slightly below-average one.
BCX – Performance Analysis
Finally, a quick look at the fund's performance track-record.
BCX has significantly underperformed relative to U.S. and global equity indexes since inception, almost entirely due to energy, mining, and agricultural underperformance for the same. BCX has slightly underperformed relative to an average of these three industries since inception, due to subpar security selection / negative alpha. BCX's covered call strategy has also been detrimental to the fund's returns for the past year, as said strategy reduces potential capital gains, and these have been quite strong in the recent past.
On a more positive note, security selection has improved as of late, with most of the fund's largest investments performing relatively well for the past year. These include Vale, the fund's largest holding earlier in the year, Glencore, and Exxon.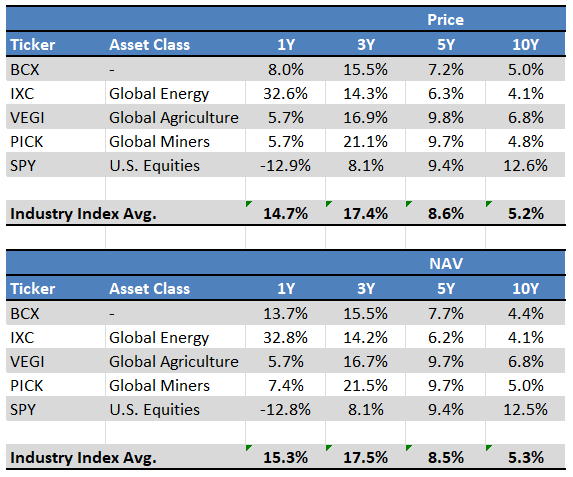 In my opinion, BCX's long-term performance track-record is average, at best. I would not consider the fund's performance to be a benefit for investors, nor a component of its investment thesis. BCX's performance is weak enough that I would not consider investing in the fund at NAV, but is reasonable enough for an investment at a double-digit discount.
Conclusion
BCX's moderate effectiveness as an inflation hedge, strong 12.3% discount to NAV, and good 6.1% distribution yield, make the fund a buy.