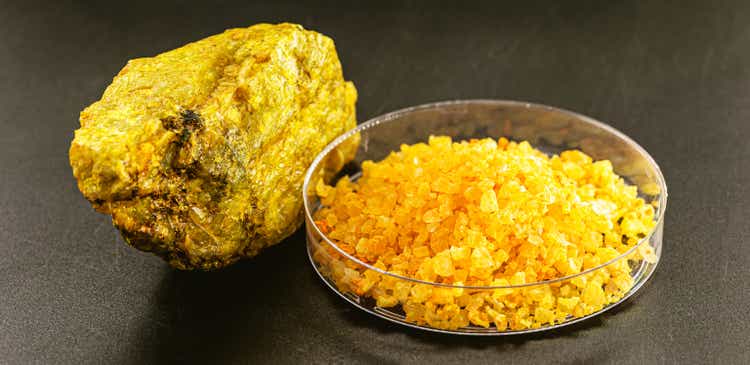 Investment Thesis
Energy Fuels (NYSE:UUUU) is a uranium mining company in the US. The thesis facing Energy fuels is relatively straightforward, meaning that if uranium prices head toward $60 per pound, Energy Fuels' prospects will significantly improve.
More specifically, I believe that at $60 per pound of uranium, Energy Fuels' narrative will rapidly move from being an unprofitable company waiting for something to happen, to a highly profitable company seeking to fulfill the high demand for nuclear energy.
What's Happening Right Now?
The energy market proved to be very volatile in 2022. And even though much of what took place in 2022 was going to take place at some point in the future in any case, there was a step change from all parties involved. This includes mining companies' expectations as well as politicians' views on uranium, not to mention the public's perception.
Furthermore, countries around the world are looking towards their energy demand over the next several years and attempting to figure out how they can be "Fit for 55". In theory, this is the EU's target of reducing net greenhouse gas emissions by at least 55% by 2030.
In practice, this means reducing our dependency on fossil fuels and replacing our energy requirements with alternative sources. Meaning more than one alternative energy source, depending on the country's requirement.
Recently, we've seen several countries around the world make an about-turn in their views toward uranium. For instance, it's worth highlighting Japan. And that Japan's views on nuclear energy post-Fukushima disaster have changed.
That being said, Japan isn't alone. The UK too has recently made inroads to increase its nuclear energy exposure. However, these are not isolated trends, with the US and Germany also leaning directionally in the same way.
And this leads me to discuss uranium's price.
Uranium's Key Price
The start of 2023 saw uranium's price pick up from the high $40s to $50.
This recent increase in uranium prices happened together with several commodities. Consequently, this has led many investors to assume the overall upwards price increase to be driven by the expectation of China's reopening, including increased prices for metals as well as the most followed commodity in the world, oil.
Put another way, China's reopening could see its own energy demand go higher in 2023. Meaning that China's demand for all energy sources could increase in the coming months, including uranium.
Why Energy Fuels?
Energy Fuels' is not a pure-play uranium company. It also has a secondary portfolio of rare earth minerals, the most significant of which is vanadium.
That being said, anyone interested in Energy Fuels knows that the needle-moving thesis lies with uranium's prospects. Put simply, if uranium prices were to move higher and stay there, this unprofitable business would suddenly get a significant change in fortune.
What's more, Energy Fuels, like several other players that have survived this prolonged bear market in uranium prices, has survived because it has no debt on its balance sheet.
The business holds approximately $85 million of cash and equivalents and is in the process of selling its Alta Mesa Project for $120M ($60M cash and $60M in the form of 2-year secured convertible note, receiving an 8% coupon).
In sum, this unprofitable business has enough resources on its balance sheet that it won't need to dilute investors any time soon.
The Bottom Line
With oil prices tumbling since the summer, many commentators may believe that the demand for the energy transition has lessened. I don't believe this to be accurate.
What's more, with uranium prices in the past several weeks moving higher, I contend this supports the narrative that nuclear energy will be a critical component of the energy transition. Irrespective of where other fossil fuel prices are.
Finally, as I've stated in the past, Energy Fuels is like a long-dated option. Investors should take this on board and appropriately size their portfolios accordingly. Because even if today uranium prices are starting to show promise, getting to and staying above $60 per pound could still take a considerable amount of time.