view original
post
Former President Donald Trump did not throw his support behind a Republican National Committee (RNC) chair candidate during an interview on Monday, but he did explain what he hopes the next RNC leader will prioritize in the position.
While calling into The Water Cooler, a conservative podcast, Trump was asked by host David Brody if he supported incumbent RNC Chairwoman Ronna McDaniel or challenger Harmeet Dhillon. Dhillon is an attorney and an RNC committeewoman whose California-based firm represents Trump.
"Well, I can honestly say I like both of them. I mean, I get along with both of them. I haven't taken a stance, you know. Let them fight it out," Trump said.
He said that Dhillon has done a "great job" in her legal work for him, and that McDaniel is also "very good." He added that the one thing he needs as the RNC is poised to select a chair later this month is "an honest vote count."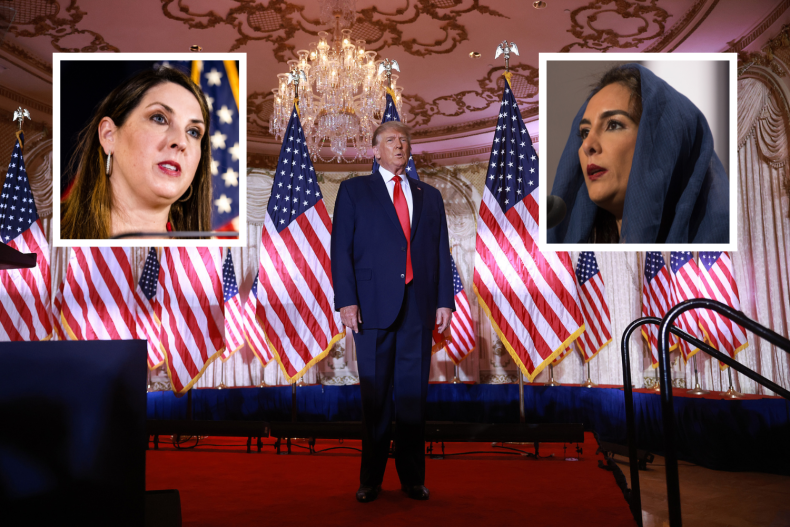 Trump said that there would be "honest elections overnight" with voter identification requirements, one-day voting all done on paper and no mail-in ballots except for "far away" military members and people who are very sick.
"We have very dishonest, corrupt elections right now," Trump said. "So we need whoever's going to do the best on voting day. I don't want any help with campaigns."
He added that all he wants is to not see "fake ballots" in future votes, reiterating his often-repeated but unproven claims of election fraud in the U.S.
McDaniel is seeking reelection after initially being selected for the position in 2017. The RNC is set to vote on leadership during a meeting this month following a disappointing midterms cycle for the GOP.
Though Republicans managed to win a slim majority in the House, they failed to flip the Senate despite widespread predictions of a GOP "red wave" in the midterms. McDaniel and other high-profile Republican figures, such as House Minority Leader Kevin McCarthy and Senate Minority Leader Mitch McConnell, have been criticized by members of their own party for the lackluster midterms performance.
A recent survey by the Convention of States Action, in partnership with The Trafalgar Group, found that just 5.6 percent of Republican voters want McDaniel to get another RNC chair term. But more than 150 GOP donors are backing McDaniel for another term, The Hill reported Tuesday, citing a letter from the donors it obtained.
MyPillow CEO and Trump ally Mike Lindell is also challenging McDaniel for the position.
Newsweek reached out to Dhillon and a spokesperson for McDaniel's reelection campaign for comment.