view original
post
A clip of Donald Trump claiming he will "handle" Florida Governor Ron DeSantis when it comes to the 2024 Presidential election has gone viral.
While speaking on the conservative podcast, The Water Cooler, on Monday, Trump also bragged about the support he gave DeSantis in 2018 and the alleged impact it had.
The video, shared by commentator Ron Filipkowski has so far been viewed more than 531,000 times.
Trump said: "[DeSantis'] rally's were unbelievable and he ended up beating [Andrew] Gillum.
"Most people thought he couldn't do that but I thought he could. I got him elected, pure and simple.
"He would have never… If I said I wasn't going to endorse you. And there was no reason to go wild about endorsing him.
"So, now I hear he might want to run against me. So we'll handle that the way I handle things."
Trump didn't elaborate on what he meant by this statement, or give any details regarding what action he would take.
Trump announced he would be running in the 2024 Presidential election on November 15, 2022. During his speech, Trump insisted America was better under his leadership, as he criticized Joe Biden's record as president.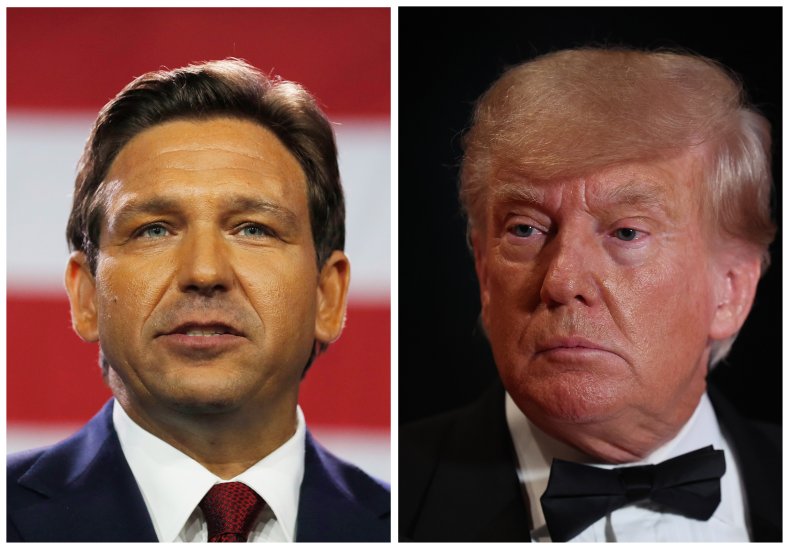 "Under our leadership, we were a great and glorious nation, something you haven't heard for quite a long period of time," Trump said to a crowd of supporters at his Mar-a-Lago home. "We were a strong nation and importantly, we were a free nation."
"Now we are a nation in decline," he added. "We are a failing nation. For millions of Americans, the past two years under Joe Biden have been a time of pain, arching anxiety, and despair."
Trump said under Biden the U.S. economy had been destroyed as he highlighted record-high inflation and increased gas prices over the year.
Republican Rival
The Florida Governor hasn't yet announced that he will be running in the presidential election, but he remains a favorite to be the Republicans' leading choice, over Trump, according to polls from last year.
According to polling from a FiveThirtyEight report in November, the majority of polls showed DeSantis beating Trump.
A YouGov poll conducted between November 13 and November 15, with a sample size of 432 adults, put DeSantis ahead by 7 points at 46 percent compared to Trump's 39 percent.
A Seven Letter Insight poll, conducted between November 10 and November 15 with a sample size of 543 likely voters, had a similar victory for DeSantis. In this poll, DeSantis led by 8 points at 34 percent to Trump's 26 percent.
Some polls from November did indicate that Trump would defeat DeSantis, however.
One poll conducted by Morning Consult between November 10 and November 14, with a sample size of 842 registered voters, saw Trump win with a margin of 14 points at 47 percent to DeSantis' 33 percent.
Newsweek has contacted the offices of Ron DeSantis and Donald Trump for comment.