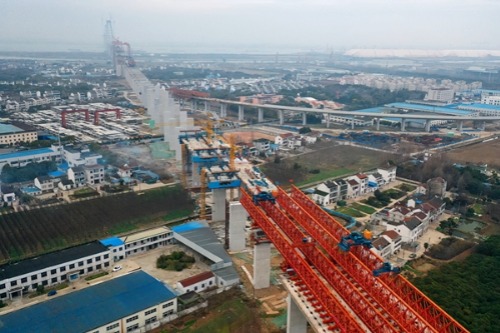 NANJING — East China's economic powerhouse, Jiangsu province, will invest 200 billion yuan (about $29.6 billion) in transportation infrastructure in 2023, the provincial transportation department said.
With a year-on-year increase of 10.7 percent in investment, Jiangsu will further promote its transportation network, including boosting the airport capacity of Yancheng airport, Sunan Shuofang International Airport, and Xuzhou Guanyin International Airport.
In 2023, the province will strive to complete the renovation and expansion project at Lianyungang Port to handle 400,000-tonne ore carriers and advance the building of a terminal for 300,000-tonne crude oil carriers at Xuwei Port.
Jiangsu plans to build and renovate 2,800 km of rural roads in 2023. Efforts will also be made to enhance the operation efficiency of China-Europe freight train services, as the province aims to handle 2,000 trips this year.