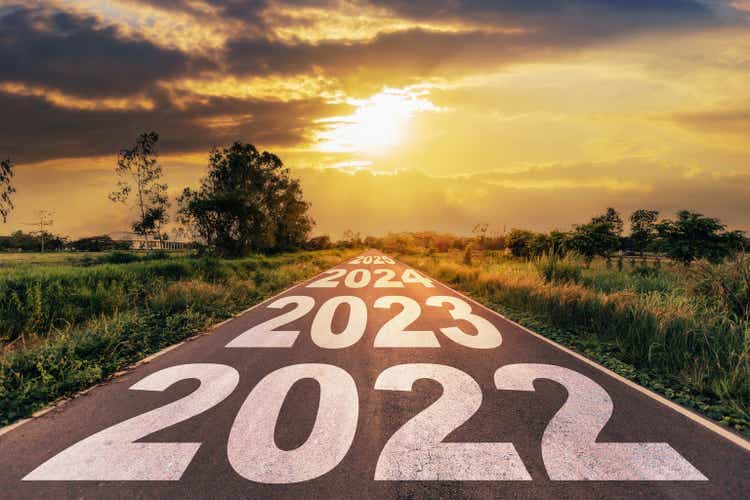 Investment Thesis
Cenovus Energy (NYSE:CVE) is an integrated oil and natural gas company.
The headline here is that there's a lot to be bullish about CVE, given its exposure to the oil and gas market.
The more nuanced discussion is that there are both positive and negative dynamics at play, which I believe add to a more complete picture.
This is how I summarize this investment opportunity in CVE. It's very attractive relative to other areas outside of energy. But I question whether management's capital allocation strategy is as positive an element as it could be.
Key Threshold of CAD$4 Billion Net Debt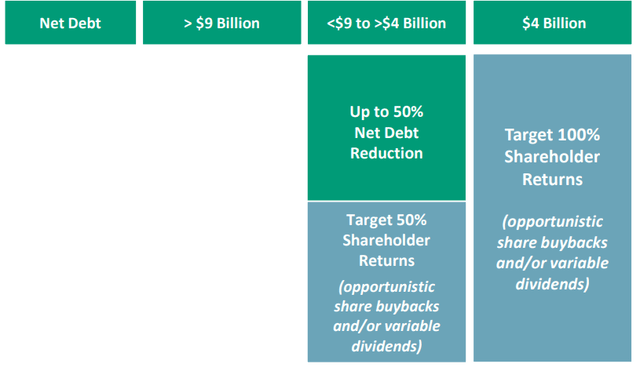 CVE believes that it can get its net debt to stay below CAD$4 billion in 2023. Given that CVE held close to CAD$10 billion of net debt this time last year, it is yet another reminder of how much better CVE's risk-reward is today, compared with the same period a year ago.
Indeed, I believe that the above statement holds true, including the 30% share price appreciation compared with last year. To put it succinctly, I maintain that investors getting in now, have substantially less risk, but not substantially less upside.
What's more, close followers of this name will know that this $4 billion of net debt is a particularly important threshold.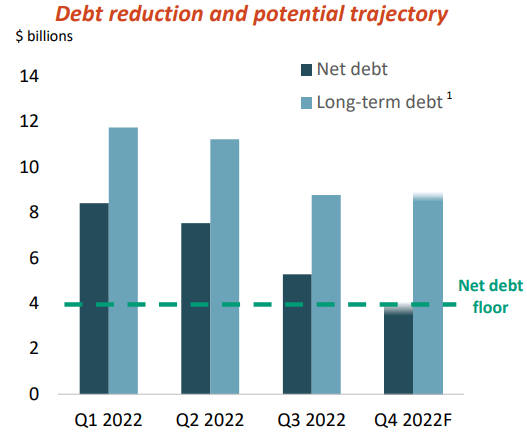 When CVE's net debt goes below $4 billion, CVE is committing to return 100% of its excess free cash flows to shareholders. What does this mean in practical terms? Let's take a step back.
Nuanced Discussion on Capital Allocation
Recall, in 2022, CVE's buyback program was authorized to buy back 146 million shares. However, when the buyback scheme was completed only 118 million were actually repurchased.
This figure accounted for about 6.1% of its total shares outstanding being repurchased. That being said, presently, the current authorization for 2023 is for 137 million shares, a figure that's smaller than the prior authorization.
What's more, note below CVE's share price during the prior authorization.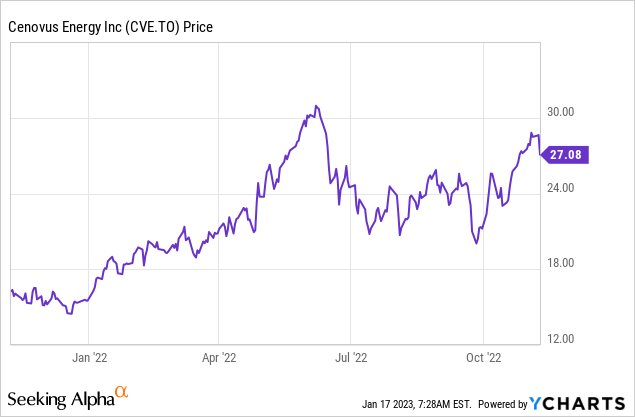 Looking back over that period, it's difficult to see how the repurchase price averaged CAD$21.19 per common share, excluding fees.
I would have hoped to see better capital allocation and less repurchasing when the share price was moving particularly strongly to the upside. Although, admittedly, I'm perhaps being too demanding.
More Dividends Coming?
The following excerpt comes from CVE's earnings call.
I'd remind everybody that from our perspective, we do prefer buybacks, all things being equal over variable dividends when we're trading below intrinsic value.

And I think as people think about even like until we hit $4 billion and after, we hit $4 billion, it really like think about the share price, if that share price is looking like $30, people should expect a lot of variable dividends.

And conversely, if that share price is trending below $20. They should expect share buybacks. That's really directionally how we think about it.
As it stands right now, CVE's valuation means that it's right between its dividends and buybacks strategy. However, if one is bullish on oil and gas, then, I believe they'll expect CVE's share price to move higher to CAD$30 and beyond.
This will imply that CVE could perhaps ease up on buying back shares, something that I believe CVE has not been particularly astute at doing, or better said, the brokers they entrusted don't appear to have done a good job.
Nevertheless, if we take CVE's Q3 base plus special dividend and annualized it we get to CAD$0.88 or a 3.5% yield.
That being said, recall that key threshold figure of CAD$4 billion, we discussed above. Once that figure is reached, CVE will increase its capital allocation back to shareholders from 50% to 100%.
Thus, on the surface, this could translate into CAD$1.76 dividends being returned to shareholders in 2023. Or if not all of this comes back to shareholders via dividends, at least close to a 6% yield could be on the cards, with the remainder of the free cash flow coming via share buybacks.
The Bottom Line
The one-line summary is that Cenovus Energy is an integrated oil and natural gas company that's cheaply valued with attractive capital returns.
The more expanded takeaway notes that CVE likely exited 2022 with its net debt profile at CAD$4 billion, and this will translate into a substantial ramp-up in capital allocation from 50% of free cash flow to 100% of its free cash flow.