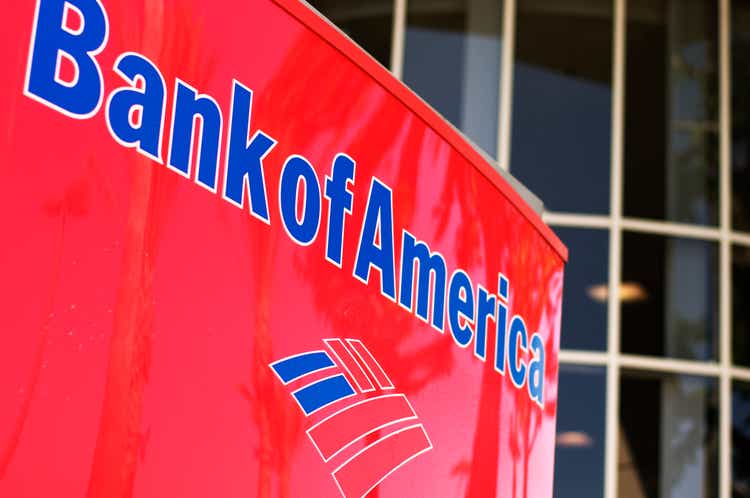 Why would anybody want to own shares in a large bank? It's the proverbial story of picking up nickels in front of a steam roller. They do reasonably well for a while before the steam roller finally catches up with them. Real estate loans caught up with them in the early 1990s and again in the Great Recession of 2007-2009. The stigma carrying over from the mortgage backed securities fiasco still makes banks an easy target for politicians notwithstanding the fact that the banks performed admirably during the pandemic lockdown and are well-capitalized for anything that might come along. It's not just the usual yak-yak either. Shareholders are being brutally punished by the Federal Reserve "suggestion" that banks limit dividend increases and postpone buybacks at least until banks achieve success in the 2023 stress tests.
Here are some reasons not to own banks:
Operating margins are low so that good performance requires constant nitpicking attention to detail and stringent cost control. Winners are nitpickers. Strategies for growth and profitability come second and third.
Organic growth is modest at best. Only buybacks – now more or less forbidden – can generate per share growth by reducing the denominator (shares outstanding).
Big mistakes by banks occur regularly within a year or two of the time past mistakes fade from memory.
The only thing that gives banks a decent chance at avoiding mistakes is exceptional leadership. Exceptional leadership is rare among large banks and often proves not to have been as exceptional as it looked when times were good.
So who would own shares in a large bank?
I do, and so does Warren Buffett although I'm not sure either of us could write down a coherent reason. The rationale is simple:
From time to time banks get cheap enough that they are a good buy. Over much of their recent history banks have been relatively cheap. (They weren't, by the way, when they first became publicly owned and traded in 1976.) Banks don't warrant a market multiple, which in normal times is around a P/E of 15-16. They are reasonably priced at a 10-14 P/E and cheap to very cheap when well under a 10 P/E.
Buffett originally bought Wells Fargo (WFC) around 5-times after-tax earnings in the early 1990s and sold in stages when its P/E ratio increased. He bought Bank of America (NYSE:BAC) for $7 per share by converting the preferred shares of his 2011 bailout deal. He got the quick quadruple I expected he might get. He bought on the way up. raising his average price to around $13, which is also my average price. We are both up about two and half times at present, although that's down from a quadruple at the 2022 high.
Why didn't I sell near the top? For me it was simple. About 75% of my position was long term cap gains, meaning that if I sold, combined Federal and state taxes would get, maybe, 23% of my capital, possibly more with AMT.
Why didn't Buffett sell? The corporate tax rate would have been about the same. The corporate tax on dividends is lower. In retrospect, Buffett and I would have both been cash-positive if we had sold at the top, but I suppose we both think BAC will return to modest growth. Meanwhile Buffett did quite a bit of selling of other banks, often at cheap prices. In the rest of this article I will try to understand and explain his reasoning.
Buffett's Spotty History With Banks, Especially Wells Fargo
In 1990 Buffett piled into Wells Fargo making it the fourth largest common stock position in the Berkshire Hathaway (BRK.A)(BRK.B) portfolio. He bought just under 10% of its total market cap. His cost was about 5-times after-tax earnings. That was the old Wells Fargo which had not yet been bought by Norwest, which kept the storied Wells Fargo name. Here's what Buffett had to say when explaining the decision to buy Wells Fargo in his 1990 Shareholder Letter:
The banking business is no favorite of ours. When assets are twenty times equity – a common ratio in this industry – mistakes that involve only a small portion of assets can destroy a major portion of equity. And mistakes have been the rule rather than the exception at many major banks. Most have resulted from a managerial failing that we described last year when discussing the "institutional imperative:" the tendency of executives to mindlessly imitate the behavior of their peers, no matter how foolish it may be to do so. In their lending, many bankers played follow-the-leader with lemming-like zeal; now they are experiencing a lemming-like fate. Because leverage of 20:1 magnifies the effects of managerial strengths and weaknesses, we have no interest in purchasing shares of a poorly-managed bank at a "cheap" price. Instead, our only interest is in buying into well-managed banks at fair prices."
Buffett then went on to praise Wells Fargo's leadership before launching into a list of risks for California banks including earthquakes and dubious numbers which come out only in a crisis. He then zeroed in on the real problem, which was massive overbuilding in northern California which could lead to a collapse in prices. He noted that the market in bank stocks was chaotic and mentioned that buying almost 10% of WFC's market cap was about like buying the entirety of a $5 billion small bank except that acquiring the $5 billion bank would cost about double the $290 million paid for 10% of Wells Fargo.
In reality WFC was just cheap. Dirt cheap. It had written down loans that were still performing perfectly and without the write-offs it was selling at about 2-times earnings with a doubling or tripling of stock price likely within a year or two. You can read about it in detail in Joel Greenblatt's wonderful if oddly titled book You Can Be A Stock Market Genius or about halfway down this piece on Bruce Berkowitz from Outstanding Investor Digest. Berkowitz did the research and some arithmetic, bought LEAPs, and made a career-changing pile.
WFC was bought out by Norwest in 1998. Buffett's position went up and down then up quite a lot during the period when the "new" Wells Fargo was run by former Norwest COO Dick Kovacevich who referred to branches as "stores" and put heavy emphasis on cross selling. Kovacevich retired in 2010 and as a regular commentator at CNBC was one of the few talking heads worth listening to following the financial crash. He predicted correctly that most banks would get through it and WFC, indeed, came through more or less unscathed. His reputation dimmed slightly when he was among the heavyweights who supported and served as a board member for the Elizabeth Holmes company Theranos, but as far as I know his name was not mentioned as bad things began to come out about fake accounts and the like at Wells Fargo. Buffett praised him lavishly. The bad stuff began to come out in 2016 under Kovacevich successor John Stumpf.
Charlie Munger was quoted a couple of times saying that before adding a new stock to Berkshire's publicly traded portfolio he first asked if it wouldn't be better to just buy more shares of Wells Fargo. WFC was, in effect, the hurdle against which all other investments were weighed. As a general principle this approach of adding to winners is probably a decent strategy. A better principle is don't fall in love if you can possibly help it, and whatever you do don't fall in love with a stock. Warren and Charlie broke that rule with Wells Fargo and it led to the sort of complacency which comes with blinders. Here's the rank of where WFC stood by market cap in Berkshire's portfolio starting in 2001:
#2 (2000, 2001)
#4 (2002 through 2004) perhaps based on valuation and desire to diversify, an evidence of some lingering constraint
#3 (2005, 2006)
#2 (2007-2010) WFC comes through MSBS crisis with little damage
#3 (2011) touched out by IBM
#1 (2012-2017) Six glory years for WFC even after bad news started to come out
#3 (2018) passed by both Apple (AAPL) and Bank of America: Buffett's moment of realization that something was really wrong at WFC
#5 (2019) Heavy selling of WFC. Buffett bought $8 billion of JPMorgan (JPM)
(2020) Buffett sold what was left of WFC and also dumped JPM
One can see between the lines how WFC rose to the point of invincibility as a stock which should never be sold and which could be held up as the standard for other investments then fell following a cascading series of disappointments. The endgame shows that Buffett came slowly to a sense of betrayal, Charlie was a bit later coming to that view. He continued to defend WFC management as ignorant of what underlings were doing. Betrayal is the operative word.
Stepping back a bit, Wells Fargo is a perfect fit for every doubt Buffett has about banks. They are a good buy when dirt cheap, and the price pulls you in. They have inherently low returns when it comes to Net Interest Margins, which means that nitpickers with low cost of funds tend to do okay, but there is always temptation to cut corners and fudge the numbers a bit. They have very modest growth which can mostly be improved by reducing the share denominator through buybacks. A steamroller – the big mistake – is always bearing down on them out of nowhere. WFC was fine through the mortgage securities disaster but the huge crisis from shady account manipulation just came out of nowhere. Last but not least, only exceptional leadership can spare them from disaster.
Oddly enough, the large bank with most similarities to Wells Fargo is Bank of America. They are the two leading and most focused consumer banks although both also do some wealth management, investment banking, and corporate lending. Because much of their funding comes from the large and very sticky deposits in checking accounts they have the lowest average cost of funds – $0.09 for BAC, $0.10 for WFC and are likely to see their costs rise rapidly with rising interest rates. Ironically, starting with conversion of his BAC preferred Buffett has replaced his Wells Fargo holdings with Bank of America. Why? The short answer is that he looked at it closely during its worst moment and emerged with strong convictions about CEO Brian Moynihan's excellence as a leader.
Buffett Also Dumped JPMorgan, Bank of New York Mellon, U.S. Bank, And Goldman Sachs But Bought Citi
Wells Fargo is not the only bank position Buffett has been unwinding. In Q3 2022 he trimmed longstanding positions in the venerable Bank of New York Mellon (BK) and U.S. Bank (USB). He had earlier purged Berkshire's portfolio of JP Morgan and Goldman Sachs (GS). Why? The following are some possible reasons:
Both Bank of New York and US Bank were steady dividend payers in an era when a 3-4% dividend was very helpful. He first bought USB in 2006 and tripled his holding over the years of the financial crisis when it became clear that they were doing fine. In 2012 he added BK, a go-nowhere custodial bank, as Treasury rates remained stuck near zero. He can now do better things with cash.
As WFC faded, Buffett built up an $8 billion position in JPM in 2019. He sold it all in 2020, perhaps realizing that its imperial merchant banking style was not what he was really after – lots of investment banking, not a lot of buybacks.
Ditto Goldman. He acquired it in a $5 billion bailout in 2008, eventually converting his position into shares, and sold steadily through 2020. Goldman's foray into consumer banking was failing and losing money, and Buffett had come to despise investment banking (although he had used Goldman in the past), docking Alleghany for the money they spent on GS as investment banker while shopping his buyout offer. Investment banking is currently weak, and Goldman doesn't have much else to fall back on. They better hope that Buffett's view doesn't catch on.
What's the rationale for Citi (C)? First, I'm not sure if the buyer was Buffett himself or one of "the boys." It's small enough for the latter. Bought in Q1 2022 it was dirt cheap, pays a good dividend, and has a history of getting every major issue wrong for roughly fifty years. Short answer: dirt cheap.
What's interesting is how sweeping his selling of banks was. It's as if Wells Fargo forced him to remember his original view of banks and never, ever again give a bank the benefit of the doubt. My guess is that there is a note either on Buffett's desk or filed away in his head: "Never, ever forget Wells Fargo."
Which Leaves Two Investable Big Banks
By process of elimination that gets you down to two of the half dozen large banks. One is Bank of America. The other is Morgan Stanley (MS). MS is the only one of the large banks which actually has decent growth. Its revenues over the past decade have risen roughly 150%, which is an annualized 9.5%. Its earnings have grown more than 200%, faster than revenues. Share repurchases have been modest. The dividend has multiplied by more than 10 in 10 years, helped by more than a double in payout ratio, and it has a current yield of 3.5%. Its share price has quadrupled over the 10 years. The only catches are (1) it sells just under a 14 P/E and (2) the investment banking side continues to be punk.
Morgan Stanley, by the numbers, looks like a growth stock disguised as a bank. Can they keep it up? Maybe. Is it riskier than main street banks? Maybe. What might trouble bank investors is that it is 30-40% more expensive (by P/E) than other banks. Numbers like that often regress to the mean. Without spectacular growth, which will be hard with the drag of investment banking, it's hard to see how the stock price could run far before getting into nose bleed territory.
Here's a ten year chart of Goldman and Morgan Stanley with JP Morgan thrown in as an integrated bank which also has a major stake in investment banking: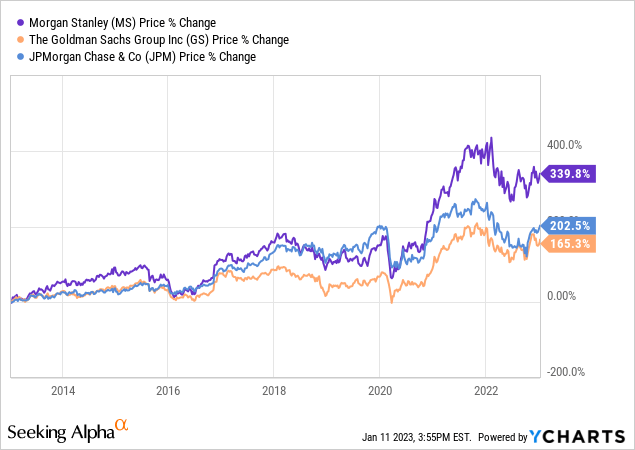 Here's a ten year chart of Bank of America, Wells Fargo, and Citi; you can compare 10-year returns for JP Morgan from the chart above: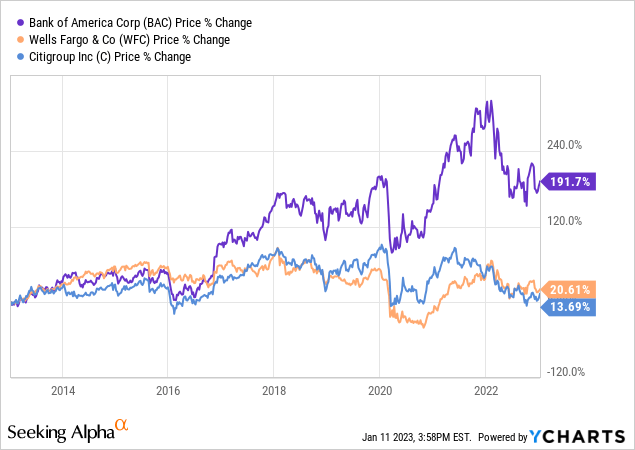 Morgan Stanley was the overall winner, although some of it was multiple expansion. Bank of America was the winner for banks with main street focus.
The Political Problem
All banks have a political problem. It has nothing whatever to do with the banks themselves. There is a faction of the Democratic Party that would still hate banks if they turned themselves into purely eleemosynary institutions. Nothing the banks can do or not do will change that. Banks as a villain are what centrist Democrats have bought them off with. If I were a bank CEO I would do my best to put a very high percentage of funds available for investment into laddered Treasuries and the small number of borrowers who absolutely, categorically don't need the money. If the economy fell apart, I would just shrug and say, Sorry, guys, I have to keep dry powder for the real crisis coming at some unknown time in the future.
Bank CEOs can't do that, of course. Or can they? Just this morning (as I write this) I saw that Wells Fargo was essentially backing out of essentially all mortgage risk by cutting out Correspondent business and narrowing it mortgage initiation to its own customers and minorities while abandoning its goal to be number one in mortgages. Tough luck, builders.
JP Morgan CEO Jamie Dimon stated early in the year that it was his intention to do that exact kind of thing. In the mid-year earnings call he addressed the Fed directly on constraints imposed on banks following the 2022 stress tests. "It's not good for the United States economy and in particular, it's bad for lower-income mortgages," Dimon said. "You haven't fixed the mortgage business and then we're making it worse. It's not good for the United States economy and in particular, it's bad for lower-income mortgages," Dimon added. He then explained that JPM would continue originating mortgages but immediately offload them, although other banks might recede from home loans entirely. "It's a terrible way to run a financial system," Dimon said. "It just causes huge confusion about what you should be doing with your capital."
Dimon's statement amounted to a shot across the bow. Don't come begging in the future, he was saying, after the way you have treated us.
Bank America, arguably, has been preparing for this throughout Brian Moynihan's twelve years of leadership. He often uses the term "Responsible Growth" to describe BAC's lending policy, but the use of the word "responsible" is also a cover for greatly reducing loans to any individual or company which comes with any significant risk. It recalls the old bank axiom of not lending money to anyone who actually needs the money.
Over his time as CEO Moynihan has greatly reduced credit card lending, home equity loans, and construction and development loans while increasing the importance of Affluent and Mass Affluent business – namely customers who don't need the money as much and always pay you back. As for the term "growth" used in the expression there has been precious little of it. Most of the "growth" dropping down to shareholders has been the result of share buybacks which reduced the denominator. The buybacks were greatly curtailed by a "pass" on the 2022 stress test which was accompanied by a whispered "You flunked". The transformative element of "Responsible Growth" is a move toward virtual invulnerability in the case of a true crisis. It comes with the ability to say, "We're fine", but don't ask us for any help with customers who are in difficulty. We no longer do business with them. Hey Fed, drop dead.
What Bank Of America's Q4 Report Should Show
Bank of America announces 4th Quarter earnings tomorrow, January 13. For a few matters it's a moment of truth. You should start with NII (Net Interest Income) and NIM (Net Interest Margin). How well have both numbers held up? Have higher rates across the board really produced the jump in earnings projected in BAC slides accompanying past reports? I noticed that they no longer add that line about how much a lateral 100 basis point increase in rate will lift earnings. In sum, have the rosy expectations for banks in a rising rate environment been borne out? If not, why? No excuses, please. I noted that in Q3, Bank of America did not mention Net Interest Margin. Isn't NIM the core of it?
What you should really hope to see in the earnings report is something more specific on buybacks. For slow growth companies like banks and insurance companies share repurchases provide investors the only source for compounding value in a meaningful way. Bank of America treated its shareholders well in two years out of the last five by returning roughly 100% of earnings in shareholder return, three quarters of it in share buybacks. Over the five-year period it reduced its share count by about 23%. Reduction of share count jumps the value of shareholder holdings by the percentage of total market cap retired and allows dividends to increase by that amount without seeing more cash go out the door.
Past buybacks are rapidly fading into ancient history. BAC flubbed the dub, as we used to say, in last year's stress test, whether by miscalculating its own capital ratio or by failing to grasp what was coming from the Fed. This year the stress tests will be run by Elizabeth Warren minion Michael Barr who has no experience whatever with banks and knows nothing about them except that his job is to find a way to punish them. Will Bank of America maintain or improve its 11% CET1 ratio, and even if it does, will that be enough?
In my view, substantial buybacks are the only reason to own any bank. Bank of America is heroically unhelpful in providing information on the subject. For one thing, they refuse to break out the amount of share repurchases which are done to offset shares provided to high ranking employees as compensation. The message from that stubborn opacity is that they pay themselves a large amount in shares which must be offset by buybacks. Wall Street analysts at BAC earnings calls do not follow up questions or push hard for facts,. To do so would cause them to lose the opportunity to ask questions in future meetings. When the year-end Q4 earnings call is out tomorrow, I plan to sit down with pencil and paper and work out exactly how much they spent on buybacks to offset share compensation to executives.
With strong buybacks Bank of America would be a Buy for those who don't already own it and for whatever reason want to own a bank. For people like me, who own more than enough, but with cap gains from buying seven years ago, it would be a Hold. Without a strong promise of buybacks it's a Sell. Take your pick.
Editor's Note: This article discusses one or more securities that do not trade on a major U.S. exchange. Please be aware of the risks associated with these stocks.