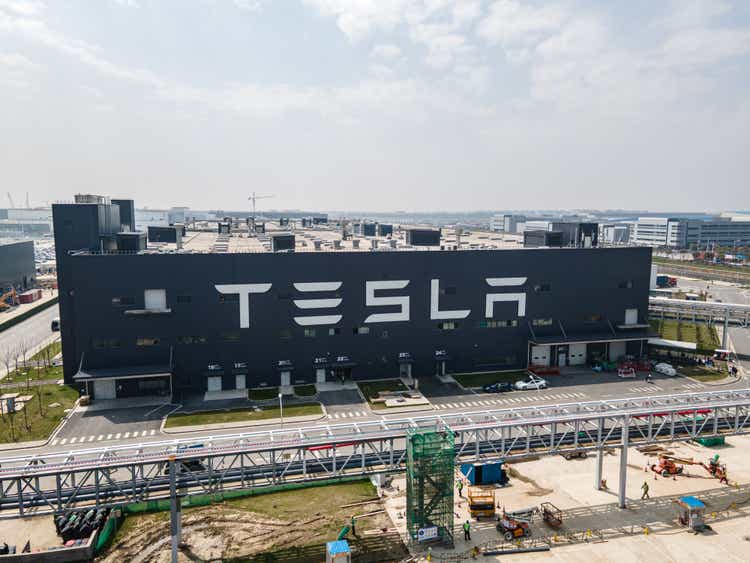 Tesla's (NASDAQ:TSLA) finish to 2022 was abysmal, with the company shedding $600 billion in market value in 3 months. Many Tesla bulls believe the primary reason for the sell-off is Elon Musk's acquisition of Twitter (and associated selling of nearly $8 billion in Tesla stock to fund it) coupled with his behavior on the site post-acquisition. While this certainly wasn't helpful, I do not believe this is the main reason for the precipitous drop.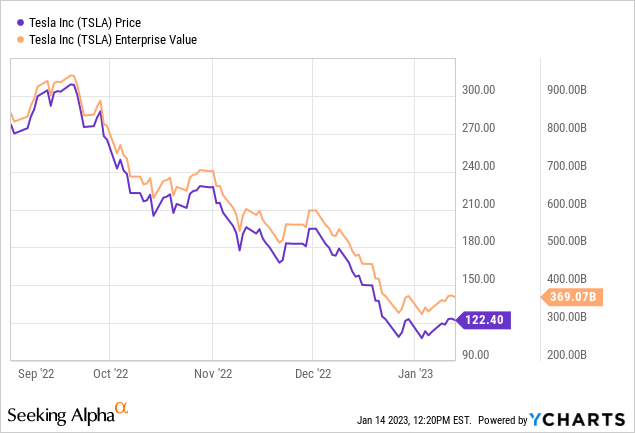 The primary reason is far more basic; Tesla has simply saturated its key markets. If the Q4 delivery miss wasn't enough of a signal, this week's price cuts should be.
I believe Tesla had an ugly choice to make: it could either badly miss delivery forecasts in 2023, or it could cut price drastically and hope to bridge some of the gap with volume. I believe it is ultimately the wrong choice, and Tesla has chosen the path that's more likely to help the stock price in the near term, rather than maintain the brand's value in the long term.
Tesla Car Values and Backlog
Tesla enthusiast Troy Teslike noted a precipitous decline in backlog since the middle of the summer. For most of the last 2.5 years, demand for Tesla's cars certainly exceeded supply, but this seemed to have reversed in the past 6 months.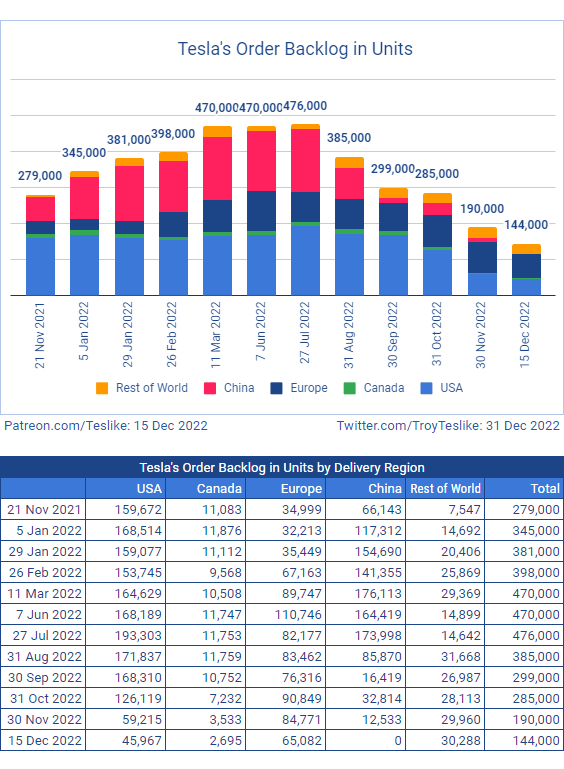 In the same timeframe, Tesla used car values, which were extremely strong for most of the pandemic, began to rapidly decline.
Tesla car values had already dropped significantly in the past 90 days, which in my opinion was a far bigger reason for the stock dropping than Elon's Twitter sideshow. The latest move will knock another $10,000+ off residual values on top of what's already happened in the past 90 days.
Price Cut Impact on Gross Margins
Tesla supporters believe it is a luxury brand. But luxury brands generally don't cut prices in the face of slack demand. In general, they don't cut prices at all!
Guggenheim's analysis on the impact of the price cut is pretty grim, especially for the Model Y.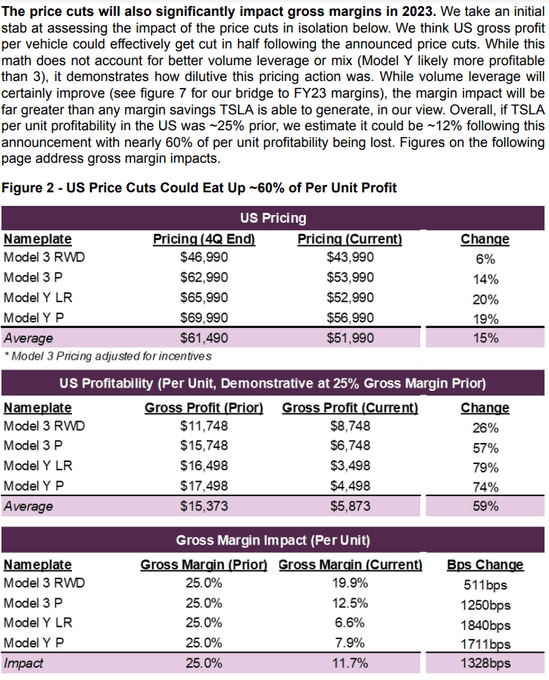 Unless volumes increase rapidly from 2022 levels, the narrative of Tesla being "cheap" on an earnings per share basis is going to be challenged as 2023 progresses.
Tesla Cost of Goods
One theory I've heard is that Tesla's supply chain costs have dropped significantly, so they're better able to pass along the savings to customers. I very much doubt this is true.
2022 was the first year in the last decade where battery costs increased, due to sharp increases in the price of lithium, cobalt, nickel, and other raw materials. The cost of labor has also risen significantly in the past few years.
Impacts from any increase in battery costs won't be felt immediately, as Tesla usually has fixed term contracts in place, but when these contracts are rolled over and renegotiated, the price is likely up and not down.
EV Credits and the Inflation Reduction Act
The price cuts in the US were strategic in that they moved most Tesla models below the $55,000 ceiling for the newly available $7500 credit in the Inflation Reduction Act. By moving under this ceiling, the end price for a Model Y LR drops from ~$68,000 to $47,130, a massive reduction which will certainly increase volume. How much volume still remains to be seen. Unlike the previous $7500 credit, the new EV credit has income exclusions, so single filers that make more than $150,000 are ineligible. This likely includes large portions of the young, technologically savvy crowd that Tesla is popular with.
Had the US price been reduced in isolation, I could listen to the argument that this move was done to maximize the tax credit and grow already strong demand more rapidly. But this is not what has happened, because, at the same time, the US price has been reduced, Tesla has reduced pricing across most of the EU as well, following the recent price cuts in China.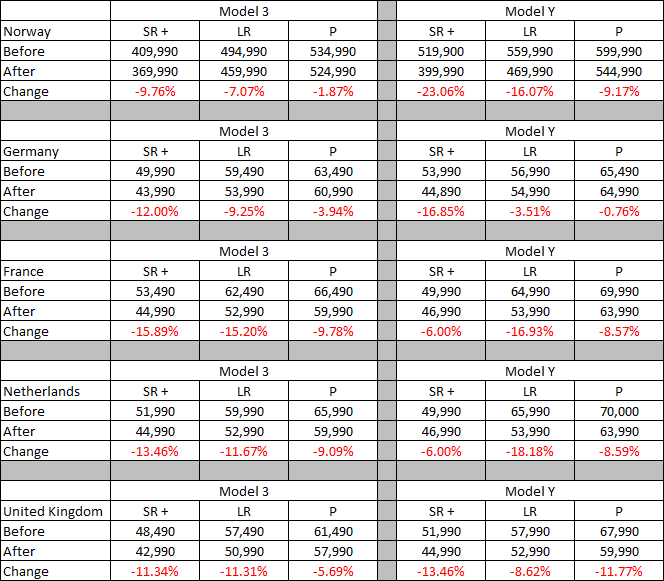 It appears that the exhaustion of the backlog and increased competition are pressuring the European market as well.
Conclusion
I have seen several bulls frame this latest move as Tesla going "on the offense" to capture further market share and put legacy auto out of business. It's an interesting take, but I believe it is ultimately just fantasy.
Tesla did a fantastic job executing over the past 3 years, expanding capacity and navigating the supply chain crisis well. They were still able to produce Model 3 and Model Y's while other manufacturers had to cut production. Raising production in an undersupplied market allowed Tesla to raise prices, and they received an additional tailwind from high gasoline prices earlier this year. From a production standpoint, they did well and the stock price responded.
But at the same time, the majority of the new promised products have not come to fruition, and Tesla still derives the overwhelming majority of its revenue from 2 aging car models that have not had a significant refresh since inception. Gas prices have fallen significantly and other manufacturers are producing again.
Even with lower prices, I think it will be a challenge for Tesla to match 2022 volumes, let alone sell enough incremental units to raise earnings. Those who are buying Tesla today because it's "cheap" at 30x earnings might see it get much cheaper if earnings fall in 2023.