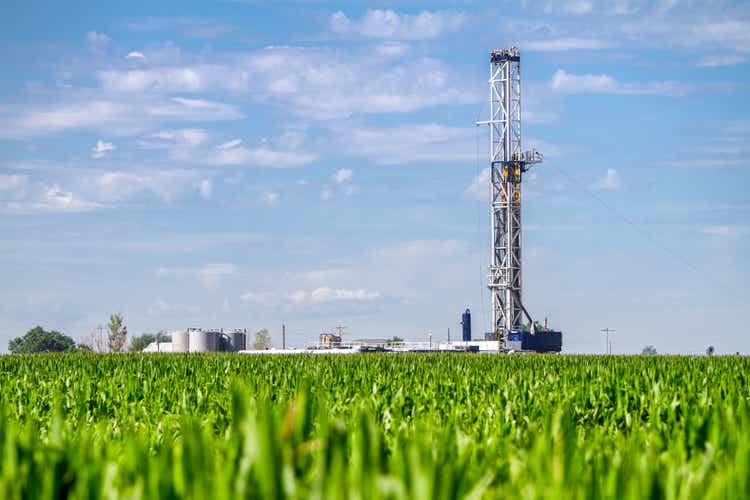 Never throughout history has a man who lived a life of ease left a name worth remembering. ― Theodore Roosevelt
I have been underweight commodity and energy stocks over the past couple of quarters as global economic activity has slowed and recession is a real possibility in 2023 as the Federal Reserve continues to hike interest rates. However, I have added a stake in a fast growing energy production to my portfolio. The stock appears cheap even with the recent fall in oil and the balance sheet is in good shape and conservatively managed. An analysis follows below.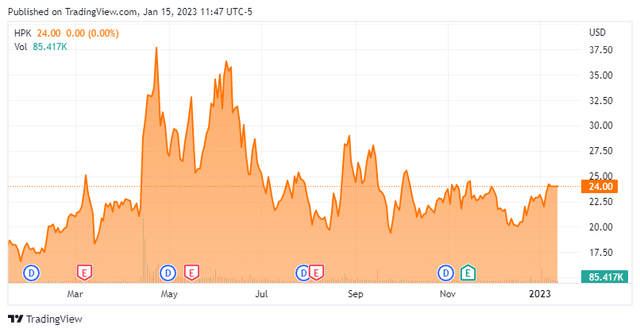 Company Overview
HighPeak Energy, Inc. (NASDAQ:HPK) is a Fort Worth, Texas based independent oil, natural gas, and natural gas liquids producer focused on the development of unconventional reserves primarily in crude-oil rich Howard County, TX, situated in the northeastern portion of the Midland Basin. The company's property consists of two nearly identically sized, highly contiguous blocks (Flat Top and Signal Peak) encompassing 124,011 gross (105,458 net) acres, of which 53% are held by production. HighPeak was formed in 2019 and went public in 2020 when it merged into special purposed acquisition company (SPAC) Pure Acquisition Corp. – approximately four months after oil prices went negative – with its opening trade transacted at $8.99 a share. Its stock trades $24.00 a share now, translating to an approximate market cap of $2.7 billion.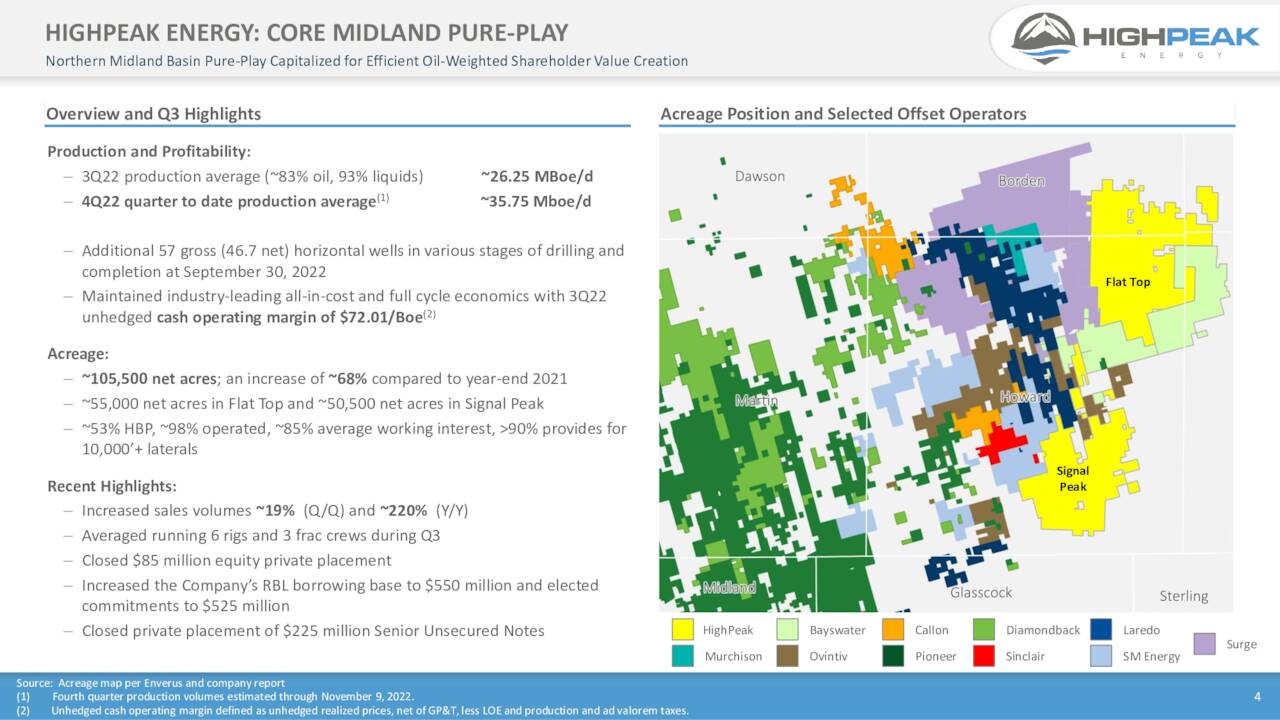 Backstory
The company was formed by Jack Hightower, who has enjoyed some successes in the oil patch, including the sale of Pure Resources to Unocal in 2002, when the latter paid $409 million for the 35% of Hightower's company it did not already own. With HighPeak, the 72-year old chairman and CEO is operating under a mantra of 'drill like the world is coming to an end while the price of oil is elevated'. After being forced to curtail production due to withering prices in 1H20, the company resumed production in mid-July 2020 and went public in a very challenging environment the following month – then holding 61,302 gross acres (51,295 net). With 1,208 gross (839 net) drilling locations across its play and (initially) three rigs, HighPeak went to work.
The company drilled 15 wells (and completed 18) during 2020, exiting the year with production of 3,332 barrels of oil equivalent per day (BoE/d) in 4Q20. In FY21, HighPeak drilled and completed 44 gross (42.5 net) horizontal wells with another 22 gross wells awaiting (or in some stage of) completion as it increased its activity to four rigs and two frac crews. Production in 4Q21 increased 347% year-over-year to 14,881 Boe/d.
Then, the company added to its acreage during the first nine months of FY22 (YTD22), acquiring 42,855 net acres contiguous to either its Signal Peak or Flat Top operating areas. Total consideration for these acquisitions was $523.4 million, including the issuance of 10.85 million shares of stock, valued at $265.0 million on the respective closing dates. Upping its total rig count to six and frac spreads to three, HighPeak drilled 86 gross wells in YTD22. That said, HighPeak can hold the entire acreage position together (i.e., maintain the leases by establishing production) with less than two rigs annually. As such, it is not under duress to quickly develop its properties if oil prices were to tank.
Strategy: Drill and Push Its Locational Advantage
Management's growth philosophy has yielded significant results, with daily production averaging 26,247 BoE/d (83% oil, 93% liquids) in 3Q22, up 221% year over year. Furthermore, it enjoys peer-leading – versus CPE, ESTE, FANG, LPI, MTDR, PR, PXD, and SM – unhedged EBITDA margin of $71.23 per BoE in 3Q22, equating to 84% of its realized price per BoE (excluding the effect of derivatives). This metric wasn't merely number one in its group; it was 36% above the peer average of $52.48.
The reasons for this performance are manifold. First, its cut of oil at 83% — which translates into higher BoE – is very high. Second, with the quick production buildout enhanced by its FY22 acquisitions, its fixed costs are quickly diluting. Third, its aggressive drilling strategy and two large contiguous blocks permit HighPeak to exploit its asset more efficiently with longer laterals and volume discounts on sand and pipe, as well as water treatment services. Fourth, Flat Top and Signal Peak are both adjacent to refineries, meaning significantly reduced gathering and transportation costs getting its output to market.
On the capex side, despite cost inflation pressures from labor, chemical, and workover rig expenses, HighPeak is leveraging its locational advantage (near an electrical substation in Flat Top) to power its drilling rigs there with highline power (as opposed to diesel generators), saving it nearly ~$90,000 per well drilled. Furthermore, two (and soon all three) of its frac crews are utilizing wet sand through a partnership with a local mine as proppant in its wells, which will save the company ~$300,000 per well drilled on transportation costs and score it some points with the ESG crowd. With an average well cost of ~$7 million, these savings are significant.
3Q22 Results & Outlook
These advantages were on display when the company reported 3Q22 on November 14, 2022, posting earnings of $0.85 a share (GAAP) and EBIDAX of $169.7 million on sales of $204.1 million as compared to $0.08 a share (GAAP) and EBITDAX of $33.3 million on sales of $47.5 million in 3Q21, representing improvements of 963%, 410%, and 330%, respectively. Its bottom line beat Street consensus by $0.15 a share.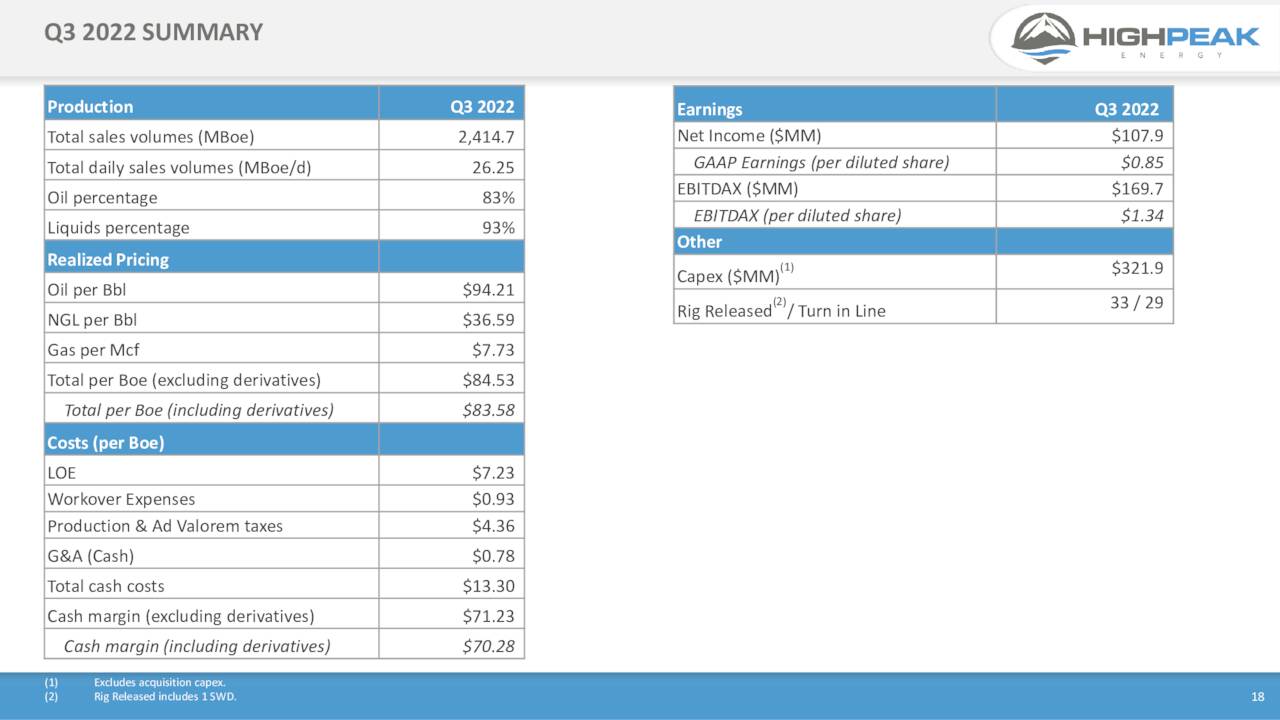 Furthermore, the breakneck growth will continue into 4Q22, with production expected to increase 41% sequentially over 3Q22 to ~37,000 BoE/d. Approximately one-third of this output is hedged at $85.85/bbl.
Balance Sheet & Analyst Commentary
In order to finance its rapid expansion, the company onboarded funds from a plethora of sources in 2H22. It increased its revolving credit facility by $125 million to $525 million, raised $85 million in a 3Q22 private placement at $21.61 a share, and subsequent to the close of the quarter, sold $225 million of 10.625% senior unsecured notes due November 2024. The net effect of these transactions leaves HighPeak with $400 million in liquidity (along with anticipated EBITDAX) to handle anticipated capex of $290 million in 4Q22, after spending $320 million in 3Q22. Overall, the company has net debt of $571 million, which, when compared to its 3Q22 EBITDAX annualized, translates to net leverage of 0.8. It also pays a minuscule quarterly dividend – understandable given its growth strategy – for a current yield of 0.4%.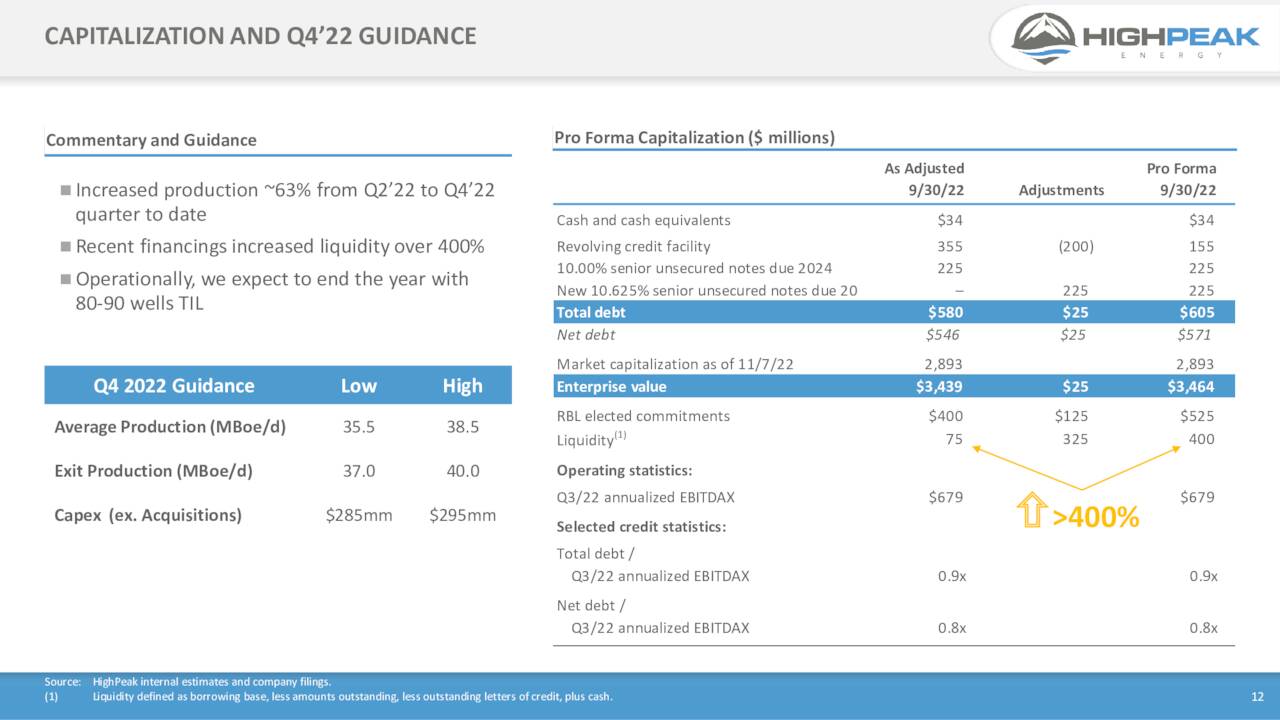 The very small coverage HighPeak receives from the Street is bullish, with two buy ratings from Seaport Research Partners and Roth Capital, the latter bestowing it with a $38.75 price objective. On average, they expect HighPeak to earn $2.38 a share (GAAP) on sales of $723.7 million in FY22. The one analyst firm that has posted projections for Y2023 sees $4.36 a share in EPS. The two analyst firms that have sales forecasts out see revenues increasing to between $1.31 billion to $1.45 billion for 2023.
President Michael Hollis seems to believe that this outlook merits a higher valuation. He has purchased just over 250,000 shares – all in the low 20s – since his company's 3Q22 earnings release.
Verdict
Leveraging its advantages with an approach that runs counter to many in the oil patch – which are maintaining their capex at a relatively steady state – HighPeak has positioned itself to produce ~50,000 BoE/d and generate over $1 billion of EBITDAX in FY23 while maintaining a conservative balance sheet – quite remarkable and unnoticed by the market. Its stock has more or less traded with the price of oil and it deserves better given its consistent growth and valuation.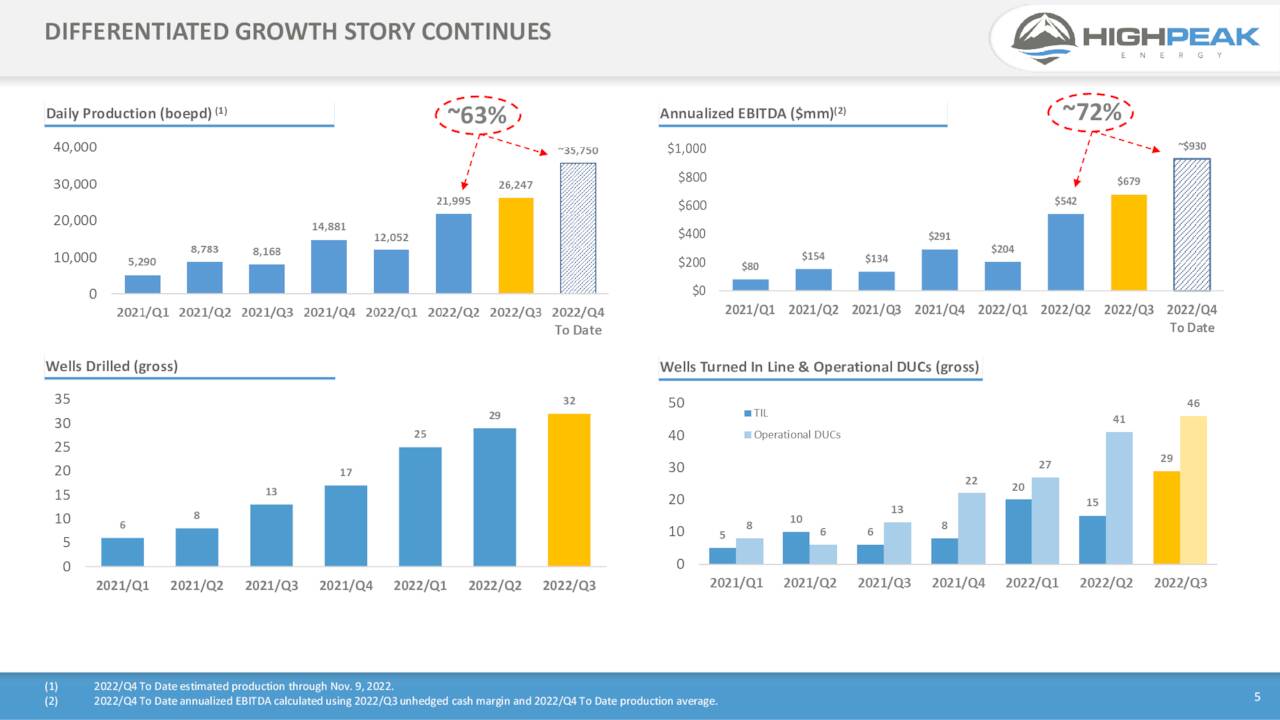 At its current production profile – which will nearly double by YE23 – a $5 increase in the price of oil will equate to a $55 million increase in annual EBITDA. Obviously, prices in the energy complex have lost momentum with recession forecasts front and center. However, all the oil that has been drawn from the strategic petroleum reserve over the past six months has to be replaced, likely putting a floor in prices.
Either way, even with its rapid buildout, HighPeak is nearing free cash flow neutrality (~$240 million of forecasted EBITDAX vs ~$290 million of capex in 4Q22) with the ability to turn up or down production based on oil prices. This is a significantly undervalued stock, trading at an EV of approximately $3.5 billion while its 4Q22 run rate EBITDAX will approach $1 billion. It is also trading at a forward PE of under six. With very small lease operating expenses, HighPeak has limited downside – even in a less favorable oil price environment – and significant upside. I have followed the insider buying in this name to accumulate a decent stake in this stock.
An artist is somebody who produces things that people don't need to have. ― Andy Warhol