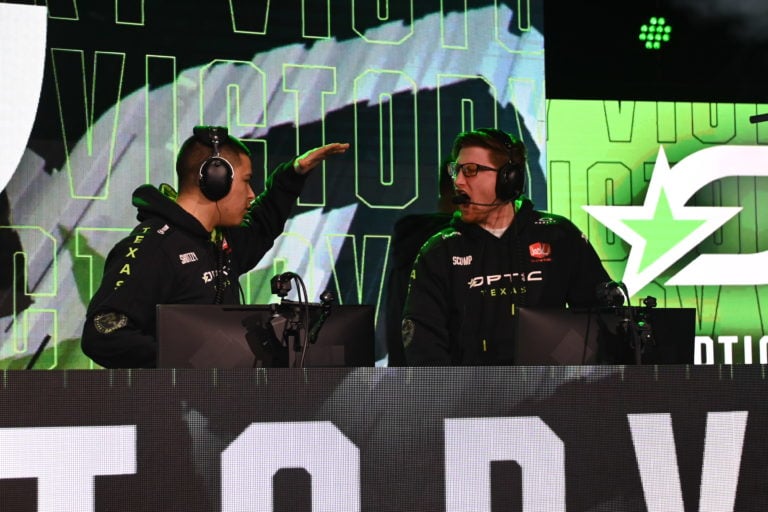 In their first match since dropping superstar Dashy and subsequently replacing him with Huke, OpTic was clutch at every moment in a heart-pounding 3-2 victory over the Boston Breach. 
OpTic struggled at the season's first major tournament, the Raleigh Major, back in December and their roster uncertainty had been the talk of the CDL for the past month. There were numerous players linked to the opening in the roster, but ultimately Texas decided on Huke, who was a world champion with the Dallas Empire during the inaugural 2020 CDL season.
Early returns for the new-look roster have to have fans excited, with each member of the OpTic roster making massive plays in their first match of stage two.
In the series' first map, Hotel Hardpoint, the honeymoon phase got off to as good a start as possible. OpTic were firing on all cylinders with their new-look roster en route to a 250-180 victory. Each member of the Texas side was positive in the slaying category, with newcomer Huke posting a 1.30 K/D while iLLeY played one of his best maps in recent memory with a 23-11 statline to help lead his team to a 1-0 lead. 
While OpTic looked dominant in that first map, Boston came out swinging in Embassy Search and Destroy, looking to even the match. Each individual round was competitive, but it was Breach that came away with round after round, eventually climbing to a 5-0 lead. Texas did manage to steal a couple of rounds to bring it to 5-2, but Boston proved to be too much in the eighth as they closed the map to knot the match at a map apiece. 
The third series of the match, Hotel Control, unfortunately, dealt with technical difficulties. OpTic found themselves with a 2-1 lead after some massive plays from Scump before there was an interruption that stopped the map. After a few minutes, the action was back on with OpTic on the attacking side. It was a masterclass from the Green Wall, with Texas stacking the point and collecting the map win to take a 2-1 advantage in the series. 
In the fourth map of the series, Embassy Hardpoint, Boston looked like they were well on their way to a comfortable victory to send the series to a map five, leading by more than 100 points at multiple points. But OpTic continued to fight, scrap, and crawl their way back to take the lead late in the map. But Boston never flinched as they were able to take down all four OpTic players and get the remaining time needed to take the map 250-244. 
Boston will be back in action against the Las Vegas Legion on Saturday, Jan. 21 at 2pm CT while OpTic will face the Seattle Surge on Friday, Jan. 20 at 3.30pm CT.