view original
post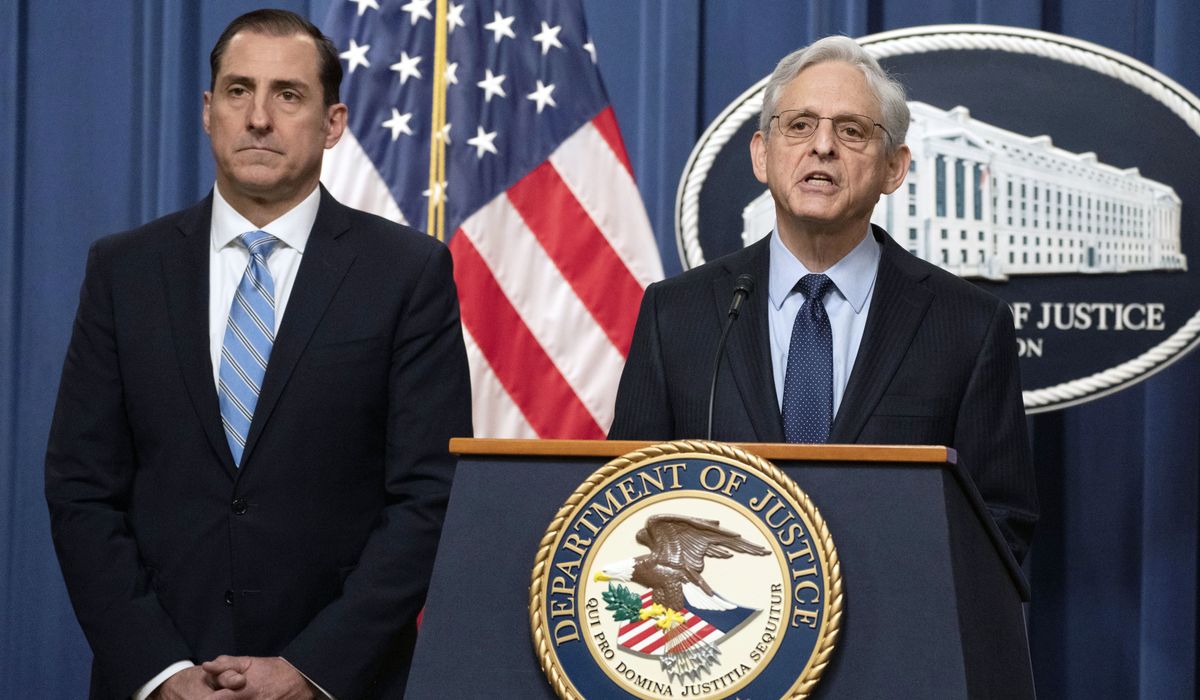 OPINION:
Like two peas in a pod, President Biden and former President Donald Trump are caught up in ongoing investigations. While their cases contain certain distinctions, their statures in the eyes of officialdom are miles apart. With Mr. Trump burdened by the presumption of guilt and Mr. Biden buoyed by his presumed innocence, the venerable promise of equal justice under the law is undergoing a telling test.
Since Mr. Trump first declared his presidential candidacy, Washington has treated him like an embarrassing disease. As a Democrat-turned-Republican, he is a living repudiation of the prevailing view that progressivism is an enlightened step above conservatism. Both in office and out, the establishment has hacked at his stature with its fruitless Trump-Russia collusion investigation and its dual impeachments. 
On his way out of Washington, Mr. Trump took classified documents — not secretively, but in a manner that his detractors dispute. Although empowered as president to declassify and possess secret documents, the controversy prompted Attorney General Merrick Garland to send armed agents to confiscate the material from Secret Service-secured storage at Mr. Trump's Mar-a-Lago residence. Subsequently, Mr. Garland appointed special counsel Jack Smith to investigate both Mr. Trump's unorthodox handling of the documents and whether his heterodox response to anomalies of the 2020 presidential election contributed to the Jan. 6, 2021 riot at the Capitol.
By contrast, half a century in the federal government has fashioned Mr. Biden into a walking, talking monument to Washington politics. Adept at adopting positions to suit shifting popular opinion, the Delaware Democrat was a natural choice, first as former President Barack Obama's vice president and then as president.
Suddenly, it was revealed last week that Mr. Biden, like Mr. Trump, took classified documents when he left government service in 2017. First came the disclosure that material regarding Ukraine, Iran and the United Kingdom was discovered in November at the Penn Biden Center, a Washington-based think tank that Mr. Biden opened in 2018. In rapid succession, other classified documents were uncovered in his Delaware residence — first in the garage and then in two separate searches of the house.
Team Biden rejects any comparison with his predecessor, arguing that the current president's documents were "inadvertently misplaced," notwithstanding that they had been held, unguarded and undisclosed to federal archivists, for nearly six years.
That's good enough for Mueller inquiry investigator Andrew Weissmann, who tweeted: "It's not a crime to accidentally take and retain govt docs. If, upon learning that you have docs, you return them, there is no crime. That is not what Trump did."
To the contrary, "cooperation is not a defense," Trump-era Director of National Intelligence John Ratcliffe told "Fox & Friends Weekend."
"It is one of the things that the White House keeps talking about. And also, it can't be an inadvertent mistake when you do it four times," he said.
The Biden-Trump document parallels grated like fingernails on a chalkboard, forcing Mr. Garland on Thursday to appoint Robert Hur as special counsel to investigate the "extraordinary circumstances."
The twin inquiries put Washington under the spotlight. The comparative outcomes should prove a telltale as to whether equal justice under the law endures in America or is simply a tall tale.