CHAMPAIGN — Back in Brad Underwood's playing days, one opponent stood out to him.
When his Kansas State team played a Johnny Orr-coached Iowa State team, the Cyclones' spread offense created a difficult matchup. Iowa State won all three of those meetings during Underwood's two seasons at Kansas State, and so he jumped at the opportunity to run a variation of it when he became a coach.
"I've always felt as a player it was one of the hardest things to guard," Underwood said. "I just kind of took it. (Oregon coach) Dana Altman ran a version of it at Creighton. We do some things a little different, but a lot of the similarities and then it's something as soon as I became head coach I started with."
Underwood's version of that spread system helped him rise up the ranks and win games at the community college level before a dominant stretch at Stephen F. Austin. He's run it at times at Illinois.
"I've just kind of developed it and tweaked it based on teams," Underwood said. "I love it because you can have a driving team, a shooting team … you can have a pick-and-pop five man, you can have a roller. I love the versatility of it."
After the five-out offense produced a mixed bag to start this season, he decided to switch back to the spread. The team worked on the system after the loss to Maryland, and it had a couple bumps early with a loss to Northwestern.
Since then, that system has paid dividends with three of the team's best offensive stretches coming in the past six days playing a large role in the team's three-game win streak to get back in the Big Ten picture and get back to .500 in the conference after an 0-3 start. Illinois has a chance to stretch that streak to four when it travels to Minnesota (5 p.m. Big Ten Network).
Illinois had a season-low five turnovers in its win over Michigan State and has had three of its four fewest turnover outputs of the season in the past three games. It also had more fluid halfcourt offense that's led to the Illini pulling away from Wisconsin and Michigan State down the stretch in the past week.
"Passing," Underwood said on why he chose the spread system for this year's team. "And again, spread is an offense that's based on versatility. It's very positionless, but it's about passing, it's about cutting. We're a very good cutting team. So, you put all those things together, and it just kind of fit."
Terrence Shannon Jr. has been a consistent primary scoring option in that run with 17 points or more in each of those games. He said that the difference in execution of the offense has been the most important part of the recent success.
Dain Dainja also shined recently with a game-high 20 points against the Spartans, with a primary part of the scheme being built around paint touches that primarily go to the big man who starts most possessions around the free throw line before setting a screen and then rolling or posting up.
He's currently shooting 71.2% from the field, fifth in the country for players who have attempted over 100 field goals.
"Dain's extremely talented and very gifted as a passer, very gifted as a scorer," Underwood said. "It was just time and paint touches were a big part of it."
Dainja was joined by Sencire Harris in the starting lineup after the team's loss to Missouri as part of the team's tweaks. They both have started ever since. Harris went down during the second quarter after being tangled up with Michigan State's Malik Hall and didn't return, but Underwood said he'll be available against the Gophers.
They'll both play big minutes in a system that Underwood picked up from his playing days even if it's been around for much longer. Underwood recalled a conversation with a high school coach while at a clinic in Florida during his time at Stephen F. Austin.
"A high school coach walked up to me and he was in his late 70s, still coaching high school basketball, still running it, and he asked me where I got it," Underwood said. "And he told me where he got it. He got it at a clinic and he said, 'Does the name (Tony) Hinkle mean anything to you?' And he goes, 'I got it from Coach Hinkle at a clinic back in the 50s.'"
The system may be an old one, dating back to Tony Hinkle's time as a legendary coach at Butler from 1926-70, but it's helped bring new life to the Illini in conference play.
Illinois beats Michigan State
Michigan St Illinois Basketball
Michigan St Illinois Basketball
Michigan St Illinois Basketball
Michigan St Illinois Basketball
Michigan St Illinois Basketball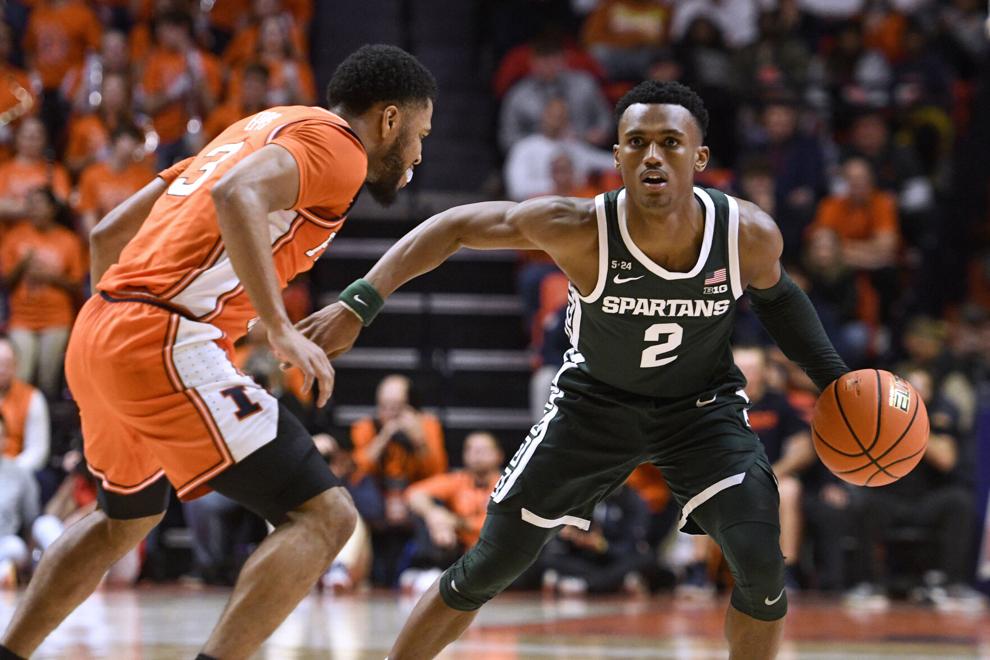 Michigan St Illinois Basketball
Follow Anderson Kimball on Twitter at: byAndy Kimball
');
var s = document.createElement('script');
s.setAttribute('src', 'https://assets.revcontent.com/master/delivery.js');
document.body.appendChild(s);
window.removeEventListener('scroll', throttledRevContent);
__tnt.log('Load Rev Content');
}
}
}, 100);
window.addEventListener('scroll', throttledRevContent);