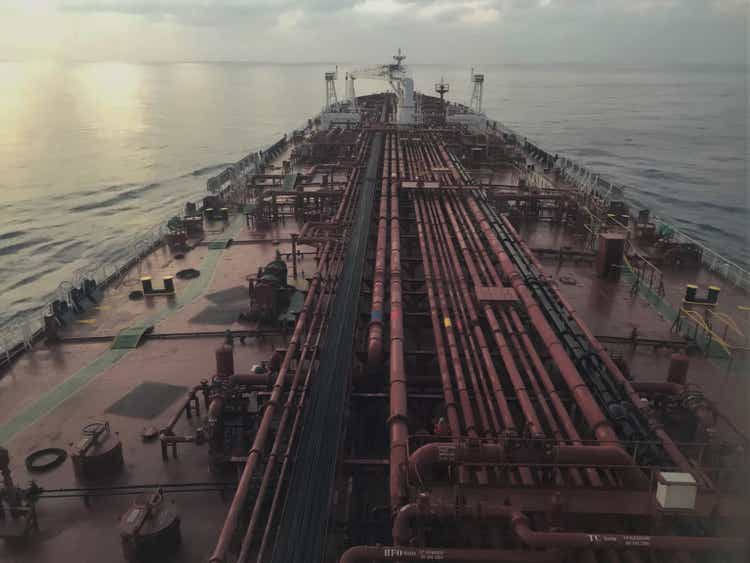 Yep, I must admit it: The oil tanker rally didn't catch my attention at first, and when it did, I feared it was too late to jump in. But during the last few weeks, I'm happy to see one of my personal favorites in the oil shipping industry to have suffered some losses, which enable me to gradually open a long position. Of course, I'm talking about DHT Holdings (NYSE:DHT). The reasons why it is one of the best managed companies in the industry have been analyzed in my previous articles. Today, I'm going to express my views regarding why I believe that the company is heading towards a reversal of its short term negative trend and why I think it can offer nice returns to investors who decide to invest in it now.
Some news are good news
To alter the known phrase "no news is good news", in the case of DHT Holdings I must say that some news are good news. A few days ago the company announced that they expect Q4 TCE earnings to reach approximately $57k per day. As expected, this average is comprised of vessels operating in the spot and in the time charter market, with spot rates being almost double than those found in longer term charters. More specifically, spot rates in Q4 are expected to reach $63.8k per day, while the time charter average rate is found at $36.1k per day. In addition, the company also announced that 37% of the available spot VLCC days in Q1 2023 have been booked at $70k per day, while the respective figure for time charters is $52k per day and is computed on 53% of the available time charter days.
What we can see from these figures is that the strong oil market is not only expected to continue in the next quarter, but it is also expected to gather some more steam. As an investor, I tend to favor time charters, as compared to the spot market, although big dividends are usually powered by the spot market. And big dividends are tasty. What is spectacular here is that despite the 10% rise in the spot market rate on a sequential basis, time charter rates have increased by a staggering 45% during the same period.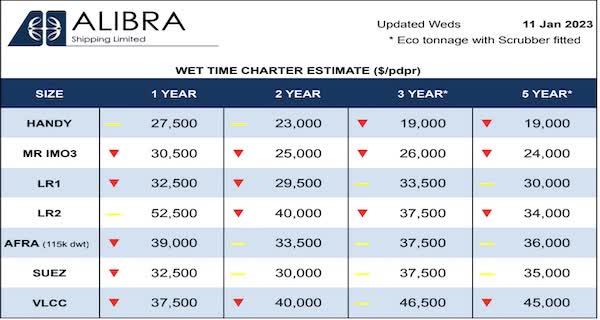 However, there seems to be some easing of the time charter rates, especially for larger vessels. As we can see in the table listed above, one year VLCC contracts are currently valued at a rate of $37.5k per day, while this figure, just a week ago, was at 48.5k per day. To the bright side, longer contracts have seen significantly smaller rate reductions.
What is important to recognize though, is that industry experts believe that the strong oil tanker market is expected to continue throughout 2023, due to the favorable fleet dynamics. New vessel deliveries are at a very low point, which is expected to support the market, even in the (quite likely) event of a recession.
Another positive factor for the company is the upcoming expiration of some of its time charter contracts in the second and third quarter of 2023. With rates getting the support of China's reopening, the company should be in a position to secure new time charter contracts at better rates.
A brand new dividend policy
Following the majority of dry bulk and container shipping companies, a few months ago, DHT Holdings announced their brand new dividend policy, which dictates that the company must pay out 100% of their net income to their shareholders, in the form of quarterly dividends. Combining this policy with the increased time charter equivalent rates expected in the next quarter and the fact that in Q3 2022 the breakeven rate for the spot market was at $27.8k per day, I think we're heading for some record results for the fourth quarter of 2022. Analysts estimate Q4 2022 EPS to land at $0.35, signifying a chaotic difference to Q3 EPS of $0.04. In Q3 2022, the company reported net income of $7 million, which was translated to a quarterly dividend of $0.04 per common share, based on the new dividend policy.
For the fourth quarter of 2022, analysts expect revenues of $268 million, which, at a margin of 64% observed in the previous quarter, translate into a gross profit of $96 million. If we allow for $34 million of operating expenses and another $10 million for other items, we are left with a net income of $52 million. Based on the new dividend policy, this figure is translated to a dividend of $0.32 per common share. In other words, forward dividend yield explodes to almost 15%, based on a share price of $8.60.
Some technical insights
How many times have you caught yourself owning a quality stock that has moved lower than the price you bought it? This is a scenario that has happened many times to me and chances are that it will also happen in the future. Investment timing is of the essence to our investment decisions and outcomes.
As we can see in the chart listed above, it seems that now is a good time to open a long position in the company, as the share price has bounced off the green trend line, a move that is also confirmed by the Fibonacci retracement level. At the same time, the volume oscillator is beginning an uptrend, showing higher highs, which also confirms the trade.
Potential downside risk
The global oil shipping sector has gained traction during the last months due to a variety of reasons, including longer voyages and higher oil prices. However, as central banks make money more expensive, chances are that the global economy will face a slowdown, or even a recession. In this scenario, analysts anticipate some rate easing, especially for larger vessels. While China's reopening will counterbalance such a development, some rate volatility is to be expected, at least.
Bottom Line
The quality characteristics of DHT Holdings have been debated many times. The newly initiated dividend policy, combined with the strong upcoming quarters, will boost the share price above its previous high. I strongly believe that this is a second opportunity for investors that missed the train in the first place. The company is about to provide huge profits and dividends. Furthermore, the time is right, with price action providing a strong bullish technical signal.