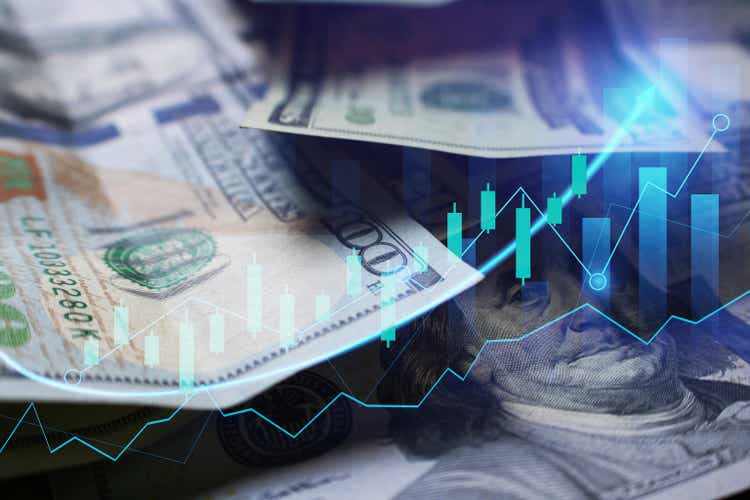 The bear market has a good chance of continuing in 2023 since more interest rate increases are likely to lead to a recession. Declines in equities can bring more awareness to annuities as an investment option for certain investors, particularly those who are retired or close to it. American Equity Investment Life Holding Company (NYSE:AEL) offers life insurance products in the form of annuities that are likely to appeal to retirees looking for steady income.
American Equity and its subsidiary, Eagle Life Insurance Company, offers fixed index, rate annuities, and single premium immediate annuities. The company markets its products through marketing organizations, independent agents, brokers, banks, and registered investment advisors.
AEL was ranked #1 in customer satisfaction J.D. Power in 2022. This distinction was achieved through excellent customer service at each point of contact. American Equity attributes this distinction to its competitive products, policyholder focus, and producer loyalty driven by value-added marketing support provided to its distribution partners, and the company's leading client service.
AEL faces positive conditions for increases annuity sales. The U.S. annuity market is expected to grow at an annual pace of 4.7% to reach $299 billion by 2026. One large driving force for growing annuity sales is the large amount of people retiring over the next few years. The U.S. population aged 65 and over is expected to grow by over 8.5 million people by 2026. This growth increases the available market for annuity sales. Therefore, a large amount of people that are retiring and close to retiring are likely to consider annuities for income stability as they have been experiencing significant volatility in equities.
Possible Takeover Target
Recently, Prosperity Group Holdings made an offer to acquire AEL for $45 per share. AEL rejected this offer stating that the offer "significantly undervalues" the company. AEL was previously targeted by Athene and MassMutual back in 2020. However, those offers were also rejected by AEL.
Wilma Burdis, an analyst at Raymond James, believes that AEL is worth $53 per share in a takeover situation. This looks reasonable since AEL was trading in the low $40s for most of 2022. Historically, the takeover premiums have been 20% to 30% in this sector.
It is possible that Prosperity Group comes back with a higher bid. Even if they don't, other firms might also be looking at AEL as an attractive acquisition. This development is positive for shareholders as this attention to AEL is likely to keep the stock stable and possibly allow it to significantly outperform during a bear market.
Valuation
Price to Book ratio is a good valuation measure for a financial or insurance-related firm as it values the company in terms of assets on the balance sheet. Price/book shows how the stock is trading in terms of its balance sheet. American Equity is trading with a price to book ratio of 1.25 [TTM]. This is about in-line with the sector median price/book of 1.28. AEL looks attractively valued as it trades with a price/book below 2 and closer to one.
Another key metric for American Equity is the high return on equity [ROE] of about 27% that the company achieved over the past 12 months. This is significantly higher than the sector median ROE of 11.6%. AEL's strong ROE shows that the company successfully covers its cost of capital. This should help drive solid returns for shareholders. AEL did gain over 13% over the past 12 months, while the S&P 500 (SPY) declined by about 17%.
AEL's high ROE can help drive strong earnings growth. American Equity's EPS is expected to grow by an impressive 23% in 2023. This growth can drive above-average gains for the stock from a reasonable valuation.
Strong Buy Stock
Stocks that have a Quant rating of 'strong guy' on Seeking Alpha's rating system have a tendency to outperform the S&P 500 by a significant percentage. American Equity is rated 'strong buy' on SA's quant rating system, which gives the stock a good chance of outperforming the broader market in 2023. Here's a chart showing AEL's SA ratings:
We can see from the factor grades above that AEL is rated high on each category. The low valuation, strong profitability, high growth, positive momentum, and upward earnings revisions are likely to help drive the stock higher for above-average gains in 2023.
Increasing Interest Rates Driving Higher Profit Margins
American Equity has been getting a boost from increased interest rates. As interest rates increase, AEL has been making more money on equity investments. The company's interest and dividend income increased 12% from 2021 to the trailing 12 month period.
The expected continuation of interest rate hikes in 2023, can help drive more growth in interest income for AEL this year. This also led to a 173% increase in operating income from 2021 to the trailing 12 month period. The operating income margin increased from 17% in 2021 to 92.7% in the trailing 12 month period.
Granted the interest rate increases won't be as steep in 2023 as they were in 2022. However, the rate increases that do take place in 2023 are likely to help keep margins attractively wide and help drive growth.
American Equity's Long-Term Outlook
American Equity's low valuation and strong expected growth leaves room for the stock to outperform in 2023. The interest rate environment remains favorable for AEL's interest income and profit margins. The Fed may have to pause for a while after it makes the last interest rate hike if inflation remains above its target level. The first rate cut could be more than a year away. So, AEL is likely to experience multiple favorable conditions in 2023. The large amount of people retiring is another positive catalyst for the annuity market and AEL's business.
One of the risks for the company is that inflation could drop quicker than expected, leading the Fed to cut interest rates sooner than expected. This could lead to narrowing margins and less interest income. Another risk is that annuities could fall out of favor if a new bull market forms and a shift to equities returns for retirees.
Overall, I expect favorable conditions to continue for AEL in 2023. As a result, the evidence that I presented here points to AEL outperforming the broader market in 2023.