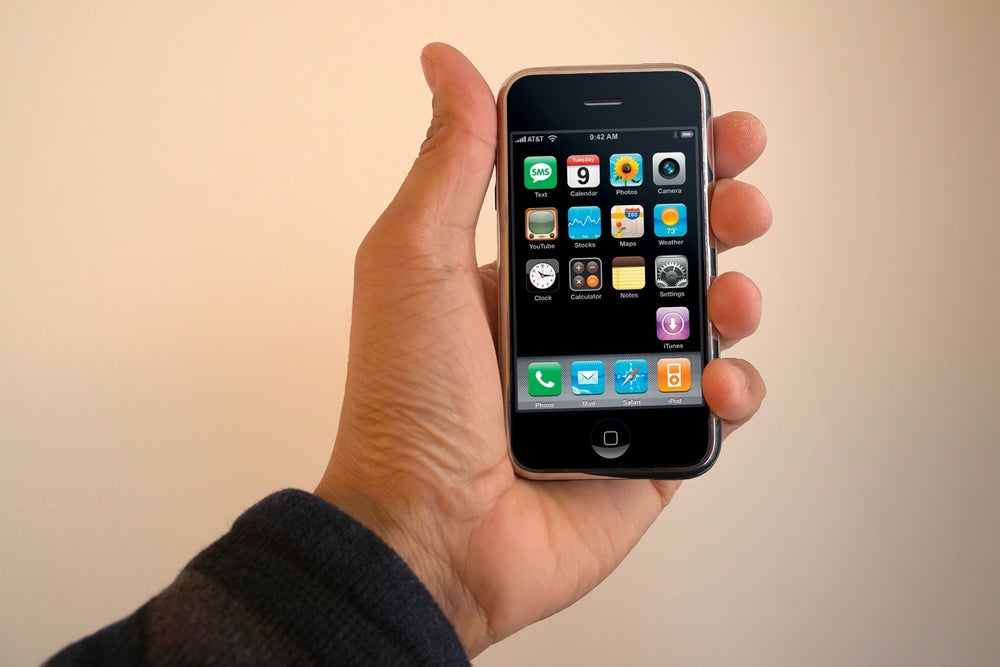 Many people around the world recognize the iPhone from Apple Inc AAPL as one of the leading smartphones today. The revolutionary phone was unveiled 16 years ago by Apple co-founder and former CEO Steve Jobs.
Here's a look at the announcement and how the stock performed since its debut.
What Happened: Now one of Apple's most successful product lines, the iPhone was first unveiled by the company on Jan. 9, 2007, at Macworld in San Francisco.
The company said the iPhone combined three products: a mobile phone, a widescreen iPod and internet communications.
"iPhone is a revolutionary and magical product that is literally five years ahead of any other mobile phone," Apple CEO Steve Jobs said. "We are all born with the ultimate pointing device — our fingers — and iPhone uses them to create the most revolutionary user interface since the mouse."
It was announced the iPhone would be released in June 2007 in the U.S., late 2007 in Europe and 2008 in Asia. The iPhone was given prices of $499 and $599 for the U.S.
"Apple ignited the personal computer revolution in the 1970s with the Apple II and reinvented the personal computer in the 1980s with the Macintosh," the company said.
The iPhone was officially released in the U.S. on June 29, 2007, and went on to be one of the most important product releases in Apple history.
The company revealed the latest version of the popular smartphone in September 2022 with the iPhone 14.
Related Link: If You Invested $1,000 In Apple Stock When Donald Trump Sold, Here's The YUGE Return You Would Have Today 
Investing $1,000 in Apple Stock: Shares of Apple traded higher the day after the announcement by Jobs. Apple shares traded for a split-adjusted $3.38 at the open on Jan. 10, 2007.
Apple shares had splits in both 2014 (7-for-1) and 2020 (4-for-1), which impacted the starting price for the calculations.
Based on a starting price of $3.38, a $1,000 investment in Apple stock after the iPhone announcement, an investor could have purchased 295.86 shares of AAPL.
The $1,000 investment would be worth $39,346.42 today, representing a return of 3,834.6% over the past 16 years. This represented an average annual gain of 239.7% over the past 16 years.
Apple revolutionized the smartphone industry and helped change the history of the company forever with the unveiling of the iPhone.
The company may have also revolutionized some portfolios for Apple investors as well.
Read Next: Will Alphabet, Amazon, Apple Or Tesla See Biggest Increase In 2023? 44% Of Benzinga Followers Pick This Stock 
Photo: 2007 iPhone photo by marleyPug via Shutterstock