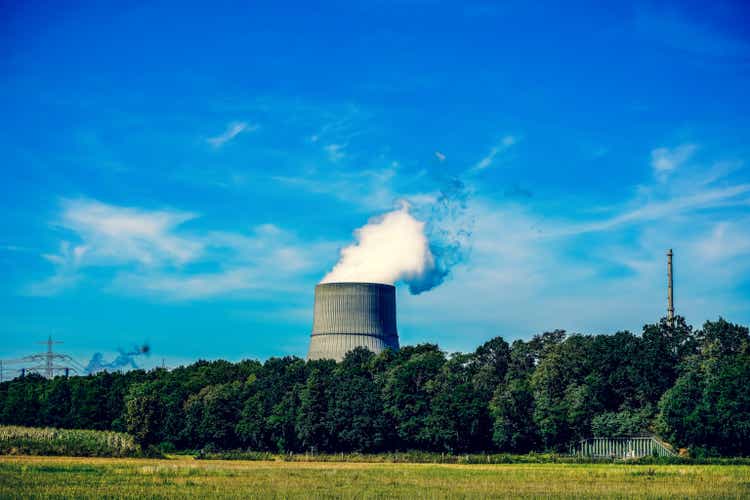 Uranium might be the future
Global X Uranium ETF (NYSEARCA:URA) is one of the few solid ways to get exposure to the world wide Uranium market. From Global X's website:
The Global X Uranium ETF (URA) seeks to provide investment results that correspond generally to the price and yield performance, before fees and expenses, of the Solactive Global Uranium & Nuclear Components Total Return Index.
Frankly, I was surprised that there was an index tracking uranium stocks as the sector is pretty obscure with several companies just sitting on assets. While I wouldn't call this a penny stock sector, it has some of the elements that lithium had before some junior minors became legitimate. The lithium play, with the popular ETF (LIT), has almost trebled since its 2020 low. Lithium is an important component of the electric vehicle movement, but more importantly, where is all the electricity going to come from?
My first inclination is from natural gas which this Fortune article alludes to:
Among investment companies, there is a renewed emphasis on engagement with polluters rather than outright divestment, and on so-called transitional energy sources such as natural gas in addition to renewables (the latter strengthened by the EU's recent controversial decision to classify natural gas as a green investment).
While natural gas will assuredly be a large part of the power plant energy mix, we are due for an energy shortfall once EVs get 10+% penetration worldwide. Some of the most liberal states where EV adoption is the most abundant, also have some of the worst infrastructure to handle this change. The energy deficit will become more and more apparent in the coming years and natural gas will become more and more protected without an alternative energy source.
Enter uranium. This is the cleanest and most energy-efficient way to expand our energy output to meet the future demand for battery charging. The fear of nuclear meltdown and depleted uranium storage is an issue that needs to be overcome. New technologies are on the horizon that could make uranium the next lithium play.
The above chart is the performance of URA in the last 10+ years. We can see the spike pre-2011, and then the Fukushima disaster in 2011. The ETF plummeted thereafter as several countries took a large step back from nuclear. I remember my first time visiting Taiwan and the taxi driver pointed out to me that the skies had turned grey because the leadership had chosen to shut down nuclear reactors and turn to coal. The 2011 disaster resonated across several island nations and put future projects on hold or saw them canceled entirely. As we delve into the ETF, we'll also see that one island/peninsula nation, South Korea, is still a big player in nuclear.
Popular uranium stocks
Off the top of my head, the only well-known uranium stock I had researched was Cameco Corp (CCJ). The Canadian miner has large assets in North America and Kazakhstan which contain vast proven resources. Both they and National Atomic Co Kazatomprom (NATKY) are the largest by market cap. BHP Group (BHP) also has uranium assets but is not a pure uranium play. This is one of the most difficult sectors to buy into as pure uranium plays are not abundant and are not domestic US corporations. Most companies are also well under the leader market cap size of $10-$15 Billion.
These are all similarities that the lithium market had before it took off. If there is one major negative I have noticed, is that Kazakhstan is such a large part of the production mix. The country is unstable at best and a Russian puppet state at worst. Lithium's biggest questionable mineral sources are in South America with far more stability than Kazakhstan.
New reactor technology
From the natriumpower.com website:
With a sodium fast reactor, integrated energy storage and flexible power production, the Natrium technology offers carbon-free energy at a competitive cost and is ready to integrate seamlessly into electric grids with high levels of renewables.
The Natrium (Latin for sodium) Nuclear power plant technology is a private equity investment in a company called TerraPower credited to Bill Gates:
In October 2020, the company was chosen by the United States Department of Energy as a recipient of a matching grant totaling between $400 million and $4 billion over the ensuing 5 to 7 years to build a demonstration reactor using their "Natrium" design. Natrium uses liquid sodium as a coolant (reducing the cost using an ambient pressure primary loop). It then transfers that heat to molten salt, which can be stored in tanks and used to generate steam on demand, enabling the reactor to run continuously at constant power, while allowing dispatchable electricity generation.
General Electric (GE) and Hitachi (OTCPK:HTHIY) have formed a joint venture to build out modular nuclear reactors utilizing the Natrium technology. If successful and openly adopted, this could open the door for uranium producers to increase their output. General Electric and Hitachi could also be backdoor opportunities to new nuclear reactor production and demand.
Lithium is not an energy creator
I was a big lithium bull 2014-15 when I heard the various chastising of ICE vehicle carbon output by global governments. Not that I agree with their conclusions, but I assumed that the vehicle producers would be regulated to the hilt and forced to start producing EVs. Lithium-ion was the only feasible battery and Tesla (TSLA) was using it successfully. I put two and two together and started stakes in Albemarle Corporation (ALB) and Lithium Americas (LAC). Those both paid off with the ascent of Tesla and I exited when Albemarle's P/E ratios started to exceed 100 X. They have since been able to vastly increase their earnings with the multiple now standing at 18 X. Kind of regretting the sale now but that's ok. The ETF LIT tracked Tesla and Albemarle on the way up.
URA holdings
URA seems to hold the majority of stocks by market cap weighting of the index it references. The non-pure plays include nuclear reactor producers from South Korea. Here is a breakdown of the top 10 holdings with summaries of the businesses from Yahoo Finance and Wikipedia:
Cameco: "Cameco Corporation produces and sells uranium. The company sells its uranium and fuel services to nuclear utilities in the Americas, Europe, and Asia." Market Cap= $14.7B
National Atomic Co (Kazatomprom): "National Atomic Company Kazatomprom Joint Stock Company is the world's largest producer and seller of natural uranium, providing over 40% of global primary uranium supply in 2019 from its operations in Kazakhstan." Market Cap= 7.5 B
NexGen Energy: "NexGen Energy Ltd., an exploration and development stage company, engages in the acquisition, exploration, and evaluation and development of uranium properties in Canada. Its principal asset is the Rook I project." Market Cap= $2.992 B
Denison Mines Corp: "Denison Mines Corp. engages in the acquisition, exploration, development, extraction, processing, selling of, and investing in uranium properties in Canada. Its flagship project is the 95% interest owned Wheeler River uranium project located in the Athabasca Basin region in northern Saskatchewan." Market Cap=$1.49 B
Energy Fuels Inc: "Energy Fuels Inc., together with its subsidiaries, engages in the extraction, recovery, exploration, and sale of conventional and in situ uranium recovery in the United States. The company owns and operates the Nichols Ranch project, the Jane Dough property, and the Hank project located in Wyoming; and the Alta Mesa project located in Texas, as well as White Mesa Mill in Utah." Market Cap=$1.084 B
Paladin Energy: "Paladin Energy Limited develops, explores for, and operates uranium mines in Australia, Canada, and Africa. The company operates through Exploration, Namibia, and Australia segments. Its flagship project is the Langer Heinrich mine located in the Namib Desert in Namibia. The company also holds 70% interest in the Michelin project that covers an area of 52,250 hectares located in Labrador, Canada; and 100% interest in the Mount Isa project that consists of six mineral development licenses located in Queensland, Australia." Market Cap= $2.32 B
Uranium Participation Corp: "Uranium Participation does not have a license to purchase and hold uranium directly, the fund buys and holds the commodity through Denison Mines, which it controls for this purpose. Denison Mines is the manager of the corporation and does not have any ownership interest in UPC. Denison and UPC occupy the same suite 402 is a convenience designed to satisfy sleepy government regulators." Market Cap=$1.6 B
Doosan Heavy Industries: "Doosan Enerbility Co., Ltd. operates as an engineering, procurement, and construction contractor worldwide. generates power through wind and solar power, energy storage systems, and micro-grids; and supplies equipment for nuclear power plants, including nuclear reactor and internal structure, steam generator, nuclear reactor coolant pump, control element drive mechanism pressurizer, head assembly, fuel handling equipment, fuel storage rack, post-tensioning system of the containment building, heat exchanger, pressure vessels, and tanks." Market Cap = $8 B USD (10 T Korean Won)
Uranium Energy Corp: "Uranium Energy Corp., together with its subsidiaries, engages in exploration, pre-extraction, extraction, and processing uranium and titanium concentrates in the United States, Canada, and Paraguay." Market Cap=$1.446 B
Daewoo Engineering and Construction: "Daewoo Engineering & Construction Co., Ltd. engages in construction business in South Korea and internationally. It constructs civil projects, including highways, roads and bridges, railways and subways, harbors and reclamation facilities, environmental projects, and leisure facilities; building works, such as office buildings, hotels and condominiums, commercial complexes, educational and medical facilities, and exhibition and sports centers; and plants comprising thermal power, cogeneration, tidal power, nuclear power plant, LNG storage, and other facilities." Market Cap= $1.534 B USD
Holdings valuations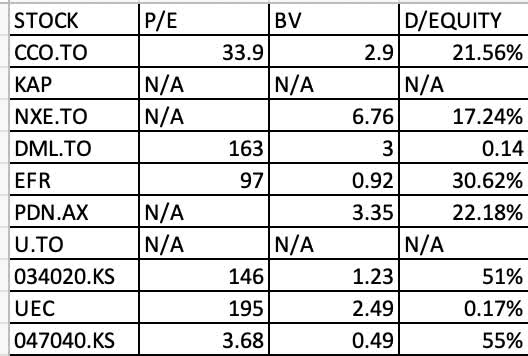 After delving into the types and locations of the top 10 holdings that follow the Uranium index, I put together a simple excel sheet tracking P/E, P/B, and debt-to-equity ratios across the holdings. Numbers were spotty. The uranium industry overall does not seem to be generating a lot of earnings at the moment. This could all change if demand spiked sharply, increasing the spot prices of uranium. For this to happen, I would expect to see more modular reactors coming online and a quelling of nuclear fears across the world. Whether we cope with this fear or not, I feel the eventual energy deficit globally will force the adoption of nuclear technology. It's just a matter of time. Debt is also conservative leading me to believe that the businesses are not in expansion mode and possibly diluting equity if capital is needed.
Price to book values are also expensive as there are several requirements regulators have regarding proven resources versus stakes. The asset values may in actuality be much higher, but efforts to prove and mine out the stakes will not be made until demand increases. Therefore, book value may not be indicative of the actual mineral value in the ground.
Catalysts
West Virginia and Wyoming are targets for the first Terra Power pilot plants. They will work in tandem with wind turbines and act as a backup when the wind is not blowing. Getting a few of these online and demonstrating their success and safety is the first catalyst. Succeeding in this first step could begin launching this ETF upward.
Risks
The Russia-Ukraine war might be to blame for halting the progress of new nuclear plant buildouts. The threat of a nuclear plant coming under missile attack is all too real at the moment across Europe. A plan of action in how a reactor might have fail-safes in place in case of an act of war or terrorist attack may go a long way in helping to gain acceptance. If we do see a nuclear meltdown at any time shortly, especially due to a missile strike or a bomb, this ETF will probably tank shortly after.
Summary
People can debate climate change and global warming until they're red in the face. I stand in the position to say that we are going to need more energy, not less, regardless of the source. We can see what war and a pandemic can do to energy prices, as we regulate and deplete these resources, more resources will need to enter. The makeup of this ETF reminds me a lot of the lithium sector before it took off. A lot of resources in pre-production anticipate future demand. The fund currently has a lower expense ratio than LIT, also run by Global X with an expense ratio of .69 vs .75%.
The industry has almost exclusively Canadian, South Korean, and other foreign holdings that can be very difficult to get exposure to. Some brokerages will not let you buy these individual holdings, so this ETF might be the only way to go if you want diversified exposure to uranium. If I were to make my index outside of this, I would probably look to Cameco, GE, Hitachi, and Rolls-Royce (OTCPK:RYCEY) as my main constituents. That would get me one pure play in Cameco and 3 sub plays in power plant construction across the other three. It may take years for this one to pay off. I've been in and out of it but will most likely be long after I see a successful pilot modular reactor. Buy and hold for the very long term if you believe we will have a future energy deficit.
Editor's Note: This article discusses one or more securities that do not trade on a major U.S. exchange. Please be aware of the risks associated with these stocks.