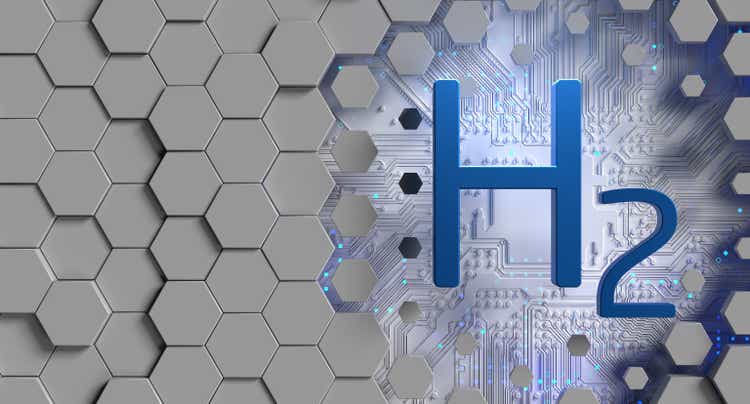 Introduction
We've talked a lot about energy over the past two years, as global fossil fuel supply underperformed demand growth, causing prices to spike. We also discussed nuclear energy on several occasions, as it's one of the easiest ways to produce reliable and abundant energy for economies that will increasingly rely on electricity due to the energy transition. One of the things I have neglected is hydrogen, which I have become a big fan of in the past few years. While there have been doubts when it comes to the place of hydrogen in the global energy discussion, I have zero doubt that it will play a major role in the decarbonization of major economies.
In this article, I'll walk you through my thoughts and research as we discuss why hydrogen is about to take off in 2023. I'll also tell you why I'm bullish on Plug Power (NASDAQ:PLUG), a hydrogen player that took off in 2020 and 2021. Now, it has come back to earth, ready to start a prolonged uptrend, backed by improving industry fundamentals and accelerating government funding.
So, without further ado, let's discuss hydrogen!
What's Hydrogen?
Don't worry. I'm not turning this into a chemistry lecture. However, it won't hurt to start this article with some basics as we'll have to get a bit technical later on in this article.
Hydrogen is not a new concept. I once got some booklets from a retired teacher who discussed the future of hydrogen in the 1990s. Essentially, hydrogen is a chemical element with the symbol H and atomic number 1, which makes it the lightest element.
Hydrogen is used in the petrochemical industry to upgrade and improve fossil fuels. It is used to produce ammonia and as a coolant in generators. Moreover, it has applications in the semiconductor industry, aerospace production, and other things like leak detection. It is also a terrific energy carrier, which makes it so fantastic for the energy transition.
Hydrogen can be burned to produce heat or combined with oxygen in fuel cells to generate electricity.
There are many ways to produce hydrogen, and one of them is H2O splitting.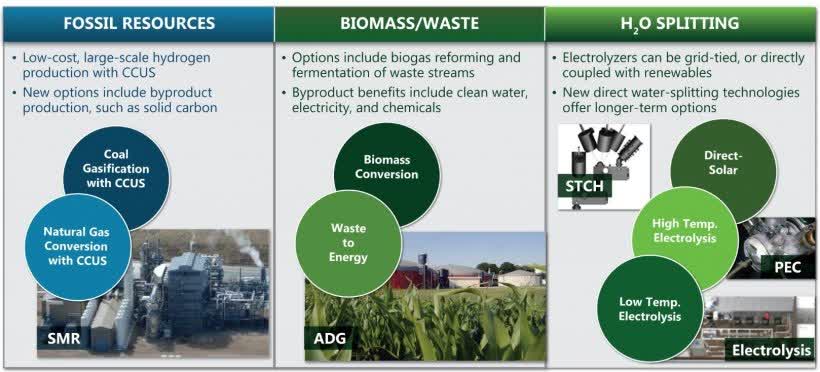 For example, in water electrolysis, a current is run through water. This results in gaseous oxygen and hydrogen. Not that it matters, but this is the simple formula, which shows that water turns into hydrogen and oxygen (boy, this takes me back to high school chemistry):
2 H2O -> 2H2 + O2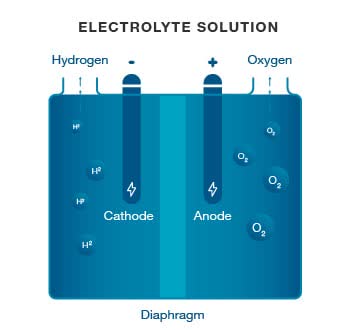 This is extremely environmentally friendly, as long as the energy input is renewable.
Hydrogen can also be produced using methane, which does not require water. That's the methane pyrolysis method. Letting water react with methane and carbon monoxide is also a way to do it.
The reason I'm telling you this is that there's one issue here. The production of hydrogen isn't very efficient. In all cases, it requires using existing energy sources. For example, by using coal, natural gas, or oil to produce hydrogen, I'm losing energy in the process. After all, I could just burn fossil fuels directly. Using a middleman like hydrogen wastes energy. Also, it doesn't reduce emissions as I'm still burning fossil fuels.

A clean energy source that produces affordable and abundant energy needs to be used to produce hydrogen. Once that has been taken care of, hydrogen can decarbonize cities through hydrogen transportation (cars), industrial processes, and much more. The best thing is that a lot of natural gas and fossil fuel infrastructure can be used to transport hydrogen. This also makes it great as an energy source for private citizens.
To give you my personal opinion, I'm in favor of massively boosting the nuclear energy supply to produce hydrogen. I prefer this over any other renewable energy source like wind and solar.
I also like the aspect of energy storage. For example, storing electricity from renewable energy is tricky. Using renewable energy to produce storable hydrogen allows us to store renewable energy, so to speak.
With that said, other obstacles like funding are now slowly fading, paving the way for a hydrogen boom.
The Next Hydrogen Boom
While we have the technology, a lot of obstacles are still keeping hydrogen from becoming very popular. For example, Australia has only one committed hydrogen project out of a vast pipeline of proposals worth close to $180 billion.
So far, 55% of all energy investments go towards oil and gas in Australia, a nation that wants to use its renewable energy sources to produce hydrogen.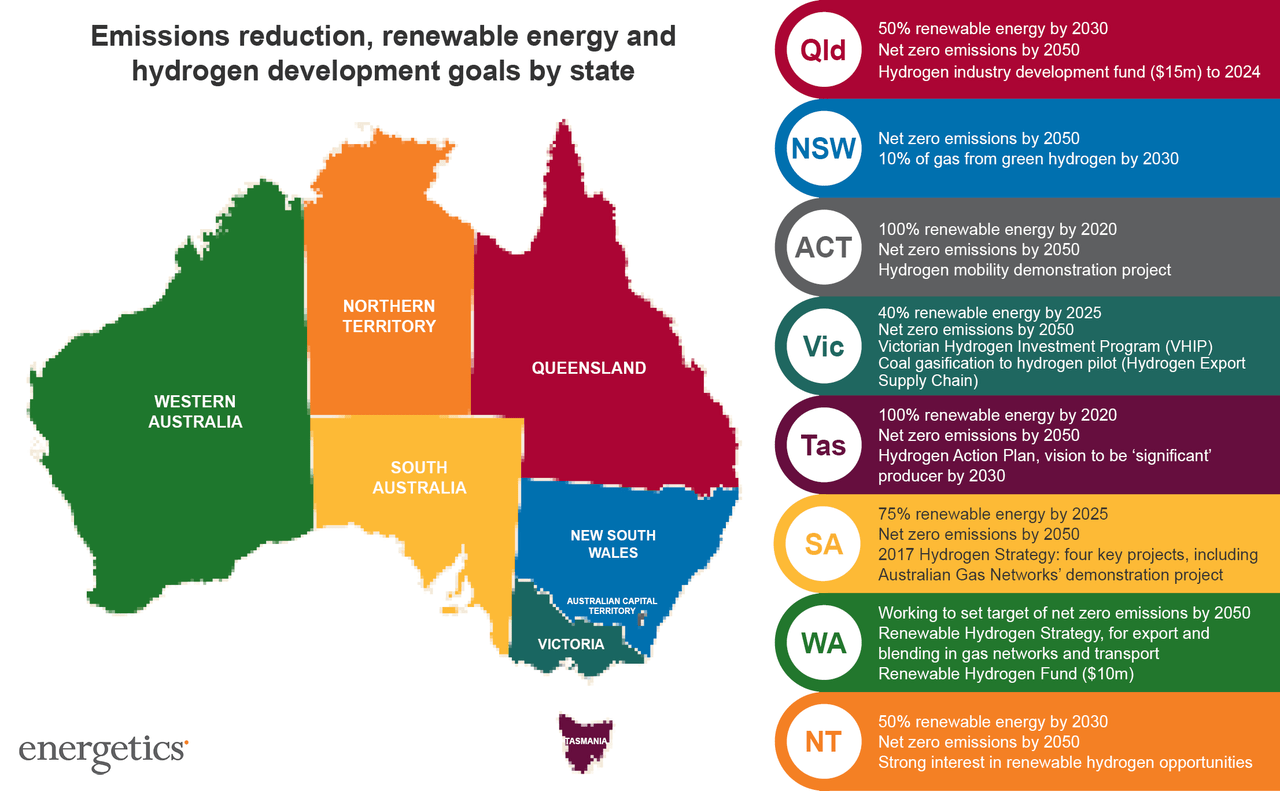 As Bloomberg reports, hydrogen could become Australia's fastest-growing export industry – if it weren't for funding issues.
But the majority of hydrogen feasibility studies have ended in failure, with developers concluding that projects cannot stand up commercially, the government said in its Resources and Energy Major Projects Report released Monday, the report said. Only A$100 million has been committed so far.

"Most feasibility studies have concluded that significant government support is still required for low-carbon hydrogen projects to be commercially viable," according to the report.

Still, Canberra stressed hydrogen was a "new field," adding the "landscape of projects is expected to change rapidly." If all existing proposals reached financial close, hydrogen would immediately become by far Australia's fastest-growing export industry, the report found.
As is often the case in a "forced" energy transition, a lot of money is required to kickstart massive renewable energy projects.
So, one of the reasons I'm writing this article is the positive trend when it comes to accelerated investments in the hydrogen space.
This time, it's once again powered by competition. As Bloomberg wrote earlier this year, China started to dominate the solar industry (manufacturing) when prices were low a decade ago. They wiped out Western competitors and still dominate the industry in 2023.
In this case, it's all about electrolyzers. These are used in the process of breaking up water into hydrogen and oxygen. As we discussed in the first part of this article, it's key in the process of using renewable energy to produce hydrogen.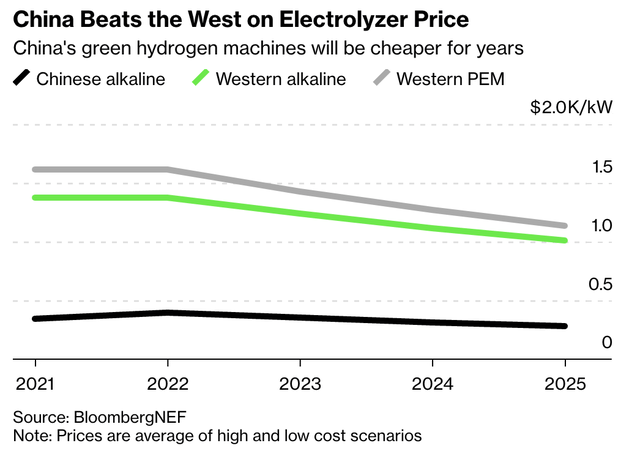 What this means is that there are (at least) two problems:
Electrolyzer production will have to grow 91x by 2030 to meet demand.
China produces 40% of electrolyzers.
This highlights the need to produce more electrolyzers, as well as the need to outperform China. After all, China already dominates the supply chains of other renewable technologies.
As discussed in a Harvard Kennedy School paper in December 2021, we see that China dominates the supply of renewable energies through the production and processing of key materials and components. In a world where energy is a matter of national security, that's a no-go.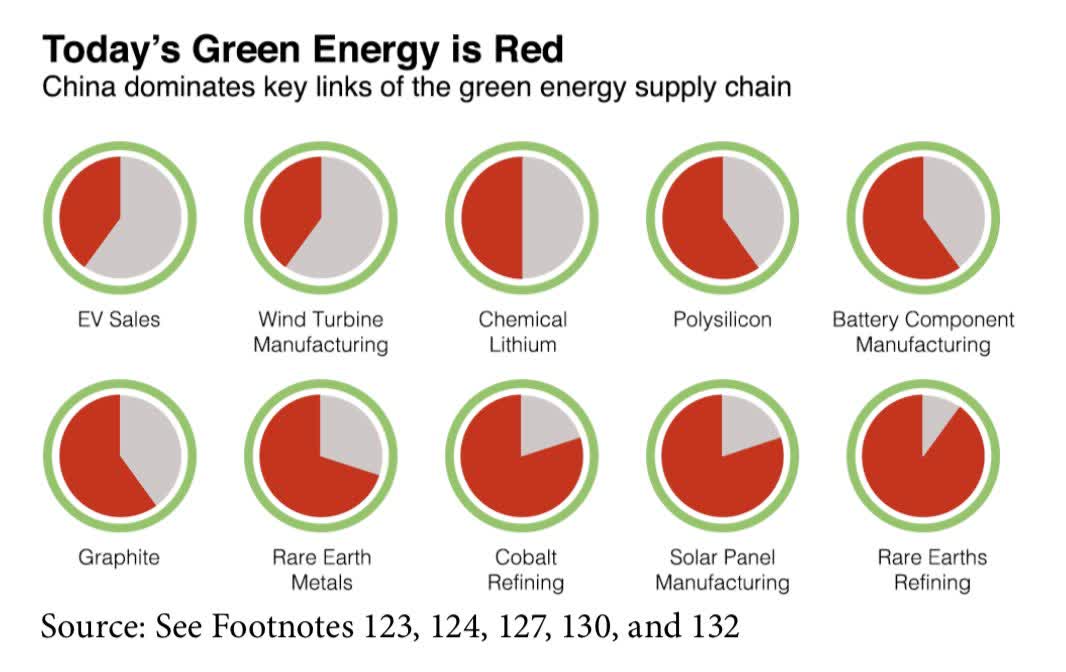 President Biden, who served as Vice-President under President Obama when China became dominant in solar manufacturing, started to view China as a competitor instead of a supplier in the energy transition.
As he's the President, he has the tools to do something about it. As reported in November, the Inflation Reduction Act is a great way to cause a shift in power in the industry.
The law, which provides producers with tax credits of as much as $3 a kilogram, "almost guarantees that hydrogen will be an important energy vector going forward," Kate Vidgen, head of industrial transition and clean fuels at Macquarie's Green Investment Group, said in an interview on Bloomberg TV.
In this case, it's not just the US. The European Union is also looking to boost hydrogen production. After all, due to the war in Ukraine, natural gas flows from Russia have dropped to almost zero. This has caused significant supply shortages.
While there is no way that hydrogen can fill that gap in the years ahead, it is a good tool to become independent from Russia on a long-term basis. It also goes well with the EU's plans to boost renewable energy, which can be used to produce hydrogen.
Hence, the EU is now looking to boost green production to 10 million annual tons by 2030. The problem is that there isn't a clear definition of the word "green" yet, which means that major investments won't happen. After all, who's going to invest billions in an environment of policy uncertainty?
You probably know where I'm going with this, but this is good for the US, as it supports electrolyzer production in North America instead of Europe. To quote a somewhat outspoken critic:
"I'm scared the market shares in the electrolyzer business will be taken away from Europe and shipped to other geographies," said Jorgo Chatzimarkakis, chief executive officer of the Brussels-based lobbying group Hydrogen Europe. "The EU are shooting themselves in the head. Not in the foot—in the head."

Meanwhile, many analysts expect the efficiency of Chinese electrolyzers to improve, eroding any technological advantage US and European companies now have.
China has a head start, as it has invested in hydrogen for many years. Also, as the BloombergNEF chart in this article shows, its production is cheaper. China uses alkaline electrolyzers. These are cheaper but require more energy in the process of splitting water into hydrogen and oxygen. Developed western nations use solid oxide and proton-exchange membrane electrolyzers ("PEM"). The initial costs are higher, yet production is way more efficient.
That said, China isn't stupid, as it is now moving to PEM as well, building 1.5 gigawatts of electrolyzer manufacturing capacity, which might soon incorporate PEM as well.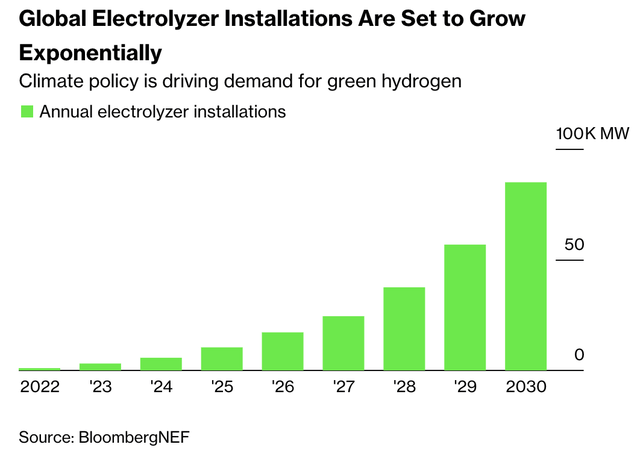 With that said, innovation is obviously a big part when it comes to getting a hydrogen edge. Unlike solar energy, which is an off-the-shelf technology, electrolyzers are part of hydrogen production plants that are almost always unique to customer needs.
That's where Plug Power comes in.
Plug Power Inc. is building a fleet of green hydrogen production plants in the US, and each is unique, said Chief Executive Officer Andy Marsh.

"The plant in Texas is different from the plant in New York, which is different from the plant in Georgia," he said. "It's all very local." Plug, based in Latham, New York, also makes and sells PEM electrolyzers.
The equipment is complex and heavy, and it needs a lot of on-site customization. That is a huge disadvantage for China, which is used to shipping loads of off-the-shelf technologies. Customized, bulky hydrogen equipment is different.
So, with all of this in mind, these developments are bullish for Plug Power.
Why I Like Plug Power
Founded in 1997, Plug Power is a Latham, New York, headquartered hydrogen player. The company is officially put in the industrials sector, which is home to the electric equipment & parts industry.
With a market cap of $9.8 billion, the company has become one of the go-to companies when people think of hydrogen investments.
Plug Power is somewhat of a pioneer in the industry, as it created the first commercially viable market for hydrogen fuel cell technology. It has deployed industry-leading 50,000 fuel cell systems for the e-mobility market, and it's one of the largest hydrogen buyers for its leading hydrogen refueling network in North America. According to the company:
Plug Power delivers end-to-end clean hydrogen and zero-emissions fuel cell solutions for supply chain and logistics applications, on-road electric vehicles, the stationary power market, and more. Our largest market today is material handling; we support customers at multi-shift high volume manufacturing and high throughput distribution sites where we believe our products and services provide a unique combination of productivity, flexibility, and environmental benefits.
Now, the company is building a green hydrogen generation network in North America. It has several plants under construction, with a pipeline of new projects. It aims to build the first green hydrogen ecosystem, which goes well with the theoretical background we just discussed.
Essentially, the company is a leading provider of hydrogen fuel cell turnkey solutions. In other words, the company delivers ready-to-use solutions for clients.
It has major deals with both Amazon (AMZN) and Walmart (WMT) to deliver fuel cell systems for material handling equipment.
With that said, the company is in the early stages of the hydrogen boom. This means that a lot of capital is required for investment purposes. As the analyst expectations below show, the company is rapidly improving revenue thanks to exploding demand. However, the company won't generate positive EBITDA until 2024. Even by then, free cash flow will remain negative, as CapEx requirements more than offset cash from operations.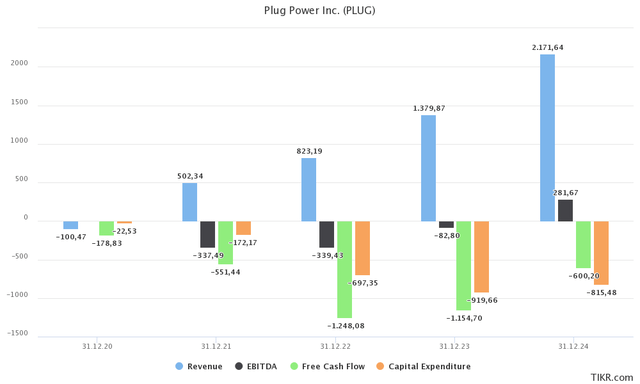 Here are some of the company's projections:
2023 revenue target of $1.4B represents annual growth over 65% with plans to exit the year with operating break-even margin run rate.
Our unparalleled industry position and strategic initiatives position us to be on track to deliver on our 2026 and 2030 revenue targets of $5B and $20B, and operating margin targets of 17% and 22%, respectively.
Executing on buildout of green hydrogen generation network, positioning company to become world's largest liquid hydrogen generation company exiting 2023.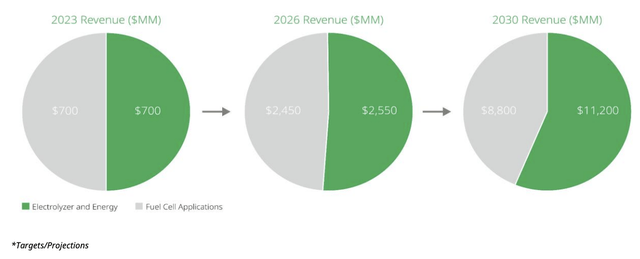 On a full-year 2023 basis, the company expects to do $1.4 billion in revenue. The company also reaffirmed its long-term outlook, which sees a path to $20 billion in sales in 2030 with operating margins between 17% and 22%.
We expect revenue growth within our energy and electrolyzer business to be driven by continued buildout of our green hydrogen generation network, translating substantial book of business into revenue in our electrolyzer business, and continued growth in our hydrogen tankers/storage and liquefier systems
Material handling continues to grow at 30% to 40% CAGR with the addition of pedestal customers in both North America and Europe.
The company's electrolyzer backlog alone stands at 1.5GW, with a sales funnel of over $25 billion. This substantial sales funnel is based on multiple end-market applications with green ammonia, eMetehanol, and power-to-gas.
On January 12, the company touted the completion of its New York fuel cell manufacturing plant. As reported by Seeking Alpha:
The Plug Vista plant features advanced automation, allowing for greatly increased scale and efficiency in the assembly of Plug's fuel cell systems that power electric motors for the mobility market.

Plug said the facility, which began manufacturing its GenDrive units last November 2022, will be fully operational by March 2023, and will produce the company's entire fuel cell product line.
Moreover, the aforementioned $3 per kilo tax credit (production tax credit – "PTC") is helping the fuel business exit 2023 with a break-even run rate. This includes higher production and more than offsets higher priced third legacy contracts that the company still has.
As new plants come online, the company expects further gross margin expansion above 30%.
[…] the PTC is expected to improve the total cost of ownership for multiple fuel cell applications including mobility and stationary power. Liquid green hydrogen from our generation network was already competitive versus gray hydrogen and was already competitive versus diesel prices in mobility application.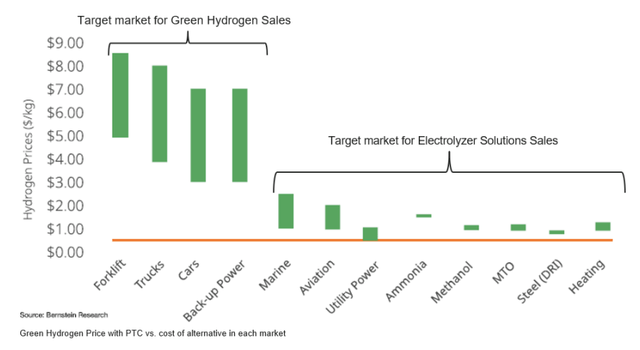 With that said, let's look into the valuation and balance sheet health, after all, not being free cash flow breakeven for a few years means pressure on the balance sheet.
Balance Sheet & Valuation
To fund operations, the company has consistently borrowed more debt than it repaid. Moreover, the company has issued common stock as a way to improve liquidity. This is the opposite of buying back shares, which means it dilutes shareholders' current holdings. However, as long as the company is investing in value-adding projects, that isn't an issue. It becomes an issue when companies issue stock to somehow remain solvent.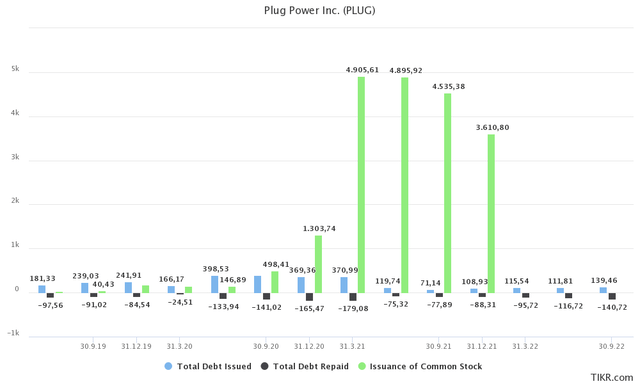 It also protected the company's balance sheet.
The company has $5.9 billion in assets and just $1.6 billion in total liabilities. It has $192 million in convertible senior notes, with a coupon rate of 3.75%. These are due in June of 2025 and were issued in May 2020 when rates were subdued.
The company also holds $65 million in other long-term debt. This is part of its $100 million secured long-term loan facility.
On the asset side, the company has $1.7 billion in cash and cash equivalents, as well as $820 million in available-for-sale securities. This consists of $608 million worth of treasuries and $212 million worth of corporate bonds.
With that said, the stock price is truly fascinating. Before 2020, PLUG was a penny stock that nobody was interested in, as there wasn't a clear bull case. And penny stocks fly under the radar – more often than not. Then, the pandemic happened. Inflation plummeted and rates were cut, creating the perfect environment for investors to bet on money-losing growth stocks. Even better, political changes created a massive bull case for everything related to the environment. The result was that PLUG traded above $70 at one point.
That was nuts.
Now, the stock has come down to less than $20 again as high inflation and an aggressively hawkish Fed have created headwinds for growth stocks.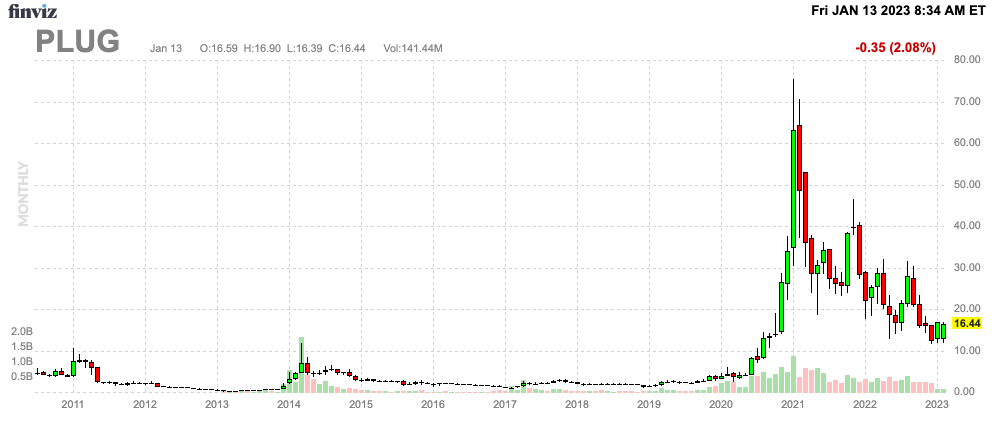 The company is now trading at 7.4x 2023 revenues (enterprise value/revenues). Revenue is expected to grow by more than 60% in both 2022 and 2023, and 57% in 2024. Until 2030, annual compounding revenue growth is expected to be at least 40%.
I believe that under current circumstances, PLUG should be trading at $30. On a long-term basis, there's a clear path to $40-$50.
However, the stock price won't allow for a smooth uptrend until the Fed has controlled inflation. PLUG remains a money-losing growth stock. These stocks are driven by interest rates and inflation.
So far, the stock is up 36% since the start of this year. This is caused by bets that the Fed might take its foot off the brake soon. I doubt that is going to happen.
As a result, I put PLUG on my watchlist. I hope to buy the stock during the next correction. My position will be rather limited to incorporate high volatility.
I am planning on adding regularly on a long-term basis, as I have high hopes (and expectations) that PLUG will remain a leader in this fast-growing field. Who knows, maybe it even turns into a dividend stock in a few decades.
But then again, please be aware that PLUG is highly volatile. We could see some more weakness before the stock moves higher. Incorporate this in your research process when deciding whether or not PLUG is right for you.
Takeaway
In this article, we discussed the accelerating bull market for hydrogen, as global governments are increasingly pushing for this green technology. When combined with efficient renewable energy sources, hydrogen can become a prominent player in the global energy transition.
Plug Power is a major player in North America, offering advanced turnkey solutions and the prospects of a fully integrated green hydrogen ecosystem. While the stock is volatile and dependent on rates and inflation, I believe that PLUG is in a bottoming process, ready to move higher on a long-term basis.
(Dis)agree? Let me know in the comments!