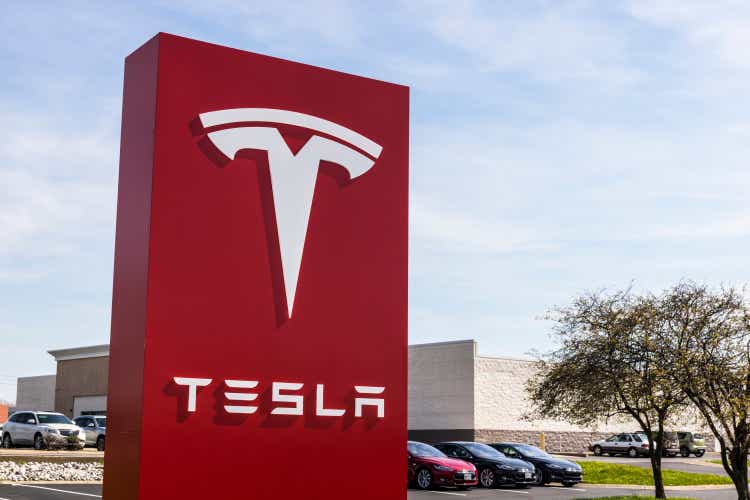 Everything's Gotta Go
Yesterday, Tesla, Inc. (NASDAQ:TSLA) made a surprise announcement that it would be slashing the price of four of its vehicle models. The news comes on the heels of flagging domestic demand for its vehicles, and stronger competition from traditional automakers.
The cuts amounted to an average of about 20%, with most of the reductions seemingly aimed at allowing buyers to qualify for the government's $7,500 tax credit for vehicles under $55,000. Prices on the Model Y Long Range dropped to $52,990 from $65,990, bringing it just under the threshold.
The news is certain to make nobody happy—except Tesla bears. Slashing prices will infuriate recent customers who paid the higher price and investors who will now fear that margin compression and overall demand destruction was worse than previously thought. (Not to mention the numerous corporate fleet car customers who famously purchased Tesla electric vehicles ("EVs") for their corporate stables at zero discount.)
It's not surprising that, as consumer demand slows, a company whose factories the CEO called "gigantic money furnaces" is suddenly in a serious pinch. The news is especially unsurprisingly given Tesla's recent announcement that it would slash the prices of its vehicles in China as well. As of last week, a Model 3 was 30% cheaper to purchase in China than it was in the U.S. With today's news, the gap has closed a bit.
The China Story
China has long been the source of bull fuel for investors—the Shanghai factory and access to an seemingly endless supply of Chinese consumers hungry for Tesla products was thought to be the most promising frontier for the company. Tesla and its investors have found out, however, like so many other American companies who have attempted to do business in China, that this is fraught with hazard. From government regulated shutdowns, to government-backed EV makers hell-bent on, well, "adopting" foreign intellectual property, Tesla certainly has its work cut out for it.
One interesting part of the Tesla bull narrative is that the company will—seemingly unimpeded—take the Chinese consumer market by storm. This view is, in our view, quite naïve. The Chinese have shown themselves time and time again to be relentless technology copycats, and while traditional car manufacturers in the West were certainly caught flatfooted by Tesla's early success and have been relatively slow to respond, Chinese car makers have been anything but. In fact, in many cases Chinese car makers are even faster at iterating new models than Tesla. According to the Wall Street Journal, Tesla's overall market share in the Chinese EV market slumped from 13% in 2021 to 8% in the first nine months of 2022. Chinese EV maker BYD Company Limited's (OTCPK:BYDDF) Seal, for example, might not be as advanced as a Tesla Model 3—but it sells for $8,000 less.
The Margins. Always the Margins.
Many have made the case, including us, that Tesla's margins were simply unsustainable. Tesla bulls made much of the fact that the expanding margins were here to stay—that Tesla had cracked the code, and that it would leave traditional auto makers in the dust (a curious thing to claim, especially when Tesla has almost always had a government-sponsored tailwind of one kind or another).
We believed, however, that one way or another, margin compression would come and that the market would find a way to restore order. This price reduction will likely do just that.
The cost cuts also come at a difficult time in the competitive landscape. In 2022, almost 6% of all vehicles sold in the U.S. were electric, up from 3% a year before. Of that, Tesla accounted for 65% of those sales, which bulls are sure to rejoice. They might not rejoice, however, to learn that in 2021 Tesla captured 72% of all sales.
Traditional car makers are also catching up. Ford Motor Company (F) has executed its EV plan to near perfection, and General Motors (GM), despite some early stumbles with the Chevy Bolt, has gained much ground. Add in the fact that brand loyalty among consumers is quite low when it comes to EVs, and you've got a recipe for tough times.
What To Do?
Tesla will, we are certain, survive this storm. We are not so sure about its lofty stock price. One of the most obvious things Tesla's board could do in this situation is to initiate the stock buyback that was floated in mid-2022 as an option when the stock was falling.
Interestingly, they haven't yet done so.
This could be because the board and company leadership do not believe the stock's decline is complete, especially with the backdrop of the current competitive landscape. It may also mean that they don't believe the stock is cheap enough yet, and thus not a good use of capital deployment. Nonetheless, we would not be surprised if the company announces a new buyback plan in the near future.
The Bottom Line
The price cuts in the U.S. come on the heels of price reductions abroad, and they bode ill in the near term for Tesla Inc.'s margins. Combined with the fact that its market share is shrinking in China and not growing as quickly domestically—perhaps even stalling—in the United States, and the fact that traditional manufacturers are catching up, and things are looking grim for Tesla, Inc. in the near term. We believe TSLA stock has further to fall, and investors should be wary of entering at this price point.
Editor's Note: This article discusses one or more securities that do not trade on a major U.S. exchange. Please be aware of the risks associated with these stocks.