Peter Schiff, American stock broker, recommends investors sell their BTC, in one of the most optimistic periods for the asset. 
Bitcoin price rises to $19,000 for the first time in two months after hits from the FTX contagion, and the DCG-Gemini tensions. 
BTC has climbed higher nearly every time after Schiff's bearish predictions, fueling an 'inverse Schiff' narrative. 
Peter Schiff, a Gold proponent and financial commentator, has urged Bitcoin holders to sell the asset when BTC price reaches above $19,000, as it has done following the release of softer US CPI data on Thursday, January 12. 
The market commentator has been consistently bearish on Bitcoin and it is not the first time he has urged holders to sell – he said the same thing when BTC price hit $18,000. Since October 2022, most of Schiff's predictions have actually been wrong, leading many to suggest there is an 'inverse relationship' or 'negative correlation' between Schiff's calls and Bitcoin price's evolution. 
Also read: Grayscale Bitcoin Trust discount shrinks first time in a year as DCG and Gemini saga unravels
Peter Schiff urges traders to sell Bitcoin 
Peter Schiff, the founder of Euro Pacific Asset Management, based in the city of Dorado, Puerto Rico, recommended to Twitter followers that BTC holders offload their holdings, when Bitcoin climbed above the $19,000 level. 
Schiff, a proponent of Gold, sees Bitcoin as a poor investment and he has been consistently bearish since October 2022. Although he was right early on, as BTC did fall in November after the FTX debacle, his  subsequent predictions of further Bitcoin price drops have not materialized, in fact the opposite could be said. As seen in the chart below, Schiff's predictions might have an 'inverse relationship' with BTC price: whenever the gold proponent predicts a decline in Bitcoin,  the asset makes a bullish move within a week or less.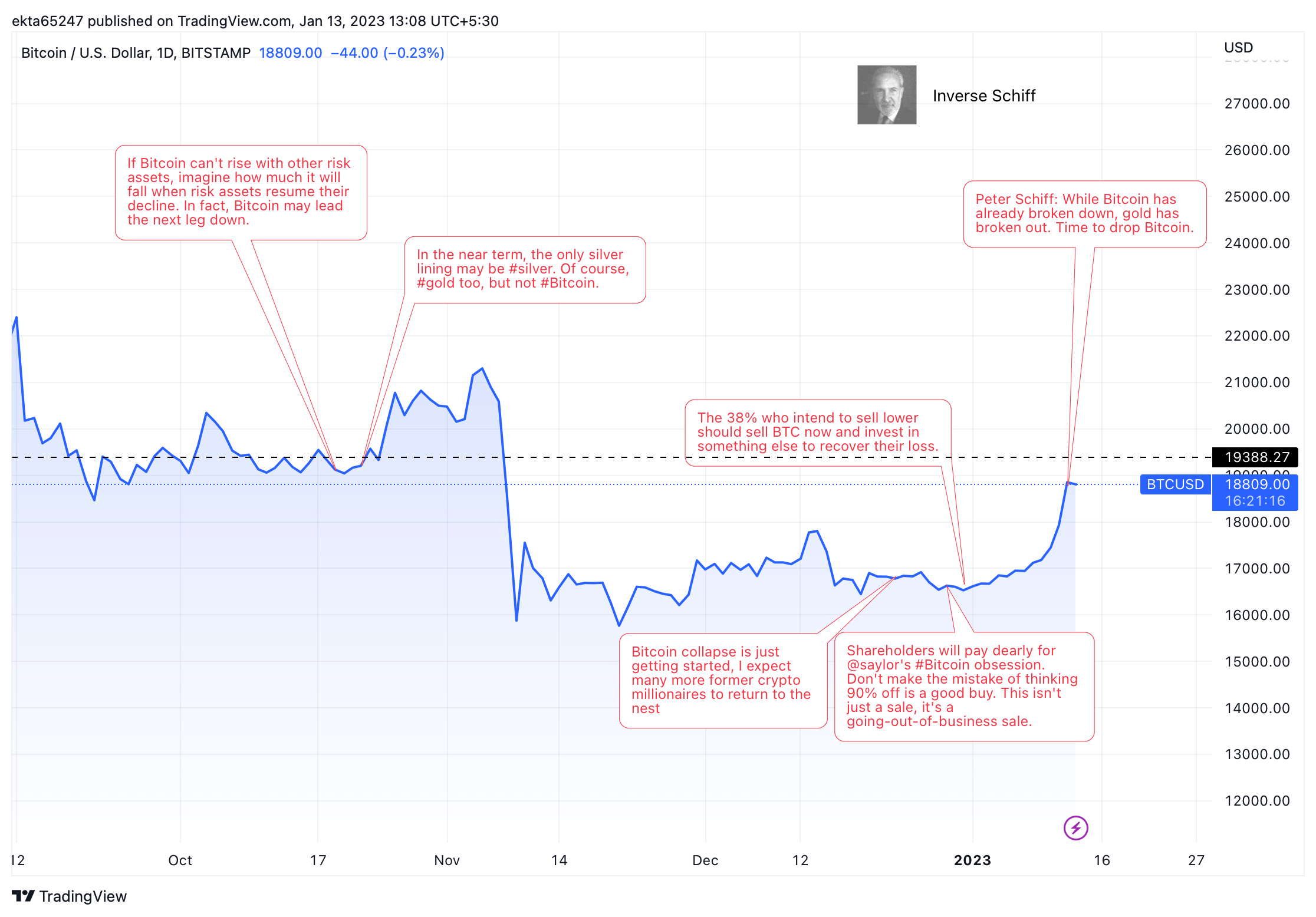 BTC/USD 1D price chart 
The "Inverse Schiff" effect is similar to CNBC Mad Money host Jim Cramer's "Inverse Cramer." Both media personalities are known for the inverse impact of their predictions on cryptocurrency prices. 
Bitcoin price eyes $20,000 target
Experts are bullish on Bitcoin price as the asset made a comeback above $19,000 after two months in a downtrend. BTC is currently in the overbought territory and technical expert Phoenix_Ash3s argues that Bitcoin could reclaim the $20,385 level before the rally begins to cool off.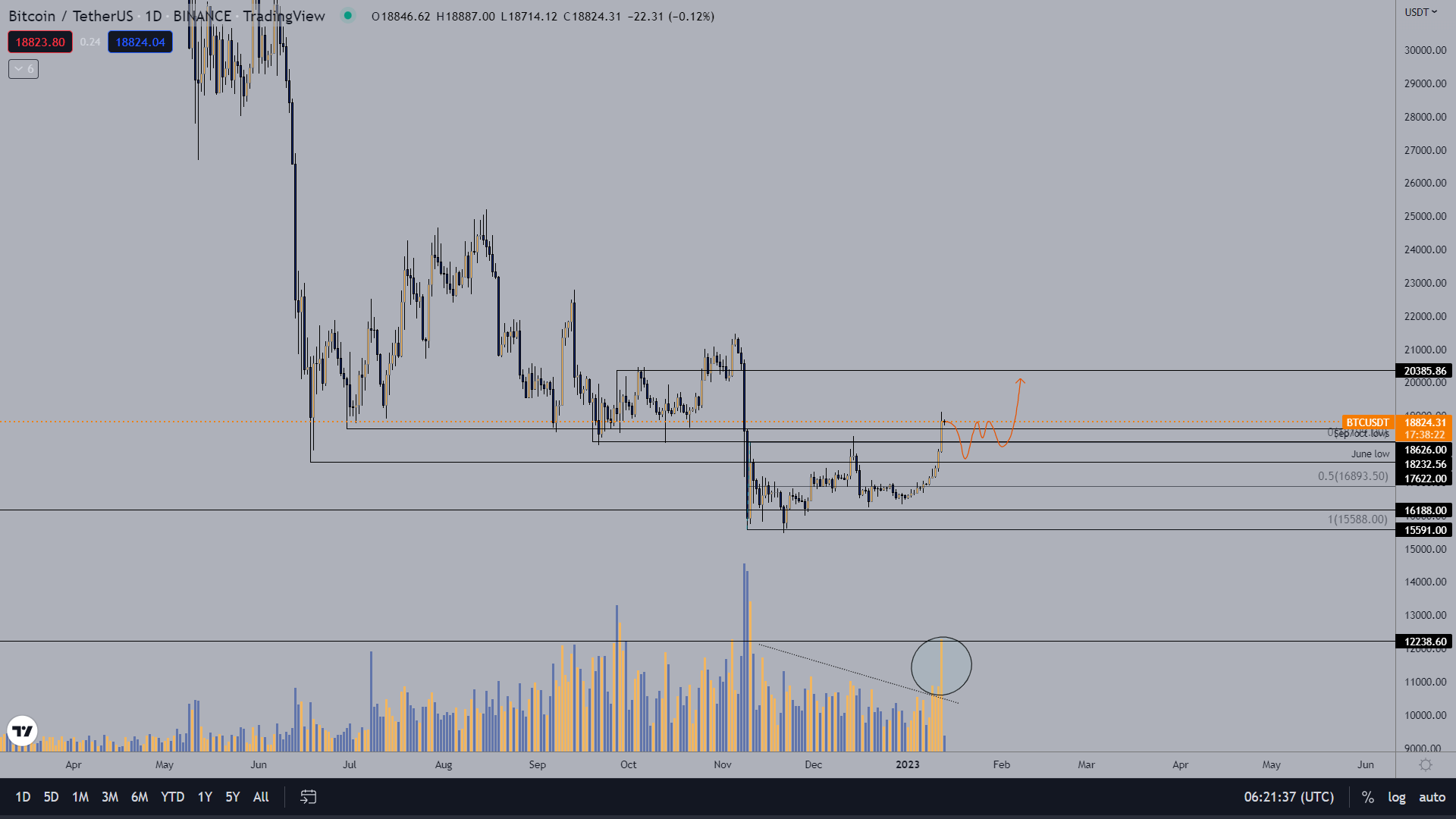 BTC/USDT 1D price chart 
As seen in the chart above, the analyst has considered Bitcoin's September – October low of $18,626 and June 2022 low of $18,232 as key support levels for the asset. The $15,588 level is the bearish target, if BTC's bullish thesis is invalidated and it faces correction.