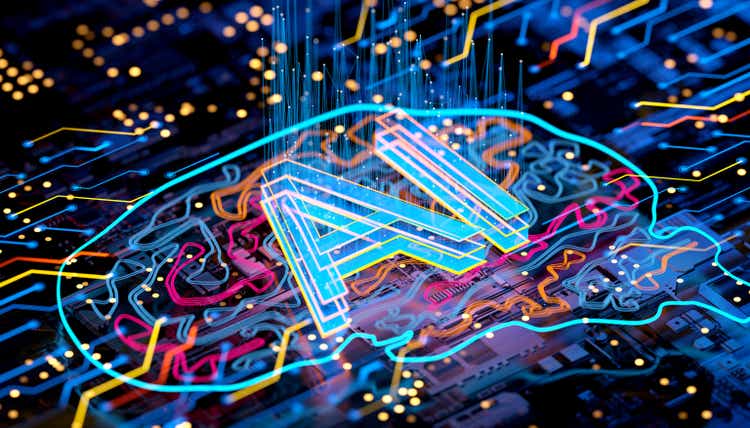 In this article we will cover how my September 2021 bearish sell signal for Microsoft (NASDAQ:MSFT) is performing with an initial target of $220 before examining Microsoft's reported latest weighing up of a move into AI investment in 2023, we will then look at the charts to see where Microsoft technically stands and if investors may be convinced that the tech giant has bottomed.
In September last year I issued a sell signal for Microsoft circa the $240 region with an initial target of $220 and overall target of $190 if the bearish wave one was to be numerically copied. So far Microsoft has bottomed at $213 and is holding a potential bullish wave structure that will initiate a third wave north should $263 be broken above and alternatively render that potential structure a fail should $213 support be broken with $190 an immediate target.
2023 could see a significant acceleration in AI investment for tech companies. Microsoft is looking to compete in the race to bring the best AI tools to users. An everyday scenario would be as follows, a salesperson arrives at their desk at 9am to find 30 different sales leads, your software package tells you, these particular 5 leads are your best chance of closing a deal today putting the hottest leads directly at the top of your list for you. That level of sophistication is where tech companies are looking to provide users.
In Microsoft's case, they are weighing up their largest ever start up investment targeting an advantage against Google in advanced artificial intelligence tools. According to Bloomberg, the company is in negotiations to invest $10 Billion in Open AI which over the past several years has shown it can do a lot more compared to a normal search.
In 2019 Microsoft invested $1 Billion in the then start up Open AI. Now the company clearly wants to rival Google for advanced search options for its Bing search engine.
As AI becomes more mainstream and algorithms become smarter, the user's productivity becomes enhanced. Not just Microsoft, tech companies in general are looking to enhance the capability of their AI structure which to date has been a gradual process.
So could this potential move have an effect on Microsoft's share price going forward. The answer is yes but as we speak this equity remains between two important price points. We will now move to the charts to examine where Microsoft may be headed next. But first, we will look into the bearish wave Microsoft currently resides in and if the selling pressure could be coming to an end.
Firstly if we look at the former chart from the time of writing my last Microsoft article, we can see the wave pattern as of September 2022. Issuing a sell signal at circa $240 the Fibionacci 161 would be the obvious next stop for this equity.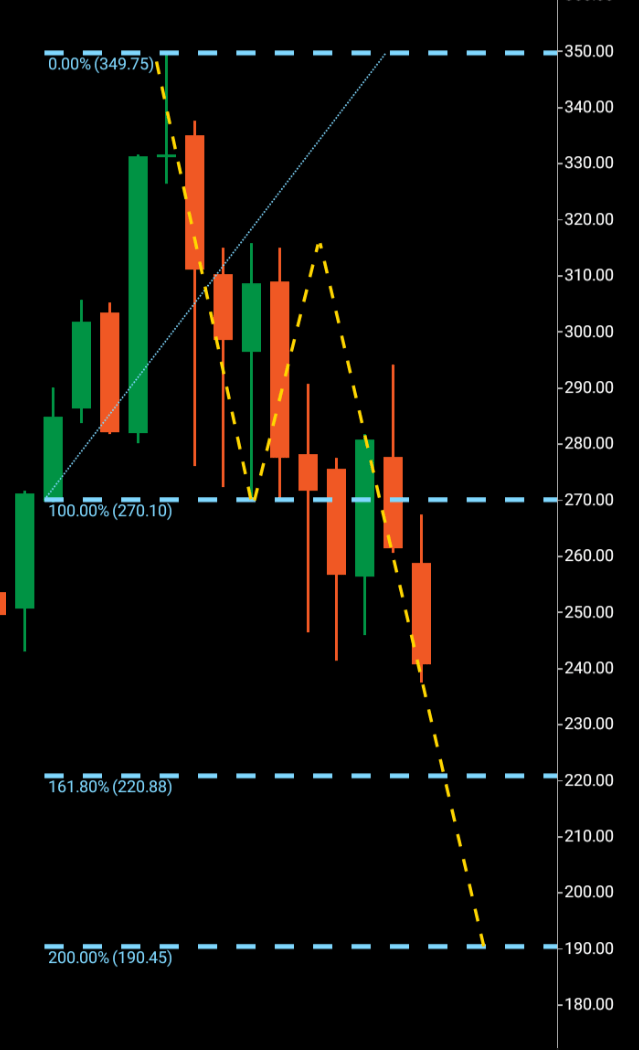 Now we can see in the current monthly chart below, by November, Microsoft had bottomed at $213 creating a bullish monthly candle from that price area. December then saw a high of $263 and for a potential bullish structure, an all important rejection candle. This month Microsoft has returned to the $220 region and seen a bounce from that price range. We can also see the next bearish technical level that lies at $190 should $213 be broken.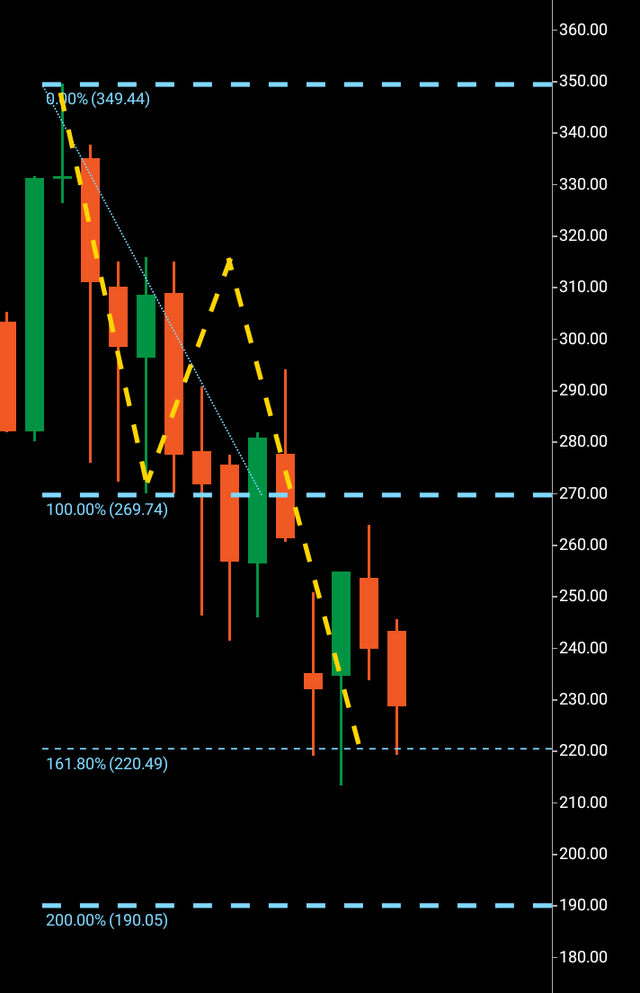 Unfortunately I do not have a crystal ball so we must go to the line "Failing to plan is planning to fail" and chart this potential bullish structure should it realize itself. With investors to date that might be invested from the $213, they have seen a nice bullish bounce from there and will be looking for Microsoft not to return lower from here with a $263 bypass directly in sight.
We can see in the zoomed in skeleton of the bullish wave pattern below that if Microsoft holds above $220 from here on in and price gets driven to and above $263 we will have a bullish third wave on our hands. The first target will be the Fibonacci 161 at $294 and i would be looking to the $314 price area for a completion of the wave.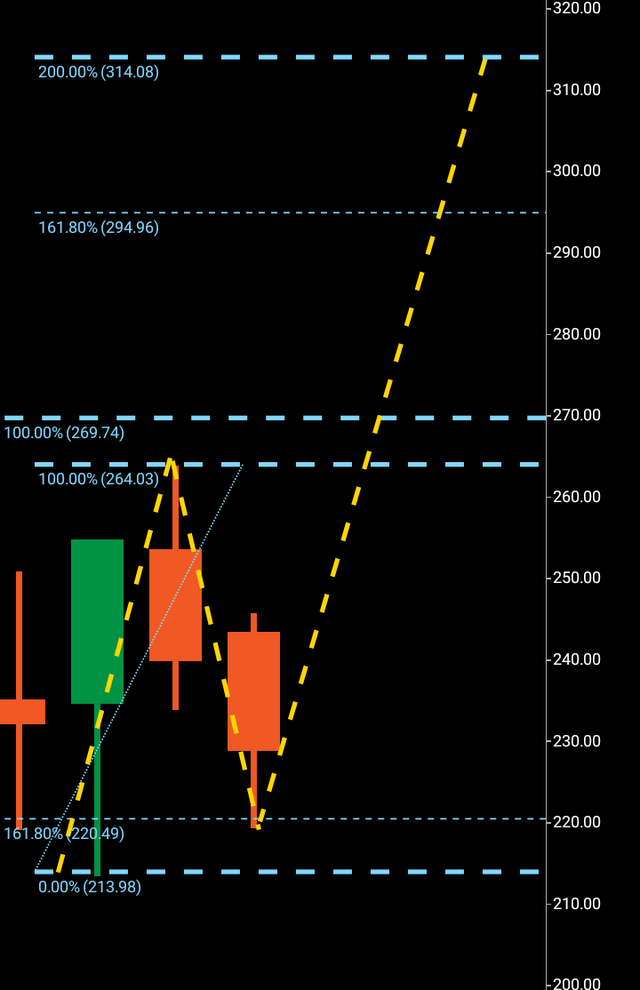 To finalize, i am issuing a hold signal bearing in mind Microsoft reports earnings later this month along with any pending announcement of an investment in Open AI that may be to come giving direction to the share price.
It is important to note that a break below $213 from here may lead directly to $190. As mentioned additionally, a break above $263 could see the breakout third wave to $314. When either of these support or resistance regions are broken i will be publishing a follow up article with an additional directional signal.