view original
post
House Speaker Kevin McCarthy, R-Calif., says he will "look at" the possibility of expunging impeachments against former President Donald Trump, should a resolution be brought forward.
McCarthy's remarks came on Thursday during his weekly press conference when he was asked about "interest among some rank-and-file Republicans" to introduce a resolution that could "expunge" one or both impeachments against Trump.
McCarthy, noting that House Republicans have a more centralized focus on issues related to the economy and national security, said he is open to the idea of looking further into the matter surrounding Trump and insisted that he understands how some members feel about the issue.
MCCARTHY SAYS NEW COMMITTEE ON WEAPONIZED GOVERNMENT COULD OVERSEE BIDEN CLASSIFIED DOCUMENTS PROBE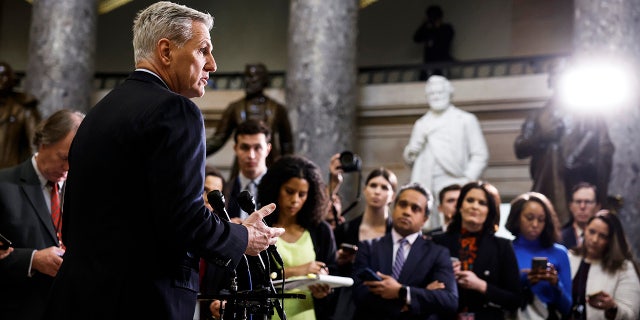 "When you watch what he went through, I would understand why members would want to bring that forward. Our first priority is to get our economy back on track, secure our borders, make our streets safe again, give parents the opportunity to have a say in their education, and actually hold government accountable. But I understand why individuals want to do it, and we'd look at it," McCarthy said.
DEMOCRATS SCRAMBLE TO DEFEND BIDEN'S HANDLING OF CLASSIFIED MATERIALS, POINT FINGERS AT TRUMP
Calling it "an unimaginable abuse of our Constitution," Oklahoma GOP Rep. Markwayne Mullin introduced a resolution last year to "expunge" Trump's second impeachment, drawing support from more than two dozen Republicans, including House GOP Conference Chair Elise Stefanik of New York.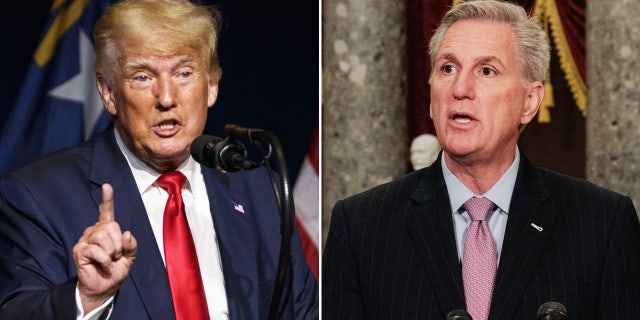 Should a resolution expunging one or both of Trump's impeachments pass in the House, it stands almost no chance of advancing in the Democrat-controlled Senate.
CLICK HERE TO GET THE FOX NEWS APP
During his four years as president, Trump was impeached on two separate occasions. The first impeachment came in 2019, when he allegedly withheld military aid from Ukraine in exchange for political favors. The second impeachment, which came in 2021, surrounded his alleged role in the events of Jan. 6 at the U.S. Capitol. Trump was acquitted of both impeachments in the Senate.
Fox News' Tyler Olson contributed to this report.