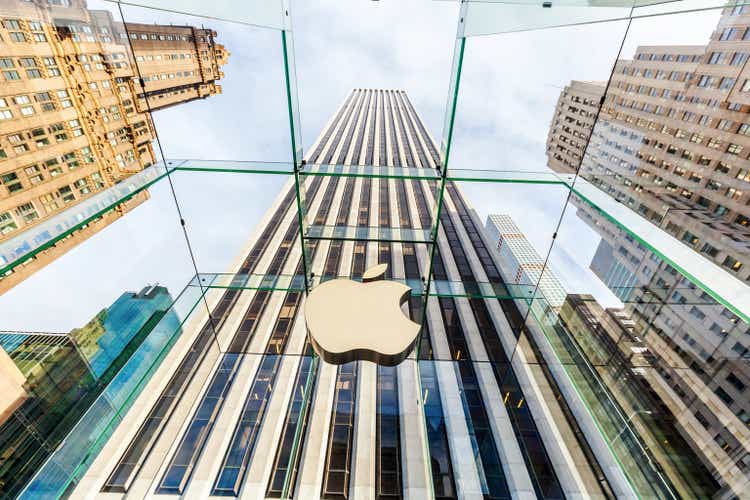 Elevator Pitch
My Buy rating for Apple's (NASDAQ:AAPL) stock remains unchanged.
In my prior November 9, 2022, write-up for Apple, I discussed how the increase in paid subscriptions will drive the growth of AAPL's Services revenue in the future.
I turn my attention to the topic of why investors should take advantage of the recent dip in Apple's share price in the current update. AAPL's forward P/E multiple has fallen to -21% below its three-year mean, and recent worries relating to the company appear to be overblown. In that respect, I view Apple's shares as deserving of a Buy rating.
Why Has Apple's Share Price Dipped?
In the past month, AAPL's stock price pulled back by -9.3% as compared to a -1.2% marginal decline for the S&P 500. Apple's last done share price of $129.62 as of January 6, 2023 is also -16.8% below its three-month high of $155.74 registered on October 28, 2022.
I think that Apple's share price dip is attributable to the market's concerns about the App Store and iPhone. In the subsequent section, I highlight specific metrics relating to the two products and services, which explains why they have drawn investor attention.
AAPL Stock Key Metrics
Investors are worried about the App Store's recent and future performance, and the risk of lower-than-expected iPhone production, and the metrics outlined below illustrate these issues.
BofA Securities published a research report (not publicly available) titled "App Store Revenue Declines Low Single Digit" on December 1, 2022. As per SensorTower data cited in this report, revenue derived from the App Store decreased by -3.2% YoY for the period between October 1, 2022, and November 29, 2022. Specifically, a +2.6% increase in the number of App Store downloads was more than offset by a -5.7% drop in the App Store's Average Selling Price. These metrics seemed to confirm fears that consumers will reduce spending on the App Store and other Apple services in a weak economic environment.
Separately, a December 13, 2022, Seeking Alpha News article cited a Bloomberg report mentioning that AAPL "may soon allow third-party app stores on its iconic iPhones and iPads" so as "to comply with regulations from the European Union." It is natural for investors to be concerned that the App Store's future revenue might potentially decline if a significant proportion of app developers choose to bypass the App Store and offer their users the option of downloading their apps on other app stores or websites.
Another key concern for investors is iPhone production. Seeking Alpha News reported on December 20, 2022, that J.P. Morgan's (JPM) sell-side analyst covering Apple's shares has reduced his or her Q1 FY 2023 (YE September 30) iPhone 14 shipment projections by four million units after considering supply chain disruptions in China due to the COVID-zero policy.
The majority of Wall Street analysts also have a bearish view of Apple's iPhone sales and overall revenue in the near term judging by the change in consensus financial figures for AAPL. In the last three months, Apple's consensus Q1 FY 2023 topline was cut by -3.4%. Also, 31 of the 45 sell-side analysts covering Apple's stock made the decision to lower their respective fiscal 2023 revenue estimates for AAPL in the same time frame. The key risk is that a larger-than-expected number of consumers chose to either give up on buying a new iPhone or switched to competitors, rather than wait for the new iPhone to be made available again when supply normalizes.
It is easy to understand why Apple's share price has dipped recently, after a review of the key metrics disclosed in this section of the article.
Is It Fairly Valued Now?
I am of the view that Apple's shares are undervalued, instead of being fairly valued, following the recent dip in its stock price.
AAPL trades at 21.0 times consensus forward next twelve months' normalized P/E now, which is only slightly above its one-year forward P/E trough of 20.2 times as per S&P Capital IQ's valuation data. Furthermore, Apple's current P/E valuation multiple is a significant -21% below its three-year average P/E ratio of 26.6 times.
I touch on the potential of a recovery in Apple's stock price in the next section.
Will Apple Recover?
I believe that AAPL's share price can recover from its recent dip, when investors realize that earlier concerns relating to the stock are overblown.
With regards to the App Store, its future performance might be better than what the market feared.
The App Store witnessed its first YoY revenue growth in six months, based on Sensor Tower's December 2022 data highlighted in this recent January 3, 2022, Seeking Alpha News article. This could mark an inflection point for App Store revenue, as we might have already seen the worst of App Store performance in 2H 2022 (calendar year). Given the bearish market expectations (as outlined in an earlier section of the article) for Apple's Q1 FY 2023 and full-year FY 2023 financial results, AAPL's actual Services revenue and overall top line might beat market expectations.
Also, fewer iPhone users might either switch to alternative app stores or download apps from developers' websites than what investors anticipate. Based on a December 14, 2022, research report (not publicly available) titled "App Store Competition? Bring It On" published by Morgan Stanley (MS), slightly more than a quarter of iPhone users are "extremely likely" to switch away from the App Store for app downloads as per MS' consumer survey which should translate into a -4% decrease in Apple's Services revenue (or -1% contraction in overall top line).
On the issue of supply chain disruptions affecting iPhone production, there are reasons to be optimistic considering short-term trends and long-term plans.
A January 3, 2023 Seeking Alpha News article highlighted that Apple's key iPhone production plant in China has recovered to run at "90% capacity" again. Also, an earlier December 27, 2022, report (not publicly available) titled "Improving iPhone Lead Times" issued by Credit Suisse (CS) noted that the lead times for the new iPhone 14 models have already declined from the "20+ days" for the December 19 week to "10-17 days" for the December 26 week. In other words, supply chain headwinds for Apple have already eased to a large extent.
In the long run, Apple has plans in place to further diversify its production away from China to other markets such as Vietnam and India. This should reduce AAPL's concentration risks relating to China production over time.
In a nutshell, there are positive signs which suggest that Apple's shares are due for a recovery.
Is AAPL Stock A Buy During The Dip?
Apple is a Buy during the dip, considering recent positive developments such as App Store's December 2022 data and declining lead times for the iPhone 14 models. Moreover, AAPL's valuations have become more attractive after the recent correction. As such, I make no changes to my current Buy rating for AAPL.