view original
post
The challenge of prosecuting former President Donald Trump for the mishandling of confidential documents has loomed over the Department of Justice since its investigation began. The possibility of indictment will be even trickier for prosecutors to navigate now that President Joe Biden is facing his own scandal of a similar nature.
Theoretically, the latest developments involving Biden should have no legal effect on the DOJ's probe into Trump, but realistically, "it changes everything," former federal prosecutor and president of West Coast Trial Lawyers Neama Rahmani told Newsweek.
On Monday, the White House revealed that the DOJ and the National Archives and Records Administration are reviewing the circumstance surrounding a "small number" of Obama-era government documents that were found in a locked closet of an office used by Biden from 2017 to 2020—after his time as vice president and before he announced his candidacy for president.
The discovery comes just six months after Trump's home in Florida was raided by FBI agents, who seized dozens of boxes containing presidential records from Mar-a-Lago.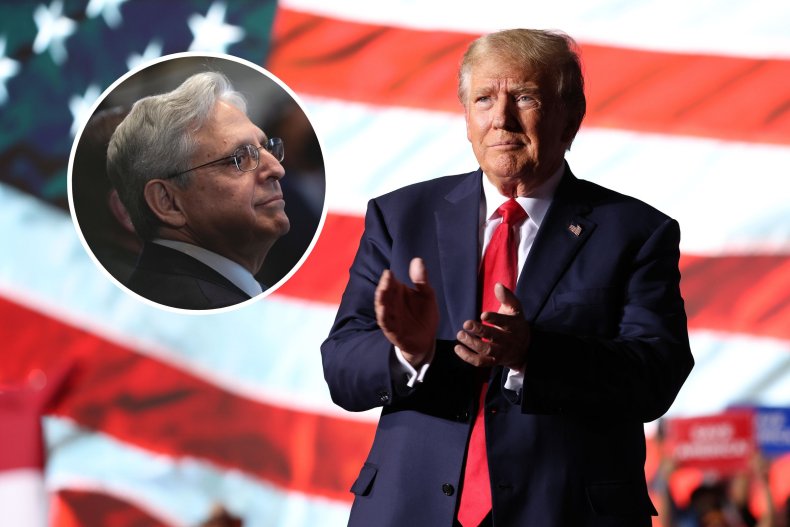 Former federal prosecutor and elected state attorney Michael McAuliffe told Newsweek that while the two situations are separate matters, the new report about Biden exemplifies how unanticipated events can change and pose complications to the DOJ's other pending criminal investigations.
Trump's camp and supporters have already railed against Attorney General Merrick Garland for signing off on the FBI raid, accusing him of running a politically-motivated DOJ. Those claims have riled up both sides of the aisle and presented the attorney general with an increasingly difficult task: If he decides to indict Trump, how will he do so without casting doubt on his agency?
Not only will Garland be prosecuting a former president, but he will also be prosecuting a presidential candidate. Shortly after the midterms, Trump announced an early bid for 2024, further complicating the DOJ probe.
Now, the discovery of the documents in Biden's possession will muddle the challenge of indicting Trump again.
"The politics surrounding this situation will certainly create some optics challenges for DOJ irrespective of these legal distinctions," attorney Norman Eisen told Newsweek. "There's no doubt that Trump was always going to use any and all allegations against him to mobilize his supporters—and this situation has given him more ammunition."
If Garland decides to charge Trump, there will be subsequent questions about a Biden indictment.
Rahmani said while there are clear differences between the two cases, "Garland is going to have a tough time explaining to the American people why it's a crime for Trump to take classified material, but not Biden."
Biden officials have tried to differentiate the president's situation from Trump's by emphasizing that the number of documents in Biden's case is significantly reduced in comparison to his predecessors and that the records were handed over to authorities immediately.
However, because reports of the Biden documents had been made back in November just days before the midterm elections, Rahmani said it's likely Republicans will "cry foul" over the timing of the announcement of the discovery.
Nonetheless, Eisen said that each case will ultimately be judged on its own merits, and thus, the latest news about Biden won't change the charging decision against Trump.